Rabbi Mark Shapiro – December 8, 2019
For a video of this sermon click HERE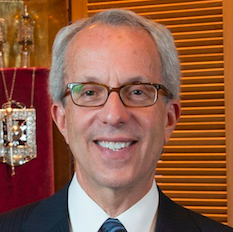 The sermon starts with humming the Jeopardy "melody."
I guess you can guess that I'm a sucker for Jeopardy.
I love the questions.  They are varied, easy, obscure, obvious, then difficult.
I think it was last week that the big question closing out one of the episodes read something like this:  Identify two one-word quotations from movies that aired in 1941 and 1967.
The answer (which I did not get) – Rosebud (from Citizen Kane) and Plastics (from The Graduate).
But…if the question had been from the Bible, that might have been different.
I might have known the answer to just about any question taken from the Bible.
Give me a famous text – or even part of a famous text – and I am pretty likely to know it.
As we get further into Advent, for example, today's reading from the Hebrew Bible is one of my favorite texts from Isaiah.  The prophet is promising the birth of a great teacher.  His words set the stage for what the Church will celebrate on December 25.
Here is Isaiah, Chapter 11…
A shoot shall come from the stump of Jesse (the father of King David),
and a branch shall grow out of his roots.
The spirit of the Lord shall rest on him,
the spirit of wisdom and understanding,
the spirit of counsel and might…
With righteousness he shall judge the poor…
Righteousness shall be the belt around his waist…
[In his time…]
The wolf shall live with the lamb,
the leopard shall lie down with the kid…
The cow and the bear shall graze,
their young shall lie down together; and the lion shall eat straw like the
ox…
They will not hurt or destroy on my holy mountain;
for the earth will be full of the knowledge of the Lord
as the waters cover the sea. 
*********
It's great poetry, isn't it?
The text provides a fascinating combination of realistic and super-realistic images:  A leader who will live and lead in justice alongside a world where wolves and lambs, bears and cows will live together in harmony.
Isaiah describes a truly transformed world.
The spirit of the Lord shall rest on him,
the spirit of wisdom and understanding,
With righteousness he shall judge the poor…
[In his time…]
The wolf shall live with the lamb…
and the lion shall eat straw like the
ox…
They will not hurt or destroy on my holy mountain;
for the earth will be full of the knowledge of the Lord
as the waters cover the sea.
*********
But here's a question.
Where will the vision of Isaiah come true?
Where will this future vision unfold?
Isaiah suggests it will happen "on my holy mountain."  That's from the last verse of his prophecy, but where is this holy mountain?
I think it has to be Jerusalem, which is built on the hills of Israel.
I imagine the vision is probably not limited to Jerusalem because that simply couldn't be sufficient for the grand dream.  I t must start in Jerusalem, but it has to extend to the rest of the Land of Israel because that is the full home of biblical Israel.
The whole land, says Isaiah, will become a kind of Eden, a magical, transformed place where wolf and lamb will live together not hurting or destroying the world.
Which leads to a second question:
Do you believe these words from Isaiah?
Could this happen?  Will it happen?
Is Israel like that today?  2500 years later does modern Israel embody Isaiah's vision?
I ask this today because I would love you to join me this coming April on a church visit to Israel to see how and if Isaiah's prophecy has come true.
On the one hand, you already know the answer.
The spirit of the Lord shall rest on him…With righteousness he shall judge…
Compare those words from Isaiah with the headlines out of Israel and you know we have a problem.  Israel's Prime Minister, Benjamin Netanyahu, is under indictment for breaking the law in no fewer than three instances.  No righteousness here.  The man may end up in jail.
And I remember going to the Western Wall on one of my visits to Israel.  I wanted to participate with a group called Women of the Wall as they welcomed the new Jewish month.  Pretty simple, right? Not so according to the Orthodox men and women who crowded the Wall's plaza that morning.  There were hundreds pushing and shoving, shouting and spitting.  It was a near riot in the City of Peace.
And the Palestinians continue to get the short end of the stick.
Let alone the fact that Israel's drivers are gruff and grumpy.  What's more, Jerusalem – the holy city – is poor and dirty.
They will not hurt or destroy on my holy mountain.
I don't think so.
Then again, parts of New York City are a mess.
Parts of our Springfield are also a mess.  Crime, violence, gangs, drugs, guns, discrimination, and poverty.
It's all right here, and yet I assume almost everyone here today would still want friends and family to visit us here.  That's because there is more to Springfield than dirt and despair.  We know there are families here.  They are our families.
And in this city, we've got gardens, parks, and flowers.  Teachers, schools, and colleges.  We've got sports, playgrounds, and libraries.  We're blessed with art and music. The true story of Springfield is the whole story of Springfield…the bad but surely also the good.
So it is for Israel.
We want to go there this April to see this whole story.
This April as a church group we'll see the bad…and we'll also see the good.
The present and the past.
The present and the future.
Here's a story that captures much of what I know and feel about Israel.
It's a whole story – exactly what we'll all be able to discover when we are in Israel together.
The story takes place in March 2002.  It's the first morning after my arrival for a rabbinic convention in Jerusalem.  We rabbis have arrived in Israel despite the fact that there has been a round of terrorist attacks throughout Israel for more than a month.
It's 5:45 a.m.  I am awake in the hotel room, and I've just heard what sound like four giant firecrackers.  The sound comes from Bethlehem, as does the roar of airplanes.
I assume someone or something is being bombed as I sit there in the growing light that  begins to fill my room.  Fifteen minutes pass by, and now it's the sound of chirping birds under a brilliant, blue sky that keeps me from sleeping.
This is Jerusalem during terrorist season – except that's not really so.  For inside this room all I have is Jerusalem without any context.  It's like sitting at home in Massachusetts and only having access to CNN or the newspaper headlines.
That's only a slice of life, which is why I decide to leave my room and get out on the streets of the real Jerusalem.
And when I get down to the street, surprise of surprises, I discover Jerusalem thriving.
I meet Israelis who are going to work this morning, Israelis who are dropping their children off at school, Israelis who are arguing about the latest political developments, Israelis debating what is fair for the Palestinians, Israelis in traffic jams, Israelis laughing, crying, having coffee, and carrying on with life.
All I had to do was step outside into the real streets of Israel to sense the pulse of life that, despite the headlines, beats steadily, strongly, and proudly in this country.
Several years later, I'm back in Israel for another rabbinic convention.
One day I've signed up for an excursion to the West Bank.  Except this is no standard jaunt for tourists.  Our group is going to visit the first planned city designed for Palestinians.  Who knew?
Who expected that in the middle of the craggy mountains leading down to the Jordan River we would find an ultra-modern city called Rawabi rising out of the desert? The plan is for 40,000 Palestinians to call this beautiful place home.
So often we think of the Palestinians as desperate and poor.
As I learned that day of the convention, the real picture is broader than that.
Like you and me, most Palestinians want nothing more than a decent home and a good education for their children.  I was there; I saw the dream.  And if you join me in April, maybe we'll discover the whole dream as well.
OR maybe we'll explore something else I never ever considered.
The day after our Rawabi excursion, those of us at the convention had the opportunity to participate in the Tel Aviv Marathon!  We were doing the 5K walk/run.
Once again, this was an Israel I had never met.
There were thousands of people there.  I mean thousands.  Old, young, men, women.  Music filled the air.  Tens of vendors were there selling everything from the newest Adidas to sunglasses to ice cream.  And there was great happiness in the air.  Great joy and energy.
Of course, there was a security presence all around the Marathon site.  But that was in the background.
The real Israel was in the smiling faces, the loud music, the energy, the dancing, and the announcer who launched us on our part of the race by declaring in a classic Hebrew phrase…MAY THIS BE A GOOD MOMENT FOR US ALL.
Indeed, it was.
Indeed, when you go to Israel, you never know which little moments are going to blossom into holy events.
Get yourself ready this April to walk in the steps of Jesus:  Nazareth, Bethlehem, Manger Square, the Via Dolorosa, and the Church of the Holy Sepulchre.
Will all of these sites be extraordinary?
Maybe, but if not all move you, one of them certainly will.  Or somehow – before or after one or several of them – something holy will touch you for We're also going to walk in the steps of historic Jewish figures:  King David, Hillel, Theodor Herzl, and David ben Gurion.
Will every site connected with these people be extraordinary?  Maybe, but if not, one of them will grab you.  Or somehow – before or after visiting this site or that site – something powerful will move your heart and soul.
How about Tel Aviv?  That bustling modern metropolis that echoes Paris or New York City.  We'll go there too for graffiti all over, for a drink, for the beach, for the architecture.
Will Tel Aviv knock your socks off?
Almost for sure not because Israel is sometimes just Israel.
Tel Aviv and many other places in Israel are mainly people.  They may live in the only Middle Eastern country with a Declaration of Independence that reads as majestically as the American Declaration, but still Israelis are just people.  They aren't mini-Isaiah's.  They aren't prophets because each of them (like you and me) has to make a living, raise a family, love a spouse.  Israelis need to live a life.
And, like us, they do all this somehow still clinging to a tiny strip of land on the Mediterranean Sea where at any moment enemies may try to wipe it all out.
Despite that, most Israelis we meet will be trying to do better. They believe they are building a future.
That is Israel.  That's the place I hope you'll see with me this coming April.  You can register or even just learn more by visiting the Cathedral's website.  OR ask me all the questions you wish because I can't wait to share Israel with you:  young, eager, argumentative, obnoxious, outspoken, brash, and hopeful.
Israel is a very exciting place.
You've got to go.  You've got to see it to believe it.
You've got to go this April so that you can come home and share this poem with all your friends.  The poem is written by Danny Siegel, an American Jew who has visited Israel more times than I can count.  As soon as you touch down in Israel, you'll understand what Siegel calls his "personal preference."
Personal Preference       A poem by Danny Siegel 
I think
(now that I look back)
I'd rather drive a taxi
In Jerusalem
Than be the King
Of all of South Dakota
Or the [rabbi}
In the Great and Ancient Synagogue
Of West Rangoon
I don't know why
(to be sure)
Here the sun sets red
And there the sun sets red
Here the trees sway with infinite grace
And there the breeze moves the leaves
With equally gentle fingers
I don't know why
I'd rather drive a taxi in Jerusalem
But neither have I come to know
Why the seed
becomes a daffodil
And not a rose
Come to Israel and I'll show you seeds and lives that really are as beautiful as roses.