Fighting Food Scarcity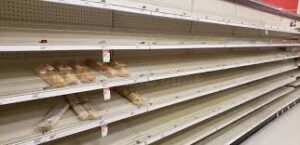 Siblings in Christ, The situation given COVID-19 continues to develop, and we are aware food insecurity is affecting people. Many are concerned with how to feed their families and themselves. It is in times such as these that the importance and work of a community shines through. If you can share, please give. If you need, please feel welcome to receive.
The Cathedral is accepting donations of nonperishable food. If you are able to, please bring donations to the back of the church where we will collect them during office hours (Monday through Friday 9-4). You may call or email the office first to make sure someone is here to receive your donation. Otherwise, donations may be left on the quadrangle side of the Cathedral.
We are also raising funds for food assistance, and special donations may be made to the Dean's Discretionary Fund through our website or by check mailed or dropped off at the Cathedral.
If you or your family are in a situation that could benefit from this service, please contact Dean Tom Callard or Deacon Linda Taupier.
May we remember that we are bound together in community, with each other in our times of abundance and in our times of hardship as we pray: Lord, make us instruments of your peace. Where there is hatred, let us sow love where there is injury, pardon; where there is discord, union; where there is doubt, faith; where there is darkness, light; where there is sadness, joy. Grant that we may not so much seek to be consoled as to console; to be understood as to understand; to be loved as to love. For it is in giving that we receive; it is in pardoning that we are pardoned; and it is in dying that we are born to eternal life. Amen."
Below are links of local agencies for those wishing to receive or offer support for Food Insecurity.
Links
Clinical & Support Options – Friends of the Homeless (FOH) offers meals and housing
https://www.csoinc.org/housing-homeless-services
Emergency Food Pantry (EFP) (through Open Pantry)
http://www.openpantry.org/emergency-food-pantry.php
Gardening the Community – a local CSA that has reduced pricing options for those eligible
http://www.gardeningthecommunity.org/
The Gray House – The Market (Food Assistance)
http://grayhouse.org/food-pantry/
Loaves and Fishes – Community Kitchen
http://www.openpantry.org/loaves-fishes-kitchen.php
Springfield Rescue Mission – Give Away Center and Meals
https://springfieldrescuemission.org/need-help
Western Mass Food Bank – links to area food pantries, mobile food banks, and meal-sites
https://www.foodbankwma.org/get-help/covid-19-food-pantry-meal-program-schedule/
https://www.foodbankwma.org/get-help/mobile-food-bank/
https://www.foodbankwma.org/get-help/brown-bag-food-for-elders/