Good Friday 2019 Sermon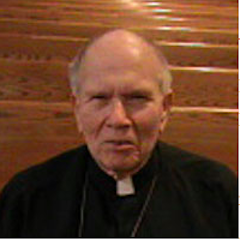 Christ Church Cathedral
April, 2019
Good Friday
Sermon by the Rev'd Jerry E. True
 "When I survey the wondrous cross where the young Prince of Glory died, my richest gain I count but loss, and pour contempt on all my pride." 
In the Name of God; Father, Son and Holy Spirit. Amen
A question I often hear being asked by people, people who perhaps are struggling to better understand the faith to which they have been called, is this. "If God our Creator, God our Father is infinitely loving, merciful and kind, how could he allow his Son to go through such suffering, pain and sorrow?" From a purely human and secular point of view, it seems to be a perfectly natural and logical question.
On this Friday we call Good; as in our hearts and minds we stand before the cross and behold the One who is the best evidence and proof of God's love, God's mercy, as we witness God's One and Only Son, a man without fault or guile being nailed to that cross! What shall we say? Now, as we stand at the foot of the cross in wonder, bewilderment and awe, we ask, "Lord Jesus Christ, we know you are the One who is without the stain of sin, the One whose heart is pure. Your are the One who loves us with all the perfection, passion and adoration of infinity; how can we respond and take it all in? Who has visited this evil upon you? Who has brought such an outrage and enormity upon you? Why has God not acted to prevent those who would do such hateful violence to you, allowed them to destroy his beloved Son?
But wait a minute! Why am I speaking as though God the Father is someone other than Jesus as God the Son. Our faith has taught us something mysterious, something foreign to our way of understanding and thinking; Our One God is One God!
God has decided to reveal himself as a family. A family so united in unity, love and spirit that they are completely and totally One. We believe in one, holy, undivided and indivisible Trinity. In a way that we cannot yet understand or comprehend, when we look at Jesus hanging in agony upon that cross, we are looking at God hanging in agony upon that cross! God does not offer someone else for the forgiveness of sins and the salvation of the world, in his manifestation and incarnation as Jesus the Christ, God offers himself in perfect love for the reconciliation of God and Mankind; reconciliation between and among himself with his beloved people. What we see today is his testimony, his undeniable witness to that great and unconditional love.
God is infinite, without defining boundaries. The only way we finite beings could know him or even know of him would be for God to set for himself definable boundaries and limits. This he did by gradually revealing himself to us through human history. Through Abraham and Sarah, through Moses and Aaron, through Jacob and his sons who became the patriarchs of the twelve tribes of Israel, through the prophets and sages and judges of Israel, through John the Baptist and then ultimately as God himself becoming a human being, Jesus the Christ! As we behold that man, our God hanging there on that cross, shedding his own Blood for the washing away the sins of the world, he creates in us and in the world the promise and pathway leading to a new creation. Let us hear what Jesus himself said about himself in the Holy Gospel according to John, chapter 10, verses 27-30:
 (Jesus said) My sheep hear my voice, and I know them, and they follow me: And I give unto them eternal life; and they shall never perish, neither shall any man pluck them out of my hand. My Father, which gave them to me, is greater than all; and no man is able to pluck them out of my Father's hand. I and my Father are one.
Hear also John 14:8-9: Philip said to him, 'Lord, show us the Father, and we will be satisfied.' Jesus said to him, 'Have I been with you all this time, Philip, and you still do not know me? Whoever has seen me has seen the Father. How then can you say, "Show us the Father'"?
Yes in a mystery that goes way beyond our finite ability to understand, the God who became man, the eternal Word of God who in his perfect humanity is the Son of God and the Son of Man; despite his incarnation, life, and earthly ministry we now find him in his death. Jesus now appears to have been vanquished. We see him apparently having been destroyed.
I can envision Satan, once Lucifer, the angel of light who came to believe that he was greater than the Word of God and that his hatred could be greater than the power of God's love, I can see Satan wringing his hands, not in sadness but in gleeful victory. On that cross, he thinks he has defeated Jesus; that he now has the God Incarnate right where he wants him. He now believes that he himself is the God of creation. But like all bullies and liars, Satan is a fool. O, he can still wreak hell and hatred upon the world, but his days are numbered. God has allowed him the assumption and fantasy that the victory is now his. But in fact the opposite is true.
Jesus, with the infinite power of God's love, has invaded hell. Jesus has tricked Satan into inviting him to enter that hades which Satan has created for himself, his corrupted angels and lost human souls; that place we call hell. The state of being which promises the domination and ultimate destiny and destruction of mankind.
There are three theories for the atonement, the union between God and his people, the at one ment which you will find within the teaching of the historic Church Universal down through the ages. Very briefly, without going into a lot of theological talk about them, they are: 1.The Sacrifice for sin, 2. Penal substitution, and 3. The Christus victor theory. The Church has never definitively chosen any one of them as above the others, but I am an ardent backer of the Christus victor theory. That is probably why I am most turned on by bold, triumphant organ music and singing, and the good, old, potboiler hymns like Alleluia, Sing to Jesus, the Church's One Foundation, and A Mighty Fortress to name just three among many. You probably could name many others.
The Christus victory theory reminds me of the old philosophical quandary, "What happens when an immovable object meets an irresistible force? Well, you and I are preparing to celebrate the answer because Jesus has solved the riddle for us. There is no such thing as an immovable object. But there is such a thing as an irresistible force. In this case, hell was presumed to be that so-called immovable object, that inescapable prison, but the love of God in Jesus Christ was and is and ever shall be the true irresistible force. In less polite or sophisticated terms, Jesus entered into hades and using his infinite, irresistable love, he blew the hell out of it!
But it is still today, Good Friday, and we imagine that we do not yet know what happens next. The great drama of Holy Week finds us here, standing at the foot of the cross; wondering in disbelief and sorrow at the tortures and death of the One we have come to believe was our Lord and Savior.
You have probably heard me speak of hearing angels singing in the distance. I do believe I hear them. As I, as we, stand or kneel here thinking of the great sacrifice that Jesus has made for you and for me, I think I hear them now. Still some distance away. Not quite ready yet for the grand performance, but nearing the end of the rehearsal:
"O love how deep, how broad, how high, /how passing thought and fantasy
That God, the Son of God, should take/ our mortal form for mortal's sake.
For us baptized, for us he bore/ his holy fast and hungered sore;
for us temptations sharp he knew; for us the tempter overthrew.
For us he prayed; for us he taught; for us his daily works he wrought;
By words and signs and actions, thus/ still seeking not himself but us.
For us to wicked hands betrayed, scourged, mocked, in purple robe arrayed,
he bore the shameful cross and death; for us gave up his dying breath.
For us he rose from death again; for us he went on high to reign;
for us he sent his Spirit here; to guide to strengthen and to cheer.
All glory to our Lord and God; for love so deep, so high so broad;
The Trinity whom we adore/ for ever and for evermore.
Amen.
Words: Latin, 15th century; tr. BenjaminWebb (1819-1885)