The Rev. Jerry True – 5/09/2021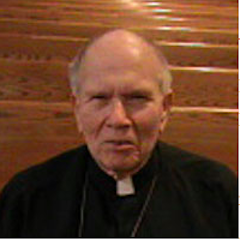 In the name of our one loving and faithful God; Father, Son and Holy Spirit. Amen.
You and I began as a loving thought in the heart of an Almighty God whose very Name is Love. Oh, not the limiting sentimental pap that poses as the sum and substance of love in fairy tales and romance novels, but the love that is patient, kind, generous, faithful and true; love that bears all things, believes all things, hopes all things, endures all things; love that is everlasting; love that never ends.
At the onset of our earthly existence, we begin as a cluster of cells taken from out of the chaos, given an order of existence that only the God of love could provide. As yet an unconscious little id, totally dependent upon the breath of the Holy Spirit and our mother's warmth, protection and bodily sustenance. In her womb we began our physical and spiritual formation and growth, all a part of the miracle of life that it is to become a human being.
Alongside the physical formation and growth that has begun, we encounter both the material and spiritual realities of life in the womb of our mother. As yet a blank canvas, an unformed lump of living clay, we find comfort in the nurture of our awakening needs and our identity begins to focus within the bond between mother and child which forms and grows stronger. That bond between mother and child. In the natural order of things – a bond quite like no other.
Here in our mother's womb, in the process of continuing the work of our creation, we begin what might be called the cycle of love. Simply put, the cycle of love is a process which begins with the emerging reality that says, "I love you because I need you." We human beings, as do other beings, have needs which cry out to be satisfied. We find pleasure when we experience the satisfaction of those needs. It is only natural that we might come to identify that satisfaction with its source, the agent that first provides the desired satisfaction: Mother. Not yet genuine love, really, but the beginning of a journey, a path which when traveled, can lead to something we might recognize as love.
In our scriptures for today, I have always experienced a difficulty, particularly with John the letter and John the Gospel, not because I disagree, but because the attaining of the love of God is made to seem so mechanical, a labor, the mere obeying of commandments. The seeds of this sermon were planted, in part, by my experience in our centering group a week ago yesterday, in which the chosen Lectio was a quote from St. Francis de Sales: "We cannot help conforming ourselves to what we love."
In that simple thought, I experienced an epiphany of a kind. I do not receive the love of God because I obey his commandments, but I find myself obeying what I believe to be his will because I have received with joy the love of God. That love which brings me the gift of joyful obedience is freely given. All I need do is ask. All I need to do is receive it.
In those moments of joy and the feeling of belonging which I receive by the grace of God when I remember to ask, when those moments come, I cannot help but conform myself to that love! Today, I hear those scriptures with new ears.
When I remember to ask and if I keep on asking for that grace, I experience with joy the love from God which is mine, not by begrudgingly obeying a set of commandments which bring me no joy, but by seeking within myself to be open to the grace of God's love as I ask for it. I cannot earn it, but when I ask for it, and when I seek to ask properly and unselfishly, I find myself gradually being conformed to a way of life which does bring me joy. I gain it, that love, that sense of purpose, not because I have earned it, but because I have asked.
"Ask, and it will be given to you; search, and you will find; knock,
and the door will be opened for you. For everyone who asks receives,
and everyone who searches finds, and for everyone who knocks,
the door will be opened." Matthew 7:7-8
Today we celebrate the kind of love that we associate with the love of Motherhood. Hopefully, for many or most of us, the word Mother stirs thoughts of love and affection. Unconsciously bringing with us the experience of our needs which were satisfied while we were still in our mother's womb, we enter this world to experience our continuing needs being satisfied in ways that are both familiar and new.  Mother usually remains primary for an extended time, but soon there are new moments and sources of satisfaction through our contact and interaction with others.
At some point within this beginning of what I have called the cycle of love, something even more truly miraculous happens: we find ourselves beginning to really care for those who have been meeting our needs. I believe that the miracle of authentic human life begins when we first reach out, not in need and not in greed, but in genuine concern for the welfare of another. The seeds of love that God our Creator has planted within us and which have been nurtured by mother and by those others who have shown us their motherly kind of love, those seeds have begun to germinate and grow into a person truly being created in the image of God. The love that began in us because of our need is becoming, however gradually, the kind of love that exemplifies the Mother love in the best of us. The needy kind of love expressed by the words, "I love you because I need you", is now being transformed into the kind of love that says, "I need you because I love you." A mother's kind of love; God's kind of love. The kind of love that in its most extreme form led to Jesus Christ offering himself upon the cross so that you and I can share the eternal life of love with him and with each other in Glory.
On this day which we dedicate to Mother and the love of Mother, let us give thanks to Almighty God for all mothers everywhere and to all who have shown us a mother's kind of love; to Holy Mary, Mother of God, and to God the Father, God the Son, and God the Holy Spirit who are the true Mother, Father, Brother and Sister of us all.  In the love and holy Name of Jesus, we say to one another, "Thank you! May you have a truly Blessed and Happy Mother's Day!" And may The motherly love of God be always with you. Amen.