The Rev. Jerry True – December 22, 2019
Click HERE for the video of this sermon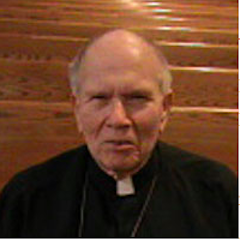 In the Name of Almighty God, the great Shepherd of Israel and the God of Hosts;
Father, Son and Holy Spirit.  AMEN.
There was once a certain married couple, let's be really creative and call them Dick and Jane. One day Dick and Jane were involved in an automobile accident. Their car was totaled and both of them died from their injuries. Approaching the heavenly gates together, they heard a booming voice,"Well done, good and faithful servants." "Enter into the joy of your Master."
As they paused in awe and amazement, an angel appeared to them and said, "Dick and Jane, welcome to eternity! Let me show you around and acquaint you with some of the sights and joys you will find here. Then I will take you to the place that the Lord has prepared for you."
As they toured, they experienced a beautiful, verdant world with so many wonderful sights, from beautiful blue lakes, fragrant green fields, alabaster cities with streets paved with gold. They saw so many people, children, angels and creatures of all kinds dancing and celebrating virtually everywhere. There was so much joy and wonder surrounding them that they could not take it all in. At last, there appeared a very beautiful and inviting mansion. "This," the angelic tour leader said, "is your new home".
Upon entering, they saw that it was even more wonderful than they could have imagined; furnished with golden accents and the finest furniture. On the walls hung some of the finest artwork they had ever seen. There were creature comforts of every possible kind; anything that anyone could possibly want. Then, looking out a window Dick exclaimed excitedly, "Look, there's even a golf course!"
Turning to his wife Jane, he complained, "You and your palates and exercise classes, your bran muffins and your awful tasting health food meals. We should have been here ten years ago!"
It's hard, no, it is impossible for us mortal human beings to speak coherently about spiritual realities without using the imagery of material things. We come into this world knowing nothing of either material things nor things of the spirit. We come as a blank slate, as a lump of living clay with which to begin our material and spiritual formation in relationships with others. First, ideally and most notably our parents, whether biological or adoptive, then other relatives and friends.. Gradually, the network widens so that, hopefully, a nurturing and loving community enters into the creation process. All this is in the form of an imagery describing our initial lack of awareness, our initial condition that has been variously described as the seemingly opposed notions of innocence and original sin.
It might seem to be a dangerous or perhaps trivial pursuit to suggest that the event for which we are preparing has a similitude to the experience of we ordinary human beings. As we prepare to kneel before the holy crèche, either physically on our knees or spiritually in our hearts, dare we ask, dare we ponder whether the Holy Child was, at that moment, aware of who he was or who he was to become?
As we approach this holy season, I mention this perhaps unseemly or inappropriate line of questioning only to help me clarify or understand what is conveyed by the Messianic sign spoken of by the prophet Isaiah,
Look, the young woman is with child and shall bear a son, and shall name him Immanuel. (which means God with us.) He shall eat curds and honey by the time he knows how to refuse the evil and choose the good. For before the child knows how to refuse the evil and choose the good, the land before whose two kings you are in dread will be deserted."
The mention of the demise of the two kings is a prediction of the future which, if it actually came to pass, would be offered as proof to the faith community that the messianic prophecy of Isaiah was truly from God himself.
In Spurgeon's Bible Commentary he points out that the reference to the child eating curds and wild honey before he can know the difference between good and evil refers to a common belief in Isaiah's community at that time: They believed that before children were able to know the difference between right and wrong, their parents should regard the feeding of them as a means of teaching them to know the difference between good and evil. Curds and honey are both representative and symbolic of that teaching.
As with any great mystery, it is difficult for us, who are as yet mortal women and men, to talk about it in a way that makes ordinary sense. As we offer our hearts and lives to the Immanuel who has come to live among us as a human being, we remember that the One we will behold at his coming is both perfect God and perfect Man. Not one half God and one half man, but 100% God, and 100% man. This defies our human logic and leaves us, in the final analysis, with a mystery based solely on faith, faith in the truth of God's self revelation in his Word to us.
To belabor the point a bit further, as we kneel before the crèche of Jesus Christ, we will behold a God who is becoming a human being, not a human being who is becoming a god.
In Jesus, the God who is becoming a human being will learn what it is not to know the difference between right and wrong. The nascent human being who is both God and Man will learn who he is by the curds and honey of his Mother's nurture, grace and love: The baby Jesus will be fed by and will share in the figurative curds and honey of the love of Mother and father, parent and child; the life and love of a gathered community of love, commonly held experience, wisdom and spirit.
Once again as we prepare our hearts to kneel before that holy crèche of Bethlehem, in our mind's eye and in our heart's desire, we will behold the face of Holy Mary, full of grace, the consenting Mother of God. We will see Joseph, the adoptive father who loves the Child as his very own, the man above men who is entrusted with the care, nurture and protection of his holy Son and of the Blessed Mother. We will see the faces of the shepherds in wonder and awe as they, with all the assembled creatures, worship the Lamb and bask in the musical glow of the holy angels.
Truly that night will be the night when eternity and earth become one, the night when the temporal and the eternal meet and join together in common cause and purpose.
O how can we know of or understand the new creation that Holy night portends? The Creator of all that is, things that are seen and things that are unseen, our Creator will lie at our feet as a newborn human baby, as all human beings begin their lives as helpless innocents. But still, here in this same child, is God himself reaching out his arms in all embracing, trusting love to our fragile hopes and fears coming together in time and space.
O holy Child of Bethlehem, descend to us we pray; cast out our sin and enter in, be born in us today. We hear the Christmas angels their great good tidings tell; O come to us, abide with us, our Lord Emmanuel!
Maranatha!
Come, Lord Jesus. Come quickly!
Amen