The Rev. Jerry True, December 23, 2018
Click here for video of the sermon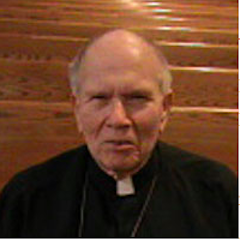 From this day all generations will call me blessed: *
the Almighty has done great things for me, and holy is his Name.
In the Name of God: Father, Son and Holy Spirit. Amen.
I am beginning this sermon with a prayer; well maybe not technically a prayer; more a greeting and an asking within that fellowship we know as the Communion of Saints, a communion and fellowship of both the living and the dead. A greeting and then a request for intercessory prayer, rather than a prayer such as we make directly to our Almighty, three person God. An asking, very like a prayer, perfectly in keeping with the teachings of Holy Scripture and the Creeds; a petition to Our Lady, the Mother of Jesus, often offered in the more high church Episcopal and Anglican parishes and in most Anglican and Episcopal religious communities, convents and monasteries, but often omitted or even overtly shunned by some in parishes with more so-called low church or more militantly protestant leanings.
Hail Mary, full of grace, the Lord is with thee. Blessed art thou amongst women, and blessed is the fruit of thy womb, Jesus. Holy Mary, Mother of God, pray for us sinners and at the hour of our death. Amen.
A kindly, faithful, elderly parishioner once said to me, "I don't think we should do something just because the Roman Catholic Church does it." To which I replied, "Neither do I. Conversely, I don't believe we should not do something, simply because the Roman Catholic Church does do it." "We share a common heritage and so quite a few of our beliefs and practices will be very similar to those in the Roman Church."
David and I had a very dear and close personal friend, now gone to be in the nearer Presence of God, a retired Methodist Elder. He became so annoyed with the Methodist Church because of their prejudice and mistreatment of their clergy ministering to the LGBTQ community that he and his wife left and began singing in an Episcopal Church choir in Florida. That's where we met.
We enjoyed each other's company and friendship immensely and had some marvelous fellowship in the choir and parish we attended there. But my friend and I also enjoyed an occasional rousing theological discussion: When the parish Rector in a prayer or sermon would refer to Our Lady, Mary, as the "Mother of God", he would wince and grumble. After one such occasion I said to him, "Why does that term, 'Mother of God' so annoy you? I think I understand, but tell me."
He replied, "True, Mary was the mother of Jesus, but God has no mother. That's a deception." I asked him, "Are you then saying that Jesus isn't God; or that the Father, Son and Holy Spirit can therefore be divided into separate parts? And further are you denying that Jesus is both 100% man and 100% God as the Creeds tell us. Isn't it true that when the creeds call Jesus 'very God', what they mean to convey is that Jesus is not divisible into the human part and the God part, but that both are inseparably one, united for all eternity? I heard him mumble some kind of answer, but not loudly enough so I could make it out. As a good Eastern Orthodox Christian might well say, "'Tis an holy mystery." And so it is. They, the Eastern Orthodox Christians, more often refer to Mary as the "Great Theotokos" which means God-bearer. And so she was and eternally is. And yes, all generations of Christians will and do call her "Blessed."
My Mom came from a Baptist background and her mother, my grandmother, was the actively religious parent. Following the close of the Great War in 1918, there arose a great epidemic of what was then called the Spanish Flu. There were many, many severely ill victims nationwide and in Europe, and a large number of deaths. Mom, her sister and brother and father all were infected, during which time her mother nursed them all back to health. Sadly, near the end of the epidemic, she too became infected but she was too weakened to recover from it.
My Mom was the only practicing Methodist I have ever known who publicly admitted that she included the 'Hail Mary' in her conversation with Our Lady, Mary, in her daily prayer life. Mom was thirteen when her mother died. She had prayed so very hard that God would not let her mother die, but in Mom's view her prayer went unanswered. My grandfather, her father, felt unequipped to take care of two young daughters and an infant son all by himself. A temporary arrangement was made with family friends for the children to stay with them until a more stable and permanent living arrangement could be made.
On that first night following her mother's funeral, staying as a guest with close friends who happened to be Roman Catholic, she wound up alone in a room with a single bed. Still in tears for the loss of her mother, she was very angry with God. Through her tears, she eventually fell into a shallow, restless kind of sleep.
As she would later tell it, whether dreaming or awake, she was never quite sure, she sat up and saw against the door of the room a vision of what she described as a beautiful lady.
Staring at the image she, in her mind, heard the lady say, "I will be your Mother now." Slowly the vision faded, and Mom was able to fall into an exhausted, blessed sleep.
The next morning, at breakfast, she spied a picture hanging on the wall of the dining room. "Who is that beautiful lady?" she asked. Someone at the table with her said, "Why that is Our Lady, the Mother of Jesus." My mother then astonished them all by saying, "That is the beautiful lady I saw in my room last night. She told me that she would be my mother now."
A vision or simply a dream, I cannot say. All I do know is that her vision or dream strengthened her belief in God and her faith in the Lord Jesus Christ. For my mother, Mary became the Mother she could confide in. Mary became, for her, her God-bearer, her Holy Theotokos, the Mother of Jesus, the Mother of God, the spiritual Mother of Marjorie. It was from Marjorie, my mother, that I learned about God and Jesus and how to say my prayers.
Jesus was born into this world as a human baby, inheriting his humanity as a fully human person from his Mother and his identity as God from God, his Father. It was through Mary that God entered into this world, his own creation, as one of us.
It was Mary's purity of mind, soul and spirit that provided the channel chosen for God's entry into this world as both a human person and as the world's Lord God and Savior. It was her love of God and obedience to him that made possible her trust and strengthened her against all worldly fears.
It was with uncommon bravery and faith, that Mary consented to become a mother, while still an engaged but not yet married virgin. In a society for which she very easily could have been stoned to death for bearing a child out of wedlock, it was her brave and trusting and loving consent that made the Incarnation possible, for God would not have forced her against her consent. "Behold the handmaiden of the Lord. Be it unto me according to thy word." These were her words of bravery, trust and faith to the announcing angel. Mary, the consenting cause of our Lord Jesus Christ's entering into this world, a world which was created through him and by him and with him. He did not enter his own world as a mighty king, demanding worship and glory, and majesty and obedience, but as a vulnerable, helpless child, entrusting himself into the care and nurturing love and wisdom of his Mother and Joseph, her wise, loving and trusting spouse, the guardian and protector of both Mother and Son.
My first organ teacher was also the director of the first choir I ever sang in; the choir of the State Street Methodist Church in Fulton, New York. She once said to me, as she was planning the music for Christmas, "Doesn't it seem a shame? At Christmastime, we are allowed to take Mary down off the musical shelf. We can sing and speak of her and include her in our Christmas joy and celebration, but then we must pack her away again until next Christmas."
Why do we spend this holy season of Advent in preparation? For another holiday with well wishes and celebrations of all kinds? Do we do it for Santa and presents and pretty decorations and fond memories of Christmases and family celebrations past? Yes, there is nothing wrong about any of that. But more importantly, this Holy season of Advent beckons and draws us to look to our future with God.
The day and time of Jesus', return are unknown to us, and as scripture tells us, unknown even to him. Jesus' second coming will come unexpectedly, like a thief in the night. All we can do is all we can do, seeking, accepting, living and sharing in God's love. All we can do is to work, worship, watch, and wait; to prepare our hearts and our minds and our spirits to receive our beloved, to receive him as our king; to joyfully seek and greet him as our God, our Lord, our Messiah, our first and best lover, friend and companion.
The key to true happiness is for us to live our lives for him and with him and in him. To whom else should we turn, O Lord? You have the words of life, you are our designer, our Savior our Creator. You are the one, true, perfect Word of God and Word from God. As with holy Mary, with our cooperation and consent, God continues his work of our creation and formation, until we at last enter our final destination as his beloved people, now fully created in his image, the image of God.
O Lord, Strengthen us to press forward on the path that leads us homeward. Let us work and grow and carry our joys, sorrows, hopes, dreams and even our faults and failures into your eternal presence. With Blessed Mary and all your saints let us work and play and sing and repent and forgive and bless and dance in your eternal grace and love.
The angel of the Lord announced unto Mary: And she conceived by the Holy Ghost.
Hail Mary, full of grace, the Lord is with thee. Blessed art thou amongst women, and blessed is the fruit of thy womb, Jesus.
Behold the handmaiden of the Lord, Be it unto me according to thy word.
And the Word was made flesh and dwelt amongst us.
Holy Mary, Mother of God, pray for us sinners now and at the hour of our death.
Pray for us O Holy Mother of God, that we may be made worthy of the promises of Christ.
Let us pray:
Pour forth, O Lord, thy grace into our hearts; that as we have known the incarnation of thy Son Jesus Christ by the message of an angel, so by his cross and passion we may be brought into the glory of his resurrection. Through the same Jesus Christ, our Lord. Amen.
Come, Lord Jesus. Maranatha.
Come, Lord Jesus, come quickly. Amen.