The Rev. Jerry True, January 13, 2019
Click here for video of the Sermon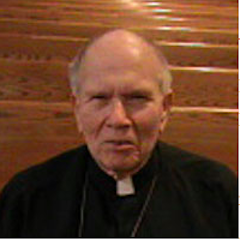 "Do not fear, for I have redeemed you; I have called you by name, you are mine."
"And a voice came down from heaven, 'You are my Son, the Beloved; with you I am well pleased.'"
In the name of God; Father, Son and Holy Spirit. Amen.
My story today is allegorical. A good allegory does not present us with objectively factual events and situations, but rather it attempts to convey and demonstrate a larger message, such as our Lord did in his parables. Today's story, is a kind of love story. Oh, not a story like the stuff of fairy tales or the dime novel, but a story of love that draws upon our imagination and life's experience. The love of God for you and me and indeed for his entire creation is far beyond our present ability to comprehend in its totality but exists in a reality that goes far beyond our wildest imaginings. A love that can be at once a simple, quiet and personal moment of mystery in our own time, yet also an eternity outside the reach of earthly time, a transcendent love which unleashes all the creative power of God.
I think that we all recognize that genuine love is a love that seeks to give rather than take. Real love is a love whose purpose is to free the oppressed and not to claim ownership. Authentic love begins when real life begins, that time when one first reaches out; not in need and not in greed; but in genuine concern for the welfare of another.
I must credit this story because it is inspired by an old television show I once came across. I am not sure if it was an original idea with either The Twilight Zone or a similar program the name of which I cannot now recall.
Once upon a time, there was an elderly farmer walking with his beloved dog along a pleasant country path. Talking to his dog as though he could understand, the farmer was reflecting on an event that had recently happened. Apparently there had been an accident. During a barn fire, a beam supporting the roof of the barn had fallen, striking both the farmer and his dog and fatally wounding them both.
As they were walking along this pleasant, path in a countryside which spoke of springtime in its charm and beauty, the farmer was processing that recent event which he was just beginning to remember. "I believe we are dead, Rex, my beloved canine friend" "The way I figure it, this might be the road that leads to God's heaven. Guess we'll just keep on walkin' along 'til we see what's what"
After some time spent walking along the path, they came upon a beautiful, ornately decorated gate with gold and precious stones; a gate that was obviously used for admission into an area which seemed to be closed in by a vast, beautiful and impressive wall. There was a very attractive, handsomely dressed attendant manning the gate, so the Farmer and his dog stopped to inquire. "Do I get to come in here?" asked the farmer. "Yes sir," said the attendant, "You are welcome to enter if you so choose." The farmer continued, "Can my dog here come in with me?"
"I am sorry sir," replied the attendant, "Animals are not allowed to enter." "Well," replied the farmer, "I guess we'll wander further down this path here. I ain't goin' anyplace where my dog can't go too."
Continuing further down the pathway, they eventually came upon a pleasantly fenced in area which looked very inviting but there was nothing fancy about it. Here too, there was an attendant in a white robe standing at a nice but rather simple gate. Approaching the attendant, he asked, "Excuse me, sir. Can we come in here?" The gatekeeper replied,
"Why certainly, Henry, you are most welcome here."
With a puzzled look the farmer asked, "How do you know my name?"
"Henry, I've known you since before you were born."
"That makes no sense," the farmer replied, "how could you know me before I was born?"
Somewhat bewildered, the farmer added, "Never mind that; how about my dog, old Rex here? Can he come in with me?"
The gatekeeper replied, "Why certainly, my beloved brother. Good and faithful animal companions are always welcome as part of our family here."
"That settles it then," said the farmer, "This is where we belong. We stopped at the beautiful gate back there which I figured might have been the gate of heaven, but they wouldn't let my dog in, so I decided not to go in."
The gatekeeper replied, "That was most fortunate, my beloved brother. That was not the gate of heaven. This is the gate of heaven." With great words of gratitude, the farmer and old Rex entered through the gate. As he and his dog proceeded ever deeper into this increasingly beautiful place, being guided and escorted by what looked like angels, he said to old Rex, "You know, my old friend, that gatekeeper was very loving and looked so nice in his white robe, I might say shining brightly.
But I noticed that there were a few faint shadows, shadows which hinted at something like bloodstains. I noticed one over his side, and others also over his hands, feet and on his forehead.
And now another story. This time an actual story told by an actual Priest of the Church. An event that really occurred. A young, recently ordained priest was assigned as an assistant in a large city parish. The doors of the church were open during the daytime allowing for passers-by to enter and pray. After he had been there a short time, he noticed that there was an older gentleman who made a habit of coming into the church at about the same time every day with his well-behaved dog on a leash. They would sit in the quietness of a mid afternoon for about an hour, and then they would leave just as quietly they had come in. After noticing this for several days, the young priest approached the man and his dog and asked him if there was anything he could do for him, or if he had a special need.
The man replied, "Thank you for asking, Father. No. I'm just like my old dog here. I'm just an old dog who likes to spend some time at the feet of his master."
Now let us consider another love story that really happened. It begins with an announcement by an angel to a young, betrothed but not yet married girl. She, if willing, will bear a child conceived out of wedlock, which will expose her to the danger of public scrutiny and judgment. "How can this be?" she asks, "since I have never been with a man?"
With the assurance of the angel and her ultimate trust in God, she consents and the great drama of God himself entering into this world of his creation as a human being is begun.
Carrying the baby in her womb until his birth, she gives her own humanity to God so that through his loving creative power, with her willing and loving cooperation and sacrifice, God's loving purpose for the redemption of the world and the salvation of souls may be accomplished. For a period of about thirty years, she sees Jesus grow into manhood, she prays, nurtures, teaches, cares for and gives in selfless offering all the fullness of her love to her Son, the only-begotten Son of God, her own beloved Child. As a reflection of his Mother Mary's pure and selfless love he offers himself faithfully and fully to the plan of salvation and the mission to which the Father has called him and for which he was born.
When it was time to begin his mission and ministry in earnest, though he alone was without sin, he began by offering himself for that mission by entering into the baptism of repentance by John, transforming it and expanding it so that it will become also the baptism of love, forgiveness, hope, faith and the fire of the Holy Spirit.
As I grow longer in the tooth, so to speak, I look back with deep gratitude to the life and ministry I have been given thus far. I am so grateful that I have been allowed the privilege of knowing Jesus Christ as my Lord and Savior, and of experiencing the deep joy of being called and sent to be a priest among his beloved people. I am so grateful for my beloved partner of over forty eight years, and for all the friends and family with whom I have shared life's moments, joys and concerns over the years.
None of us knows exactly what the future will bring, but there is one thing we may be sure of:
Our future lies in the love of God; the family of God, the dream of God, the fire of God, and in the peace of God.
I know not where the road will lead I follow day by day,
Or where it ends: I only know I walk the King's highway.
I know not if the way is long, and no one else can say;
But rough or smooth, up hill or down, I walk the King's highway.
Lord, one last thing I seek;
That at life's end, this old dog
May worship at thy feet.
Amen.