The Rev. Jerry True – July 18, 2021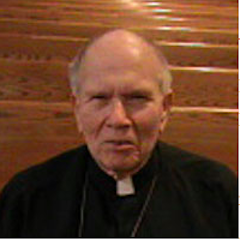 In the Name of God, Father, Son and Holy Spirit. Amen.
There is an old story that goes like this; "There was a young curate, an assisting priest just out of seminary, preparing to deliver his first sermon in the parish church to which he had been called. As he nervously ascended the pulpit, he saw a note pinned on the fabric of the reading platform which simply read, "Sir, we would see Jesus."
Having thought about that story many times, I try to picture in my heart and mind the impact of those words, that thought. A good and probably my most truthful reaction is, "Lord, you know that I am not worthy," and you might imagine God to be affirming the truth of it, "Of course you are not; no one is. At least not yet." But I don't hear the God I believe in talking quite that way. Rather I believe I hear him saying something like, "OK Jerry, I love you and I am here with you and I believe in you. Now, let's get on with it." What? Would he ever really say, "I believe in you?" God believes in me? Hasn't he got that backwards?
Yes, it is a  momentous and almost unthinkable thing to be called by the Good Shepherd to be an image, an icon of himself; to be a co-shepherd of his flock. He who is the Lord of all truth, justice and righteousness, does he really mean it literally when he calls us,  when he calls me by name; when he says,  "I'm here and I love you and I am with you, and yes, I believe in you?"
A popular Christian writer once wrote a book that asks, "Are you with me, Jesus?" But that was never in question. The real question is the reverse.
The question that matters is, "Am I with you, Jesus? When we are with him, it is then that there is strength in abundance available to us. When we learn to truly recall his presence, to lean on him; the same Lord, the same Jesus, the same God who is Lord of all love opens the full arsenal of his love, strength, mercy and forgiveness to us.
"Sir, we would see Jesus!" How can I, a card-carrying member of the fallen human race, a true descendent of Adam (no pun intended), hope to present a true picture of my Lord and Savior Jesus Christ? My brain is too often forgetful, my heart is too often wandering and my will is too often weak. In other words, I cannot be someone I am not, nor can I by my life and witness, give a true picture (again no pun intended) of something, or in this case, someone that I do not know well.
Sometimes, when I forget or doubt for the moment that Jesus is really with me, or more importantly that I am really with him, I am tempted to feel like one of the lost Gentiles that Paul speaks of; an alien to the covenant of promise in the community of God. When I forget who my companion is, no, rather, whose companion I am as we walk the highway of life, I might be tempted to fall into the chasm of despair. But then I remember the hope. I remember the promise. I remember the reality of his presence. I reach out to touch him and it is then that I realize anew that I am never alone. Jesus is never further away from me than my next "Hello", the person next to me, my next breath; and he is never further away from you than the next person you see, your next breath, the next beat of your heart! Any aloneness is merely a delusion, a mental construction. You and I never can be alone! Oh yes, you and I, we can allow ourselves to feel alone, but that is not the same thing as being alone.
Hey, I'll let you all in on it: Sometimes, I think I want to be alone. Sometimes I wish for just a moment, or maybe a time a bit longer, in which I could hide from God. Yes, that's true. Maybe I have that naughty little itch that I don't want Jesus to see. Sometimes there is that little or not so little pleasure I want so badly that I'd like to brush aside God's presence and my awareness of it. At such times I call to mind the words of St. Augustine of Hippo at a time in which he said, "Lord, I want to be a Christian, but not quite yet!"
In our Gospel lesson for today, Mark speaks of our Lord Jesus' feeling of compassion for the crowd that had followed him in their hunger for knowledge and their desire to learn from him and to know just who he was and what his presence among them might mean. Mark tells us that they were like "sheep without a shepherd" and that despite his desire on this occasion to spend some time with his disciples as they managed to get some well-deserved rest, he took the time and made the effort to teach the crowd "many things."
Jesus too had needs. There were times when he needed to be alone. As we have been told by tradition and scripture, he was tempted in all things just as we are. Surely he must have known something about being drawn into circumstances in which he would have liked to forget about his work, his mission, his responsibility in the eyes of his heavenly Father. Surely he must have been tempted even to turn his back on the Father as he thought about the pain and sacrifice that lay ahead of him.
Jesus is not just a God and perfect man that has no experience, no real connection, no real knowledge of what it is like to be alone, frightened, frustrated, hungry or angry.
And yet over and above all this, the power of God's infinite love running through his now immortal body unites him to you and me in perfect if as yet unrealized harmony. He can be with you and me in a way that would be impossible without the full consent, power and grace emanating from the perfect love of God the Father through the activity of God the Holy Spirit.
The call to become a shepherd representing our Lord and Savior Jesus Christ, as important as it is, is not limited to the ordained clergy. It is first and foremost the ministry of the Baptized to be both sheep and shepherds, the first foundation of all Christian ministry. An additional layer is added through the sacramental rite of Confirmation in which the Holy Spirit celebrates a new step of maturity and adult responsibility. This event is recognized and celebrated by our willingness to take on our adult leadership within the life of the Church.
To that end, we celebrate the ministry being manifested right here in this holy place. Much of it remains largely unseen, especially within the still present threat of the coronavirus and those who either will not or cannot receive the lifesaving vaccines now available to us.
Above all, as sheep and as shepherds of our Lord and Savior we gather together to share our lives with that of Jesus Christ and each other as we break and eat the bread of life with each other. Here, we receive his Body by which our mortal bodies are fed by his Body, now broken for us and in which our immortal souls take on his immortality as they are fed by the fullness of his loving resurrection grace.
When Jesus died to save us, a word, an act he gave us;
and still that word is spoken, and still that bread is broken.
He was the Word that spake it, he took the bread and brake it,
and what that Word doth make it, I do believe and take it. Hymn # 322