The Rev. Jerry True – July 28, 2019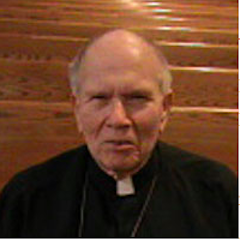 "Ask and it will be given you; search and you will find; knock, and the door will be opened for you."
In the Name of God; Father, Son and Holy Spirit. Amen.
There are several places in Holy Scripture where Jesus seems to say that anything asked for in His Name will be granted. So what is this? Are we being told that all we have to do is ask for something, for anything at all, and God is going to immediately issue us a virtual blank check? How wonderful. Sign me up for that! , Lord, could I have one of those new Teslas like my cousin Roger has? OK, I know, I know. That would be a little rich for my pay grade. I'll settle for a new Chevy Volt. Very environmentally friendly, Lord.
But wait, Lord, I was just kidding. Don't sign me up yet. If I, if we were to take such a promise at unexplored face value and attempt to exercise it frivolously; and more importantly if we were to expect God to honor any selfish or unworthy request by making it a reality in order to keep such a promise, can you imagine the utter chaos which would be the result?
Oh yes, God's love for us is unconditional, and it is because of his unconditional love for us, that by and through his Holy Spirit he sends his sanctifying and sustaining grace to guide, strengthen and comfort us when we ask; when we ask sincerely and in faith, when we ask rightly and in the spirit of love. I once believed that there were certain expectations attached to receiving God's grace, but I always had the feeling that there was something wrong when I said it. Was it free or not?
I have wrestled with this for years. I have been praying and thinking about it and saying it for so many years; Saying what? That God's love is unconditional but comes with expectations. But as a very dear friend recently pointed it out to me, what I had been saying would lead someone to come to the same wrong conclusion: Namely, that God's love for us appears to be conditional after all, and has some qualifying strings attached. And so, thankfully, I stand corrected.
What I had been trying to affirm over the years was the truth that God's unconditional love for us is not the false love of a possessive sugar daddy. Our God is not a god who spoils his children with unneeded and undeserved excesses and amusements, in some vain attempt to manipulate us; to buy our love. Instead, he desires for us to grow into, "the full nature and stature of Christ", an unconditional, all-giving, unselfish, all- embracing life of love created by and  through the power of God's limitless love. An infinite love which can open us up to the reality of love; love that is steady, faithful, forgiving, disciplined, humble but self-confident and unselfish; Love that is generous but not manipulative.
Finally, largely as the result of an observation and feedback from a dear friend who often helps me to see more clearly: the truthful thought, the appropriate word which I have been struggling to identify, the word which is the motivational force which drives the love of God within himself, and potentially within us is not the word expectation. The love of God comes to us neither as a demand nor as an expectation, nor as a judgment. God's loving grace comes to us borne on the wings of that crucial, tremendous, gigantic but little four letter word: hope. Thank you to my friend and to St. Paul. It was there, staring me right in the face all along, but I did not see it clearly. Suddenly, as in answer to prayer, my eyes were opened!
Instantly it came to mind; that great ode to love by St. Paul: First Corinthians 13. The entire chapter rings with truth, but especially, for me, as one big little final burst of revelation:  "And now faith, hope, and love abide, these three; and the greatest of these is love."
I trust that I am not being obscure or blasphemous, but I have come to see these three little words as the holy trinity driving God's saving grace: Faith, Hope and Love. God's love comes freely to us, not as a requirement nor even as an expectation, and certainly not as a judgment! That word, that key which opens us to the love of God and inspires us to draw into deeper faith is that big little four-letter word, HOPE, which I confess I rather neglected in my preoccupation with the other two.
Let us look with our mind's eye once more at the specter of our Lord Jesus Christ hanging on the cross. O yes, God has purchased our love, loyalty and gratitude; Not with self-serving faux generosity, but with the price and sacrifice of a broken heart. To paraphrase what Jesus told us, No one has a greater love than the one who will give up his life for the love of another. On the cross: giving, offering, surrendering in an act of infinite and unconditional love, Jesus offers up all that he has: soul, mind, body and spirit and strips himself bare of all that matters: faith, hope and yes, even love. Jesus hangs naked and tortured as an act of supreme love, and perhaps most poignantly, with the sacrifice of a broken heart.
We can and often do, I suspect, look upon the image of our Lord hanging there on the cross as the ultimate image of sorrow, suffering and evil. We are tempted to look away. There is the despair of utter desolation, the chief horror of hell.
But there, also, is the icon of perfect sacrificial love. It is the dream and hope of God who for us became Man and God incarnate, the God who offers himself upon the cross for us and our redemption; it is his faith, inspired by hope, that we will come to see the infinite depth of his love for us. It is God's hope to prove to us once and for all that we are valued, treasured and loved unconditionally!!
Mark Otis Selby was an American blues/rock singer-songwriter, guitarist, multi-instrumentalist, and record producer. He played guitar in recording sessions for a number of musical artists including Kenny Rogers, Johnny Reid, Keni Thomas, Jimmy Hall, and Wynonna Judd. I know very little about his kind of music, but I know that he was regarded as a very talented artist.
Perusing the magazines in a doctor's waiting room, I happened to come upon an unascribed biography of Mark, written by an obviously good friend of his prior to his death in September of 2017. I was struck by the details of Mark's faith, personality and the description of his deep thinking with regard to his mission in life. I would like to quote some of his thinking taken from this biography. I hasten to apologize  for not being able to remember or find the biographer's identity. If he or she happens to ever come across this sermon, I would enjoy being able to reveal it.
I tend to quote or paraphrase pretty freely, tweaking here and there for clarity and interjecting my own thoughts from time to time. I am now quoting that unknown biographer.
"Mark Otis Smelby is a man on a journey—a self-professed pilgrim. He once wrote, 'I love the idea that we are all on the road to our actual homeland.
I love that we are merely travelers passing through this world. It's not that the value of where we are right now is diminished, but we realize we are meant for something more than this temporary, <often> superficial, broken world. I really believe there is great beauty and love and that we are all capable of experiencing it. Sometimes it's super hard to do that because the courage to seek life and love can wane at times. But I want to keep aiming my arrow in that direction.'"
Again, Mark speaking said, "I love the writers who write about their faith as well as their lack of it. <I admire> people who place great value on loving themselves and others, but confess to not doing it very well. This is the kind of person I want to be.
Instead of striving to be perfect (like I've done most of my life), I want to live in the rock solid foundation of knowing that I am deeply loved, and then see how that love changes me over time."
"This isn't to say that Mark is a poor example of how to live your life. In fact, he was determined to not let his imperfections hold him back from being a person of <loving> influence.
'It's really important to me, <he said> to give away my time, my experience, and my creativity to make a difference in the lives of other people.' One of the most significant ways he did this was through weekly prison visits he did for more than a decade. He said, 'I love hanging out with those guys.  We are so much alike in so many ways. We all need to know that we are loved and valued, and that what we think really matters. And even more so lately, I'm finding that we are all desperately wanting hope to be real. I want to be a megaphone of hope to the guys inside, as well as to myself. Really, to anyone who wants to listen!'"
When somebody messes up, people run. They don't want to get their hands dirty."  "Don't forget me when I fall, don't turn your back because I'm weak." "You could be the hope that I need to stand again. Don't forget me when I fall."
<The remark the biographer shared from Mark Smelby that sparked and first drew my attention to the article was this quote > "One of my most favorite writers, Henri Nouwen, has taught me that only when I know myself as unconditionally loved can I give <freely>. He says that giving without wanting anything in return is trusting that all my needs will be provided for by the one who loves me unconditionally. This is the process I'm walking through in life—trusting that I'm loved, and as a result, giving away my life to others. The freedom to love. Isn't this the kind of freedom all pilgrims are looking for?"
Now I guess that I am what many would call kind of high church. It is my instinct and urge and response to bow and genuflect and kneel and smell the incense rise before the majestic and wonderful throne of God in perpetual adoration-well-for at least three minutes. I am a great fan of the Christus victor theory of the atonement. It all sounds dramatic and wonderful. But I think that it is also God's greater hope and dream that we will come together in the joyful oneness of fellowship in an eternity of Faith, Hope and Love.
All my hope on God is founded; he doth still my trust renew, me through change and chance he guideth, only good and only true. God unknown, he alone calls my heart to be his own.  Amen