The Rev. Jerry True – June 20, 2021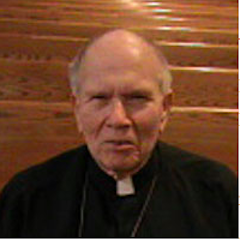 It was a Sunday morning during the Summer of 1959. I was attending the 11am Sunday Eucharist at my home parish: All Saints Church in Fulton, New York. There was a rumor amongst some in the parish that this last Thursday, Jerry True had gone to a diocesan retreat with the bishop for young men who might want to consider a possible call to the priesthood. It became a rumor no longer because during the service the rector announced that I had attended the retreat on religious vocations and was considering applying for Postulancy.  After the closing of the service a young woman who was known to me from our high school years ran up to me with enthusiasm in her eyes and said, "Jerry I hear that you're going to be a father!" to which I replied, "Not that I know of!" I immediately felt sorry for her and for my cheeky response as I saw her turn several shades of red with embarrassment but then, changing thankfully to amusement as those around us shared a good-natured laugh. I explained that the Bishop and I had talked about it and agreed that I should continue with my college studies, pray about it and continue to explore the possibility that I might be receiving a call to the priesthood.
Now, about this word "Father". We Episcopalians do love our titles, don't we? Many of us do.
When Bishop John Allin was elected as our Presiding Bishop, there was an ongoing controversy at the national church level as to whether he should be referred to as "The Right Reverend" or "The Most Reverend".  I remember hearing him say that when he was ordained to the diaconate he was impressed by being called "The Reverend John Allin." When he was ordained to the priesthood he was amazed to be called "The Reverend Father John Allin."Then when he became a Dean he became "The Very Reverend John Allin". When he was consecrated Bishop he became "The Right Reverend John Allin" as is the custom in our Anglican Communion of national churches. Now that he was Presiding Bishop, the equivalent of an archbishop in other branches of our communion, they were trying to make him "The Most Reverend." He quipped that he would rather be right than most. He lost that argument, however. –  O well, when his term of office as Presiding Bishop was over, he went back to just being Right.
Some have wondered why I do not like being addressed as "Reverend" in conversational speech. I usually explain it by saying that the only thing "reverend" about me is that God created me and Jesus saved me. My real reason is that, as a frustrated English teacher, it is just bad English. The word "reverend" is an appellation, an adjective. It is not a noun and is thus not eligible to be used as a proper title. But you can't fight city hall. Almost everyone uses it as a title these days.
And there are many more important things to worry about. In Attica, we had a local judge who most every morning greeted me, "Hi Reverend".
I often replied, "Good morning Honorable." It became a local joke.
When I was appointed Dean of the Genesee region in the Diocese of Western New York, the diocesan roster of clergy began listing me as "The Very Reverend Jerry True." When I protested being listed that way, one of the women who worked in the diocesan office said laughingly, "Well that's the custom in this diocese so get over it." She found my protest to be amusing and soon I became known to the staff as "Very Jerry." When I retired, they carried the joke a bit farther and I became "just Jerry." Thankfully, back home in my parish, my parishioners still continued to call me either "Jerry' or "Father Jerry."
My grandmother was a devout (what I called a) "home Methodist" (she almost never went to church but she prayed and read her bible every morning), she became upset with me when, as a college student I announced to the family that I was becoming an Episcopalian. "Just as bad as Catholic," she muttered. One morning, pointing out to me Matthew 23:8-10 where Jesus reportedly said, "Call no man your father." I replied, "And what did you call your male parent?" "Have you tried to understand the context in which Jesus is saying that and what he meant by it?" The people had been bragging that they were somehow superior to others because they were children of Abraham, their father, their ancestor.
Earlier, in Matthew 3:9, Jesus told the Pharisees, "Do not presume to say to yourselves, 'We have Abraham as our ancestor'; for I tell you, God is able from these stones to raise up children to Abraham." Later, In that aforementioned discourse, Jesus also said to call no man your teacher (Rabbi) and no man your master (instructor}. Did you ever call a person "my instructor" or mister or my schoolmaster?"
Poor Gram. I pick on her too much and she's not here to defend herself. But now, again, what about this word "Father?"
The last time I preached in this Cathedral, it was Mothers' Day so I talked a bit about motherhood. By coincidence, today is Fathers' Day and so I will say something about fathers.
Like motherhood, fatherhood is a gift to us of God's love and grace. In this age of struggle for equality of persons and hoping in love for all, we seek a new or recovered meaning, new awareness, new enlightenment, a new revelation for the expression of the love and grace that find their origin in the outpouring that flows from the heart of a loving and passionate and caring God. He who seeks above all to draw us to himself. God the Father wishes most particularly to draw us through the Holy Name, life, sacrifice legacy and love of his only begotten Son, our Lord and Savior Jesus Christ. Not as a substitute for but as an addition to that, God wishes to draw us in this and all other ways that enable the Holy Spirit to open us up spiritually and bring us into his nearer Presence.
But what and who is a father? When we think of parenthood in general, we quite naturally think first of those whose relationship with each other resulted in our biological and spiritual existence. We look to them for our first sustenance, support, meaning and identity. At first, we find ourselves dependent upon them for all the necessities of life. As we grow and begin to reach out and find meaning and an understanding of who we are in the context of family, we begin to depend just a little less exclusively on Mom and Dad. Hopefully, they remain an essential part in that foundation which lifts us up as identifiable persons. Before we can do that for ourselves in our own right, we need their help and support.
Of course, the realization of perfect family is an ideal which in this world is never perfectly realized.
As we begin to reach out into an inviting but sometimes frightening and often uncaring world, we quite naturally look to our parents, our mother and father as resource, guide, emotional strength, refuge, comfort, anchor and rescue.
//
In today's collect we ask God to function as our heavenly parent, our heavenly Father (I have no argument with those who wish to think of God as "mother"), "Lord make us to have perpetual love and reverence for your holy Name, for you never fail to help and govern those whom you have set upon the sure foundation of your lovingkindness."
In the way that the historic ministry of the universal Church has been ordered, the Bishop is seen as Pastor and spiritual father or mother of the communities, the families that exist within his (or her) area of jurisdiction or diocese. This diocesan family is made up of smaller families, communities called Parishes or Mission churches headed spiritually by a Rector or Vicar or Priest-in-charge who is generally considered in a spiritual way as a mother or father figure within that parish community. Hence a priest may find her or himself being addressed by some as "Mother" or "Father."
For several years before entering seminary, David and I lived within a small, mixed Christian community called the Community of the Reconciliation." One of our ministries was to care for an older, retired priest who had been born and ordained too long ago to benefit from a pension or social security. We adored Father John for his love, spirituality and wisdom as he acted in so many ways as the spiritual center and father of our community, our family. One day, Father John said to me, "Jerry, around the house here, why don't you just call me "John"?
This was my response to Father John: "Father John. You know that when I first met you, I addressed you as "Father" as a sign of respect and spiritual recognition for you as a priest. As we got to know each other better, it became for me not just a sign of respect for the priesthood, a sacred office which you bear and represent, but a personal and intimate symbol of affection.
You have been a spiritual father to me for years. I could no more feel comfortable calling you "John" than I could call my own father "Lisle" or my mother "Marjorie". Please continue to allow me the honor of addressing you as "Father John."
I fear that we are living in a time when so many of us have forgotten that when we honor someone, we bring honor upon ourselves, and when we fail to honor someone or when we show dishonor to anyone, we bring dishonor upon ourselves.
//
In their fear and distress as the water was threatening them in that boat, the disciples cried out to Jesus with the name by which they knew him best and most intimately, a name that reflected both their trust, affection and their respect: "Teacher (Rabbi), do you not care that we are perishing?"
"He woke up and rebuked the wind, and he said to the sea, "Peace! Be still!" Then the wind ceased, and there was a dead calm. He said to them, "Why are you afraid? Have you still no faith?" And they were filled with great awe and said to one another, "Who then is this, that even the wind and the sea obey him?" Amen.