The Rev. Jerry True – June 7, 2020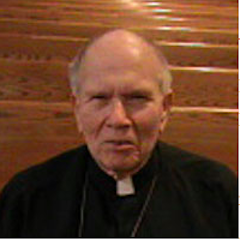 Hi there! How do you like my hat? It has been weeks since I could get a haircut, and then I tried trimming it myself, which only made it worse. Getting ready for today, I said to myself, "Maybe I should wear a hat." Then I looked up and behold: there languishing on a shelf amongst my clothing ever since I retired from my parish in two thousand five was this biretta. It's a churchy form of the academic mortarboard or cap. I used to wear it on special occasions in my parish in Western New York. Then I thought: "Today we are honoring our graduates so why don't I wear that in their honor?" You who are older, especially Roman Catholics, may remember them as they were more commonly worn there than in Anglican churches. Mostly in the more "high church" parishes – like St. Peter's up the street here. I don't think they are much worn by anyone nowadays. On second thought, maybe my tattered locks and bald head would be less distracting, so graduates, I tip my hat to you with prayers and blessings for a prosperous and wonderful future.
In the Name of our one true God; in Trinity of infinite being and Unity of infinite love: Father, Son and Holy Spirit. Amen.
While I was in General Seminary in downtown Manhattan, we were required to take an assignment off campus each Sunday when school was in session, usually at a church within a reasonable distance. One day a fellow student complained to me that he had never been asked to preach at the parish he was serving, which had a number of clergy on staff.
I replied, "Well don't worry, Charlie. Trinity Sunday is coming up in a few weeks. You will probably be scheduled to preach then." And guess what?
My prediction came true. I know from personal experience that many clergy hesitate to take up such a complicated and often confusing subject for a sermon as the Holy Trinity. And of course, there is also the idea that some smarty pants may delight in accusing you of being a heretic. O well, at my advanced age, I can always claim senility. And yes, I do know that for many of us, that so-called joke may not be so funny!
Karl Barth, one of the great Protestant theologians and writers of the 20th century was once asked, "Doctor Barth, what is the most profound statement of the Christian faith that you can think of?'  After a slight pause, Barth replied with the words of a hymn written for children by Anna Bartlett Warner a century earlier, "Jesus loves me, this I know, for the Bible tells me so."
Christianity is a faith so complicated that it challenges and inspires the most deeply gifted and great theological thinkers, writing volumes and volumes of treatises and dogmatic theories and yet so simple that a mere child can tell you the substance of it.
Many of you know or are at least familiar with of our own Presiding Bishop, Michael Curry. Just the other day on MSNBC, I heard him say something I had heard him say before, but which I was now hearing in a new way. I will conflate it a bit while trying not to alter his meaning: "Either we will learn to live together in love as brothers and sisters," he said, "or we will perish together in our selfishness. The opposite of love is not hate. The opposite of love is selfishness."
Yes, that well-known and much beloved children's hymn, "Jesus Loves Me" summarizes the one essential foundation of the Christian faith. Love is most often thought of as an emotion, but more than that it is the opposite of selfishness.
The wonderful tender emotions which we think of as love are more the result of infatuations which may or may not lead us into genuine love rather than being the thing itself. In God the Holy Trinity, all of the meaning of the word love is laid open for us to ponder and seek to comprehend. Yes, God is one God, but in that oneness, God is family; a family so united in infinite love that they are indeed one: Father, Son and Holy Spirit. Three persons; Three selves. Eternally united. One God. You and I were created to become members of that divine family, not to be absorbed or to lose our personal identity in it, but to be wrapped in that eternal and perfect love. that love which calls us to become the wonderful, whole and perfect person we were created to be, our eternal selves. Through Jesus Christ and through his incarnation, life, death and sacrifice we are called to be wrapped in that family of love and unity.
In our present pandemic, Bishop Curry suggests to us a new symbol for love. The heart is the traditional symbol of the emotion we call love, and that is fine, but for now, this might serve to be an even more relevant symbol appropriate to today. When we put in on, we wear it to show our desire to love and protect each other. When we put on the mask for the sake of others, and ourselves, we may have a new sign and symbol, a new way of saying, "I love you."
God has a dream, a dream that one day we may all be fully and completely joined together with that family we call God. Love is the creative power behind all of the universe. Love is the only real and ultimate and infinite power that exists. In love God does not seek to diminish or absorb our individuality, but to fulfill and perfect it. God our Creator calls us all to be at one with them. God our Redeemer calls us all to be at one with them. God the Holy Spirit calls us all to be at one with them. God calls us all to be at one with each other and with them, an appropriate pronoun when referring to the Holy Trinity.
Our singular pronouns do not really fit the reality of God. I was raised to think of God as Father, and so that is my comfort zone. Others may just as legitimately think of God as Mother. But in God the Holy Trinity the personal pronouns "he" and "she" are limited to our earthly notions of gender, roles and biological reproduction. God calls us is to rise above our all too limited ways of thinking about each other. The call from God to you and to me and to all humankind is to become, with each other, through God's grace, full members of that family which loves and lives to serve each other. God calls us into the Holy Family through the outpouring of grace he gives, with his only-begotten Son through the power of the Holy Spirit, where the only pronoun we shall need is that life-giving and love affirming pronoun, "WE".
We limit not the truth of God to our poor reach of mind,
to notions of our day and place, crude, partial and confined;
no let a new and better hope within our hearts be stirred;
The Lord has yet more light and truth to break forth from his Word.
Who dares to bind to one's own sense the oracles of heaven,
for all the nations tongues and climes and all the ages given?
That universe, how much unknown! The ocean unexplored!
The Lord has yet more light and truth to break forth from his Word.
O Father, Son and Spirit send us increase from above;
enlarge, expand all living souls to comprehend your love,
and make us all go on to know with nobler powers conferred—
The Lord has yet more light and truth to break forth from his Word.
George Rawson (1807-1889) (Hymn 629)
May God bless and keep us. Keep us safe, keep us in love, and keep us on the path on which we are led to Jesus the Christ, the One who is the Way, the Truth and the Life. In the holy Name of the one God who is the holy family of unconditional love and all healing, the Holy Trinity: Father, Son and Holy Spirit.
The grace of the Lord Jesus Christ, the love of God, and the communion of the Holy
Spirit be with all of you.
Amen.