The Rev. Jerry True – March 17, 2019
click here for a video of the sermon.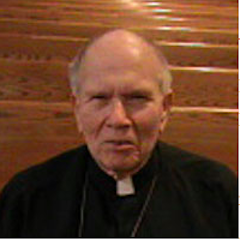 In the Name of God; Father, Son and Holy Spirit. Amen
"And Abram believed the Lord; and the Lord reckoned it to him as righteousness."
There is a story, probably fictional, about the famous Renaissance artist and sculptor Michelangelo. So the story goes, someone once asked him about the difficulties he encountered in sculpting his famous statue of King David. He replied, "Why it was easy. I simply chipped away the bits of stone that didn't look like David!"
You and I are told by the Church's teaching in both Scripture and Tradition that we were created in the image of God. The only further exposition of that saying that I offer you today concerns that little past tense statement we were created. In the Hebrew, it is not only possible but probable that the words, we were created can be interpreted with an equal likelihood of correctness by saying, we are being created. A more complete statement in translating it from the original Hebrew is that we were, are now, and will be created in the image of God. In some if not many other languages, the past, present and future tenses are not so clearly divided and separated as in our own. Hebrew and Aramaic are among them.
As you may have heard me say in previous sermons, the so- called creationists have got one very important thing wrong. So many believe that God did the work of creation once, a long, long time ago, and then stopped. That is why some religious people are so threatened by the various theories and evidences of evolution that inhabit the modern scientific world.
I can understand why they are frightened by them, and I understand why they deny so many of the theories and findings of science, but they are wrong.
Of course, God is the Creator of all. It is out of his infinite creating force of love that God has loved us into being. That is what God does. That is who God is. That is who God is in his eternal being. God's infinite love is the most powerful force in the universe and is the driving engine behind all creation, past, present and future. Indeed, God has created time itself. He created time for our benefit, but he himself is not subject to it.
In Exodus 3:13, when Moses asks God from within the cloud, "If I come to the Israelites and say to them, 'The God of your ancestors has sent me to you', and they ask me, 'What is his name?' what shall I say to them?" God said to Moses, "I am who I am". He said further, "Thus you shall say to the Israelites, 'I am has sent me to you.'" God also said to Moses, "Thus you shall say to the Israelites, 'The Lord,* the God of your ancestors, the God of Abraham, the God of Isaac, and the God of Jacob, I AM has sent me to you': This is my name for ever, and this my title for all generations."
God's answer to Moses, "I AM", can also be correctly translated faithfully in the Hebrew rules of grammar as, "I WILL BE WHOM I WILL BE."
This Holy Season of Lent can be thought of as a conscious, deliberate and prayerful time of observance. Lent is a time when we try to be more aware of, to be more open to, and yes to more actively invite the continuing, creating hand of God to further the work of creation around us and upon us and within us.
Harking back to Michelangelo's comment about his work of sculpting, it is said that a somewhat lesser known artist was asked the same question about his very lifelike carving of an elephant. "I just whittles away all the wood that didn't look like an elephant." That carver had an image in his mind of what an elephant should look like. In creating his carving, he removed all the excess wood that was not a part of his elephant. In the book of the prophet Isaiah, chapter 64, verse 8, the prophet says,
"Yet, O Lord, you are our Father; we are the clay, and you are our potter;
we are all the work of your hand!"
On Thursday, March 8th, the day following Ash Wednesday, during his early morning Mass. Pope Francis of Rome said the following: "Lent is a time to ask for God's grace to chip away at our hypocrisy, which is seen in our natural human attempt to appear worthier than we are. I must appear to be what I am, and that is our work in Lent.  Lent is a time to practice humility and try to bring the reality of our life closer to what we pretend to be. "Too often," he said, "people feel they are righteous because they belong to some association that does good or because they go to Mass every Sunday and are not like 'those poor things who don't understand anything.'"
"They focus only on outward appearances and never recognize they too are sinners. If you tell them, 'But you're a sinner, too,' (they respond), 'Oh Yes, we all are' but then they relativize everything. Many also try to look like some face on a holy card — all holy in appearance. But when there is this difference between reality and appearances, the Lord uses the adjective 'hypocrite.'"
With all respect and deference to the Holy Father, I don't see the Lord using such labels. But I do see that when the reality of who we are at present doesn't exactly fit the dream that God has in mind for us, his great love for us stands ready. Ready to do some more chipping, some more carving, some more molding, some more creating and blessing and grace as he continues to love us more fully into his dream of who we truly are, the reality we are destined to become.
As children of our Creator, as beloved brothers and sisters of Jesus our Savior and Redeemer, as those who have been given life by the love of the Holy Spirit, our primary task is to use the love which God has planted within us. As we invite others into our hearts by thought, word, prayer, and deed, we invite him to continue his creative love within us. As we sincerely ask him to show us how to return his great love with love for one another, we find ourselves cooperating with that loving power of creation that exists deep within us. In so doing, he chips away those things which are not truly who we are. He carves away those things which serve to hide our true nature and corrupt our love of others and our own healthy love and respect for ourselves.
For his material, the sculptor chooses the perfect rock, the precise slab of marble, the material that speaks of his dream for the image he holds in his heart and mind. Where the material chosen does not fit with his image, he chips it away, however long that may take, until the perfect image he has in mind appears in the fullness of its glory.
God does not make junk. Each one of you, each one of us, has been chosen by God as the perfect material which fits the image he has in his dream for each of us.
Each one of us is destined to become God's unique child, a true sister or brother to each other and by adoption and grace, a sister and brother of Jesus himself.
As the first letter of John, chapter 3, verses 1-3 says: "See what love the Father has given us, that we should be called children of God; and that is what we are. The reason the world does not know us is that it did not know him. Beloved, we are God's children now; what we will be has not yet been revealed. What we do know is this: when he is revealed, we will be like him, for we will see him as he is. And all who have this hope in him purify themselves, just as he is pure."
May this holy season of Lent become or continue to be a time of inner sight, of restoration and of new and restored grace within each of us. A time when all that prevents us from being or becoming who we truly are in Christ is stripped away, is chipped clear, is molded with the divine love so that all the brilliance of God's loving creation may at last be revealed in us.
Father, Lord of all creation,
Ground of being, life and love;
Height and depth beyond description
Only life in you can prove:
You are mortal life's dependence;
Thought, speech, sight are ours by grace;
Yours is every hour's existence,
Sovereign Lord of time and space.
Jesus Christ, the Man for others,
We your children make our prayer;
Give us grace to love each other
All whose burdens we can share.
Where your Name binds us together
You, Lord Christ will surely be;
Where no selfishness can sever
There may your love all people see.
Holy Spirit, rushing, burning
Wind and flame of Pentecost,
Fire our hearts afresh with yearning
To regain what we have lost.
May your love unite our action,
Nevermore to speak alone;
God in us abolish faction,
God through us your love make known.
Stewart Cross (1928-1989)