The Rev. Linda Taupier – April 19, 2020
Click here for Video of Sermon.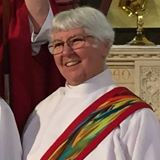 Alleluia!  Christ Is Risen
Yet, the disciples (except for Thomas and of course Judas) were locked in a room and full of fear.  Jesus came into the room and said, 'Peace be with you'.  He didn't come and ask them where they'd been or why they were hidden in a room.  There was no accusation there was only acceptance and love.
It is difficult to write a sermon today of resurrection, peace, and the idea of being sent into the world when all around us people are being diagnosed and dying from Covid-19 and we are being asked to stay at home.  There is pain, fear, and there seems to be anything but peace all around us.  The numbers seem to get higher each day-and we can only pray for the day that the levels begin a downward trend.
Sometimes I feel like the disciples locked in a room full of fear.  Yet I know that the room full of fear is in my head and I need to realize in my heart that God has me, has us, in the palm of His hand.   Just as he had the disciples.
The disciples had good reason to be afraid.  Jesus had been crucified.  Would they be next?  They'd been told by the women Jesus had been resurrected but what did that mean for them and for the world around them?  It seemed nothing had changed…. Rome was still in charge.  Jesus hadn't come as king over the land.
Thomas was absent from the locked room that day and we aren't told where he was or what he was doing.  He didn't readily believe the others when told Jesus had been with them.  He was skeptical.  We've heard about Thomas before.  He seems to be the one that will say what's on his mind and ask the questions the others may be afraid to ask.  He'd been with Jesus in the Garden of Gethsemane and Jesus had just said, "Let not your hearts be troubled…. I go to prepare a place for you… and you know where I am going…." and Thomas was the one who said, Uh, no we don't know where you're going-how can we follow?  Before that when Martha & Mary had asked that Jesus come because Lazarus was ill there were some who were very afraid of going back to Judea because they knew of the danger for all of them.  Others wanted to go because they thought this was where Jesus would become king and establish his kingdom.  Thomas was the one that was ready to go with Jesus and die with him.  Thomas urged the other disciples, "Let us go with Jesus," he says.  "Let us go that we may die with Him!"  It doesn't sound like Thomas doubted for a minute who Jesus was or what was going to happen.
So, when Thomas was told by the others, they had seen Jesus he needed more.  He did not quite trust their account of this incredulous story and wanted to see Jesus for himself.   Thomas was being the same as he'd been before, honest with himself and honest with the others.  Yes, Thomas had doubts as we all do.  Recognizing doubt is honest and the only way to delve deep enough to realize our truth.  Although Thomas may have doubted, he was still part of the group.  He stayed with them.  He showed back up.  We also need to show up even if on our computers.
We know that we are never promised life will be wonderful.  After all Jesus told us to pick up our cross and follow hm.  We might be asking now just where the risen Christ is amid this pandemic, which is causing widespread chaos, rampant unemployment, a death toll that spikes each day.  We might be feeling alone during this time of stay at home when what we want is to hug everyone we know and have a meal with our family and friends.  It can feel like a dark place and we might wonder just where God is.
It helps me to remember that Jesus felt this way too.  On the cross he said, 'My God, why have you forsaken me'.   I don't believe for a moment that Jesus had lost his faith in God.  Doubt is a part of our faith.  When we doubt, we seek.  We are looking for a way through, looking for a light to shine to give us hope.  We look for a new reality.
Our reading today from 1 Peter reminds us of our 'new birth into a living hope…and into an inheritance that is imperishable…and we are being protected'.  We will, like the people to whom Thomas was speaking, suffer trials yet as Christians we believe God is with us.
The gospel today doesn't stop at the first Peace be with you.  It goes on to say : 21"Jesus said to them again, 'Peace be with you.  As the Father has sent me, so I send you.' 22When he had said this, he breathed on them and said to them, 'Receive the Holy Spirit'. "
When I stop and meditate and when I pray deeply, I feel the Holy Spirit around me, in me.   I know beyond any doubt that an experience of Jesus is working in me.  Thomas reminds me, I may not get to touch the wounds of Jesus, yet I know I am part of the body.  You are part of the body.  We all have wounds and great joys.  Just as Thomas we can experience a deep connection with our risen Christ.  When we open ourselves, Jesus comes to us.  As the triune God comes to us, we are sent into the world.  Our world may look a bit different right now with the need to be physically distant.  This doesn't stop us from being an active part of the body.  There are many ways we can participate in today's world. # 1 is Prayer!  The Cathedral website is full of options to stay connected.  Let the challenges we face now encourage us to reach out over the telephone, drop a note to someone, reach out through computers to others in new ways.  We don't need to be by ourselves.  Remember the psalm:
8 I have set the Lord always before me; *
because he is at my right hand I shall not fall.
9 My heart, therefore, is glad, and my spirit rejoices; *
my body also shall rest in hope.
11 You will show me the path of life; *
in your presence there is fullness of joy,
and in your right hand are pleasures for evermore.
Let Jesus show us the path of life.  Jesus is alive through us and he will not leave us.  With Jesus in our hearts we can look to tomorrow.  Alleluia, Christ is risen.   Christ is risen indeed.  Alleluia