The Rev. Linda Taupier – August 18, 2019
To view the video of the sermon, CLICK HERE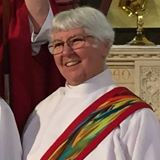 I must admit this is not a gospel that makes me want to preach today or one that makes us comfortable. And it's not supposed to.  All this talk about bringing fire to the earth and that Jesus can't wait until it's set ablaze. What kind of talk is that? Then there is the part about how households will become divided because of him. That's exactly opposite from the kind of commu­nity we're trying to build here.  Jesus is getting ready for his 2nd Baptism and this time it's not with water but with the cross.  Remember back at Jesus' baptism John told people that he was baptizing with water but "someone mightier is coming who will baptize with the Holy Spirit and with fire."  This is the same fire from Pentecost.  This fire can strengthen us to go out into the world to make changes but that doesn't come without angst.  Fire can destroy certainly yet it is also used to purify.  To take a splinter out I burn the head of a needle. The fire purifies the needle – or so I hope!  The fire of the gospel burns away the old way of living, our old priorities and brings us to a new way of living.  If we make a commitment to Jesus, we must then give up all the other gods in our lives.  This is what Jesus was talking about when he spoke of divisions.   Are you working for a world of righteousness, equality, justice for all and love?  This is what the church is all about.  We must stand up for all of humanity and not think solely of ourselves and our comforts.
Right now, we are in the longest of the church seasons – Ordinary Time.  This time does not seem 'ordinary' to me, however.  Our nation is experiencing such upheaval over immigration, news nearly every day of gun violence which we now expect as a daily news story, strange weather patterns worldwide bringing destruction due to climate change, opioid addiction, homelessness.   How do we as Christians respond to all of this?
Jesus tells us that he's under stress.  Difficult times are ahead before there will be any peace on earth.  At this point in the gospel story he is aware that his hour is coming close.   Geographically he is making the last journey that would lead to Jerusalem for the final confrontation and his crucifixion.
This gospel tells us that profound transformation is needed, and we know how hard it is to change.   I for one am not good at change although the older I get, the more change I see and it's easier now to accept that change is the way of life.
Last week we were reminded of the commitment we would need to make to follow Jesus.  We must give up our worldly possessions and follow a moral compass.
The words in today's gospel brings that uncomfortably close.  Change puts stress on relationships.  When a person changes it brings tension between them and others.  When we follow our moral compass, we must be willing to make difficult decisions and go against what may be the norm.  When we change, our relationships change and that is not easy.  Not everyone will accept the change and that causes division.
Few, if any of us, have faced real persecution for our faith.  Not like those written about in the lesson from Hebrews.  We are reminded of the Israelites walking through the Red Sea and a host of others who persevered in running the race set before them.  Hebrews is calling us to deepen and nurture our faith, to use all we have.
I don't know about you, but it amazes me when I hear from my friends that they run for fun.  I have never been a runner; I don't even like to walk that much, and I don't understand the pull to running. My daughter Jennifer runs nearly every day.  I have friends who live for marathons.  Hebrews tells us to pace ourselves, not to give up. To give it all we have.  That's difficult to do in a world of instant gratification.  We understand perseverance though when we think of learning a new language or learning to play an instrument.  We all persevere in something in our life so why not our faith.  We look at current events and wonder how we got to where we are.  Stress can weigh us down just as it did Jesus.
We know that peace on earth is the ultimate goal-the coming of the Kingdom of God.  But that Kingdom, that peace has a price.  Are we willing to pay the price in our lives?  Decisions we make on how to live has an impact on those around us.  Jesus doesn't give us an easy gift of peace; we need to work toward peace.  Jesus is warning us that following him we will face criticism and perhaps rejection.  Even within our own families.  I think it would be nearly impossible for any of us to say that everyone in our entire family is a firm believer in the power of God.  This can cause conflict when people we love separate themselves from what we so firmly believe in and not just faith but the politics of our current world.  We want to protect ourselves, our families and our way of life.  We enjoy our economic wellbeing and it's difficult to step away from that stability to fight for the rights of those less fortunate.  We might lose something of our comfort.   We can easily get stuck inside our cocoons and enjoy the way we live, our practices to the exclusion of those unlike us.  The church has a unique ability to show God's transforming love and power in the words and the sacraments we share.  Using the gifts, we are freely given, we have the grace to leave this place and love those different from us.  We are given the grace to see others with respect.  We are given the grace to become peacemakers in the world around us. We can choose to love.
Our world is divided by politics, values, culture, ethnicity, values.  Talking about any of these can cause division.  How can we, as Christians have conversations about these issues so that everyone is heard and respected for their views?  We don't all agree, yet as a church our mission is to bring peace to our world.  We need to begin a dialogue to find the root causes of hunger, poverty, violence of all kinds as well as the 'them against us' mentality.  Let's find out what unites us rather than what separates us and work from there for the end of hatred and violence.
A quote from Sojourner's this week said, "When we identify where our privilege intersects with somebody else's oppression, we'll find our opportunities to make real change."  – Ijeomo Oluo
Our gospel message is that a fire needs to be set.  Jesus set one in his lifetime on the way to Jerusalem.  There is so much more that needs fire and it's up to us to set the fire.  If we aren't setting or fanning the fire, then we are part of the status quo.  Together let's light a fire and become love in a hurting world.  If we follow Jesus, we have no choice but action. We can't sit idly by and watch.
May God help us find ways to light the fire so that God's dream of peace is fulfilled on earth.
Amen