The Rev. Linda Taupier – February 21, 2021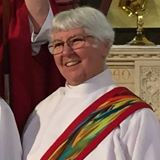 There is no birth narrative in Mark, no stories of childhood; nothing before fully grown Jesus came to John at the Jordan River to be baptized.  Mark is a person of as few words jumps right in.  He doesn't waste any words in his short and to the point Gospel.  Mark begins his story by identifying who Jesus is.
Although brief, the story Mark shares about Baptism introduces us to the Triune God.  Jesus, the Son is commissioned to his earthly ministry – sent from his Father – with the Spirit descending on him.  This is the Spirit, described as wind we heard about in Genesis "while a wind from God swept over the face of the water".
Baptism was for repentance so why would Jesus, who had no need of repentance need to be baptized?  Jesus needed to be a part of the people he was on earth to save.  His journey was to become one with us, one of us, love us and save us.  We know from stories we hear in the Bible that Jesus spent a lot of time with imperfect people like us who might be open to his words and recognize him as a way to salvation.  He brought hope in uncertain times.  We heard in our Epistle from 1st Peter that Baptism is "not a removal of dirt from the body."  In Baptism we are made new.  We are identified as belonging to Christ and Baptism brings with it responsibility.  Once we are identified as belonging to Jesus we have work to do – work he has given us to do.   Being children of God does not bring us an easier life.  It does bring us the privilege of bringing people the Good News of Jesus.
We are called to serve others and be a conduit for those who don't know about Jesus.  We are called to give others hope.  That's a privilege.
Immediately following baptism having heard his father say to him: 'You are my Son, the Beloved; with you I am well pleased.'  And he is driven into the wilderness.   Mark doesn't give us the details we hear in the other gospels only that he was in the wilderness 40 days and tempted.  We can imagine the wilderness, right?  There are many stories in the Bible about people being in the wilderness.  It's a place to wrestle with God.  We know the wilderness well.  We all find ourselves there from time to time in our lives.  It's the place we wrestle with ourselves.  It's the place we wrestle with our fears.  It's the place where we wrestle with our temptations.  It's the place we meet the wild beasts.  It's a place of challenge.  I don't know about you; I am most comfortable living in a world I control.  I enjoy normalcy rather than wilderness of our current pandemic, systemic racism, poverty that we can't, or won't control, homelessness and I could go on and on.
Jesus didn't come to this world to control it.  He came to show us how to trust in God's dream for a world of justice for all.
And here we are at the beginning of Lent.  Keeping a holy Lent might seem trickier this year with all the Covid related restrictions we have been living with for nearly a year.  This is not the Lent of my childhood.  As a kid I gave up candy and every Sunday my 2 friends and I would go to the little soda shop next door to church and have candy.  It was Sunday, we didn't have to abstain on Sunday.  Lent, 40 days, not counting Sundays where Christians everywhere turn their attention to repentance and conversion.   We see wilderness all around us especially this year in the midst of Covid 19.  Our wilderness might seem especially lonely this year.  Part of my own wilderness is not being able to be with my family as I want.  We can use this time to look back at the various times in our lives, in the life of the Cathedral, and The Episcopal Church where we have journeyed through wilderness.  We might still be there.
So rather than giving anything up this Lent I suggest we 'take on'.  How about we take on love.  Love is the meaning of the Gospel.  How are we living the Gospel in our lives, our homes, our church, where we work?  What steps can we take this Lent to turn around, turn toward God and do more love?  Learning about Jesus' love for us?  Might we read the Bible a bit more?  We offer three Bible studies each week.  Might we turn to God in prayer just a little more, listening for answers from Him about what our lives might look like?  We offer several times for prayer each week outside of the Sunday service.  Might we put our hearts and hands to work just a bit more for those in need?  Come, help at the Drop-In Center for three hours on a Thursday morning.  Pick up some food when you grocery shop and make some meal kits for Square One.  Might we reach out to someone and let them know their hope rests in God?  That they are loved.  We can make phone calls, send notes and if you want to know who to send them to please just ask Tom, Joel, or me.  We can also sign up to get vaccinated when it's possible so that others around us might be safer.  We can offer a ride to someone who doesn't have transportation to a vaccine site.
John has been arrested, John perhaps the last of the prophets turns our attention to Jesus.  Jesus came out of the wilderness to begin the ministry of love that he came to give.  Let us join Jesus in ministry remembering the words of today's collect:
Come quickly to help us who are assaulted by many temptations; and, as you know the weaknesses of each of us, let each one find you mighty to save.
Go and Love  Amen