The Rev. Linda Taupier – June 6. 2021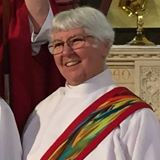 May the words of my mouth and the meditation of my heart be acceptable to you my God, and my Redeemer.
Lent, Easter, Pentecost, and Trinity Sunday are behind us and today we enter into what the Episcopal Church calls Ordinary Time.  It's the longest season in the church, and our wall hangings and vestments are green until we begin the church year again in Advent.
You'll notice that although it's green season my stole today is orange.  Beginning in June 2015, on 1st weekend in June we remember Hadiya Pendleton whose birthday was June 2nd.  Her favorite color was orange.  She was shot and killed at age 15 in Chicago.  Hadiya's friends ask us all to "stand up, speak out, and wear orange to raise awareness about gun violence." Unfortunately, gun violence has become far too 'ordinary'.
According to the Boston Globe on June 4th so far this year there have been 244 mass shootings resulting in 275 deaths and 1,018 injuries There have also been 18,398 US residents killed by guns, including 10,164 suicides and 15,665 injuries.   For each person who died or was injured there are countless others who are otherwise impacted by this violence.   We see increasingly more people choosing to use guns as a way to 'get even' or take out their anguish, anger on themselves, family or unsuspecting people just trying to live their lives.  People are killing people they haven't even met.
If I ask you what your first thought is when I mention Satan, what image comes to mind?   When I was young the image presented was something out of Halloween.  We knew that wasn't real.  As an adult I don't believe in a 'person' Satan.  I do believe that there are people among us that seem not to have a soul.  We have medical names, diagnosis for them and what I know is they have turned away from Jesus and his way of love, peace, compassion, and justice for all.  I do believe there's a demonic spirit that Jesus worked to break, and is still working to break it today.  We need to help with that.
I listened to Regina Goodwin, Oklahoma House of Representatives this week who said "dead people kill people.  There are people walking among us who have no spirit of humanity and no spirit of God." She went on to say, "as long as we have life, we have time to get it right."  There's hope in that statement.  She wasn't speaking against gun violence per say but talking about the documentary on New England Public Media about the 100th anniversary of the Tulsa Race Massacre last week.   I doubt you would find it in any high school textbook – not even in Oklahoma.  We bury stories like these and pretend they didn't happen.  There's discussion underway in one state at least that is actually planning to rewrite the textbooks to bury even more of the story of this country.  We look the other way all to often and we don't speak truth.  Life might be easier that way.  Most people do not want to be the person who makes others uncomfortable by raising issues such as gun violence statistics, treatment of indigenous people, or bringing things up like racism and white privilege.  Might people think we are crazy?
When I ask you to conjure up an image of Jesus what image comes to mind?  Is your image one of a loving brother, gentle man, sitting with children and a lamb wrapped around his neck?  And of course, he is smiling at us.  However, that isn't any more an accurate image of Jesus than the Halloween caricature as Satan.
Just as the prophets from Hebrew Scriptures who came before him, Jesus made people uncomfortable.  Jesus challenged them.  His way was radical and although the scribes and pharisees tried countless times to trick Jesus they never could.  Jesus created a community and cast aside the bureaucracy of the day.  Jesus accepted all people and broke the social norms.  He cast out demons, healed those who asked, gathered a ragtag assortment of people around him and his family believed he was crazy.  His family didn't understand what he was doing and were afraid for him.  They wanted to take him home and protect him.  They wanted him to stop embarrassing them.  Instead of going home with his family he calls them out.  Jesus wants to connect with those who believe in him and believe his power is from God.  Jesus doesn't accept the limits placed on society either in his day or today.  The message is the same; it's timeless.  Anyone can be in his family if they stop being judgmental when people are different than themselves.  Jesus is looking for us to be guided by love, justice, hope, tolerant of others.  He wants us to be authentic as ones made in God's image.  Jesus doesn't care about a family tree, the language we speak, our sexuality or race.  He asks the same of us.
We are being challenged now to be the crazy ones.  Jesus is asking us to stand up against injustice of any kind.  He is asking that our first loyalty be to bring God's kingdom among us.  Jesus reminds us that 'Whoever does the will of God is my brother and sister and mother."  Those are the relationships that matter.
I am reminded of a recent quote from Br. Curtis Almquist of SSJE
"We must be in relationship with one another.  We have been created by a God in relationship – a Trinity of Persons – who invites us all to be in personal relationship: relationship with one another and in relationship with all that God has created, because this is the essence of God."
And from Sojourners this week: "Justice and mercy are natural to our world because justice and mercy are natural to God. To participate with God and God's divine economy then is to tell that story and to live lives of justice and mercy."
Amen