The Rev. Linda Taupier – May 3, 2020

Click here for the video of the sermon.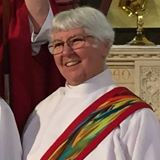 This is Good Shepherd Sunday and I have a hard time with the picture of Jesus as a white man in a puffy, clean white cloak while holding a cute little lamb. Jesus was talking with a group that understood sheep and shepherds. They would not have had 'my' picture of this scene in their heads. They understood a shepherd to have work full of anxiety and danger. It was a dirty, lowly job. Jesus identifies himself with the work of the shepherd and being the gate. The disciples did not understand what he was saying to them. "So again, Jesus said to them, 'Very truly, I tell you, I am the gate for the sheep. Whoever enters by me will be saved, and will come in and go out and find pasture. The thief comes only to steal and kill and destroy. I came that they may have life, and have it abundantly."
The image of a shepherd making a safe place out of rocks or whatever was around and seeing to it they were all safely inside before laying down in the opening so nothing can get in or out, is powerful. The most important job of a shepherd was to keep the sheep fed and safe. What do sheep need? They need to graze, and they need protection. They don't know how to take care of themselves. They won't hunt for a better pasture or for water. They need a shepherd to guide them.
Notice in the reading that we can come inside the gate for rest and, once rested go out again to find pasture where our work is. Sheep just follow along doing what the shepherd leads them to do. We, as Christians aren't meant to just graze, rest. We are meant for more. That more we are meant for is abundant life.
Right now, we can't come to this building for rest. There is an illness blocking our way. Because of Covid-19 we are outside in the pasture. I love that image as much as I don't like the reason we can't be here together. The Cathedral is a building and Jesus never meant for us to stay inside. We come here only for rest and then we must go back outside. We are on the outside, for much longer than is normal. Yet even as most are outside, we have worked hard (well, Tom has,) to bring you inside if even for a glimpse, for a rest. We have people just like you who are viewing our services on the internet and some who have never come. That's something we didn't expect. There are so many ways to rest in this time. We are all the body of Christ and our Shepherd has shown us a new way to be His body. As Jesus identifies as a shepherd, he does so with compassion for us. He doesn't leave anyone out that believes in him. He reminds us that WHOEVER comes to him will have abundant life. Jesus is not excluding anyone, and we aren't meant to exclude anyone either. The gate doesn't mean we are inside and those unlike us are on the outside. We are to be like the apostles in the book of Acts taking care of each other. We are to work for the good, the health of all.
We are living through an extraordinary time in our lives. We have varied emotions running through us. There is certainly grief for all the lives lost and sadness that we can't comfort each other and be with each other in our normal ways. We are living with uncertainty and we are feeling more vulnerable than normal. Many have lost jobs, and many are doing jobs that put them in danger. Yet, in the gospel this morning we heard that Jesus came so that we may have abundant life. We are meant to have joy in our lives. Loving life and responding to God with joy is what is meant by abundant life. I don't believe Jesus was talking just of what's to come in the next life. I believe Jesus means this life. The here and now. No matter that we might be struggling through our emotions and finding life to be a bit overwhelming right now. What Jesus tells us is to trust that he is the gate and by believing in Jesus we will find the joy that is meant to be ours. We are called to be the best people we can be. Jesus asks that we put our faith and trust in God. We are meant to heed the voice of God, heed the voice of the Shepherd who has led us into the pasture where we can work. We are meant to do as we were told by the prophet Micah, which is do justice, to love mercy, and to walk humbly with our God.
There are those who work to convince us that we need to take care of ourselves and forget the needs of the rest of the sheep: those who are immigrants, poor, and homeless. They are the thieves and bandits Jesus speaks about. They are the ones who harshly judge the actions of others and would have us do the same. I hear a lot of political rhetoric that tells us to reopen the country while we hear scientists telling us to keep social distancing in place. We may not like it but that's what we, as Christians are called to do. We are called to stand in the pasture for a while longer with those who have no voice. When we stop and listen for the still small voice, we can hear God's voice above all the meaningless chatter. When we listen to the 23rd psalm "He leads me in paths of righteousness for his name's sake." We are told to live so that we promote the dignity of all people, invite others inside and have relationships that are healthy. When we do that we hear: "He restores my soul".
When it's time to decide what to do while we wait in the pasture, pray, "He leads me in paths of righteousness for his name's sake" and look inside your heart how to love one another and that will be the right response.