The Rev. Linda Taupier – May 19, 2019
Click here for a video of the sermon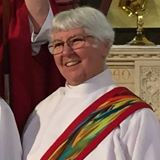 "I give you a new commandment, that you love one another"
What does that mean to us?  What does that mean in today's world?  How can we see that in action in our world where guns and hatred are all around us?  The idea of loving each other sounds easy, I dare say it should be easy.
Most of our news reports are about violence and very little about love.  We pray for those who mourn.  We pray for the dead.  We are all very tired of needing to pray these prayers, yet we feel powerless to change our world and don't know what else to do but pray.  Prayer is always helpful, yet we are called to do more.
Our world is feeling stress and our reaction, rather than burying our heads in the sand and running away we can "Tend and Befriend".   The latter enhances our lives and the world around us.
We must not allow violence against any group of people become a norm.  God made us in His image.  What we do with that image is up to each one of us.  We can choose goodness.  How we look at the world is changed by how we look at ourselves.  Are we kind?  Are we loving?  Are we positive?  Do we speak thoughtfully?  Are we part of the building up of the world around us or tearing it down?  Our actions can enhance not only our life but the lives of those we touch.  We were made by God, for God, in God's image.
Are we waiting for the words of Revelation to come to be?  We are not meant to sit and wait for God to come again.  We are meant to be working toward the world that God envisions.
Jesus says "By this everyone will know that you are my disciples, if you have love for one another.  Just as I have loved you"….
In re-reading Made for Goodness by Archbishop Desmond Tutu he points to a rule of life where, in each of our actions we must ask ourselves: Where was God in this action; was it nice; was it necessary and, if it wasn't then recognize it and do something about it.  Evil does not sweep in like a tsunami, it bleeds into the fabric of life, washing out the joy and staining the beauty".
And Gandhi said, "We must be the change we want to see".  I am back from a clergy conference where we listened to Dr. Catherine Meeks talk about racial healing.  She would certainly agree with Gandhi's statement and world view.  How can we begin to change anything around us until we honestly and openly look within ourselves with a loving heart to see who we are?  Looking within can be a frightening thing to do.  We may not like what we see.  If we don't, do we have the courage to admit that and begin to work on it?
Dr. Meeks assured us we have all the knowledge we need; we've gone to the conferences, read the books but until we do the work to each find our authentic self, we won't make progress.  In order to do this work, we must begin with our heart, not our head.  Our heart will lead us to the telling of our stories and listening to others.  By hearing each other's stories, we become more authentic. If we haven't heard each other's stories how can we love?
Conversations are needed and this is a brave space.  This place, Christ Church Cathedral must be a non-judgmental place of safety for us to come to better know each other.  We won't all agree and that's fine.  We just need to listen without judging.  We love Jesus and Jesus loves each of us, so we look at each other as Jesus looks at us.
Michael Curry calls us to a spiritual discipline called "The Way of Love". That movement is loving, liberating, and life-giving, he tells us. It is a way of life, a practice for spiritual growth.  In this way, we seek love. We seek freedom. We seek abundant life. We seek Jesus.  When we seek Jesus, we seek the goodness in each other.
And as we heard in Acts Peter's relayed to the disciples his vision "The Spirit told me to go with them and not to make a distinction between them and us".  There is no more them and us, we are all the same and meant to love and serve just as we were taught.  Do we have the courage to look within ourselves to see how we feel about any distinctions we may consciously or unconsciously feel for the 'OTHER'?
Being followers of Jesus isn't about memorizing the creed. It isn't just giving our money to our church.  Jesus's love has a way of moving us beyond these walls, so the world can experience our love.
God will not give up on us. The heart of the gospel — to love one another— will not change.
Love refuses to be silenced by even the most destructive among us.  The command to love one another was not a new teaching. It had been a part of Jewish tradition for centuries. Deuteronomy 6:5 says, "You shall love the Lord your God with all your heart, and with all your soul and with all your might." Leviticus 19:18 adds that "you should love your neighbor as yourself."
In Galatians 6, Paul pushed the limits of loving one another to the absolute maximum when he calls us to "work for the good of all."
There is not a day that passes that in some shape, some form, that you do not get an opportunity to take a stand for Jesus Christ either verbally or by your character give witness to Him. It may be by bowing your head and saying a blessing over your food in a restaurant. It may be a showing in a business deal that you are a person of integrity and honesty. Do the people you see on a regular basis know there is something different about you because of your love of Jesus?  Do you take an opportunity to turn a conversation toward Jesus Christ?
Dorothy Day wrote: "The greatest challenge of the day is: How to bring about a revolution of the heart, a revolution which has to start with each one of us".
Thanks be to God for the blessing that comes with loving one another. Amen