The Rev. Linda Taupier – November 22, 2020
Click to start video – Sermon is at 54:45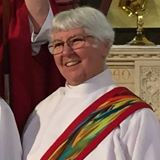 I speak to you in the name of the Father, the Son, and the Holy Spirit.  Amen
Let me begin today with a quote from Br. Jim Woodrum, SSJE
"We should look for God in our midst through the lives of our neighbors.  Jesus articulates in rather blunt terms that how you treat another child of God in this life is in actuality how you treat God.  By seeing the infinite worth in our neighbor, we keep God as our center and focus."
As a deacon this morning's Gospel is one of my favorites.  In Matthew it's at the end of the readings of various parables and before Jesus begins the journey which will end in crucifixion.  We heard stories during this season how to prepare ourselves while we wait for God to come again.
Today is the last Sunday of this exceptionally long season 'after Pentecost' which began 6/7/20.   I'm sure you don't remember the readings that Sunday—I went back and looked.  We heard in Genesis the creation story…God made everything, and finally humankind in God's image.  God gave us everything we would need to be fruitful.
In the Gospel that day Jesus told his disciples to:
19Go and make disciples, baptizing them 20and teaching them to obey everything that I have commanded you.  
Just what had Jesus commanded?
Parables about the sower,  how heaven is like a mustard seed, yeast, treasure hidden in a field; we've heard about the king who gave a wedding banquet, and the invited guests didn't come so he invited people in the streets.  That's a good one.  We heard about the bridesmaids who took oil for their lanterns and those who did not.
I could keep going through the 24 previous weeks but that would take too much time.
We've heard more than parables in these weeks.  We heard how Jesus took pity on people who'd come to hear him and he blessed and broke bread and fed 5000 people.  He healed the sick and lepers.
Jesus cares about people who are on the margins.  He spent time with the sinners and the outcasts.  He brought hope to people just as he brings us hope.
And today's gospel sums it all up telling us what we need to do to enter God's kingdom.
35for I was hungry and you gave me food, I was thirsty and you gave me something to drink, I was a stranger and you welcomed me, 36I was naked and you gave me clothing, I was sick and you took care of me, I was in prison and you visited me."
It's so simple and yet so difficult.  We can make it complicated so in this parable of the Great Judgement Jesus tells us simply.  He gives us the basics of what we must do.
Mathew's Gospel has been all about teaching people a new way to care for all of God' people and God's wonderful creation.  We too are learning to live in a new way due to the virus that is all around us.  We aren't living the same way we did last year and hopefully won't be living this time next year.  In this strange time, we are still called to honor the teachings of Jesus.  We are called to be Jesus on earth even in the time of pandemic and especially in this time of racial injustice.
Let's look back to the Hebrew Scripture for s moment.  In Genesis, the creation was about living in harmony with enough for everyone and of my favorites is from the Prophet Micah reminding God's people "to do justice, love mercy and walk humbly with God".  Jesus is telling us this in a little different way but it's the same message.
Today Jesus draws a line in the sand.  Jesus gives us all the information we need for the end of time when God's kingdom will come again and we will be separated, sheep from goats.  We are told exactly what we need to do.   This is one of the most straightforward accounts of judgement that we have.   And he tells us 4 times in 10 versus so it must be important.  I don't think we have that much repetitiveness in any other part of the Bible.  Jesus sees us in black and white…..sheep and goats.  I look at myself on a good day as maybe a 5 out of 10.  I'm probably more goat than sheep.  I see gray in most everyone because I don't know anyone who is perfect.  Some come closer than others.  Are we all at least part goat and part sheep?  It's a good thing Jesus doesn't look for perfect either. He is looking for some specific things from us though.
Notice in the reading that the goats and sheep ask almost the same question.  When did we see you hungry, naked, thirsty, in prison, welcomed you?  The goats ask when didn't we do these things, and the sheep ask when did we?
Give food to the hungry, give water to the thirsty, welcome the stranger, clothe the naked, care for the sick, visit those in prison.
When Christ comes to judge us, we will be judged based on how we have lived according to what He taught.  Have we worked for love, mercy, peace, and justice?
Jesus calls himself the Son of Man rather than King and tells us at all times and in all places, he is with us and shares our lives.  He is with us in this virus that has claimed so many lives.  He shares in the fear and the injustice of today's world.  We know that the poor are getting poorer and that more people are living in poverty now than ever before.  Hunger is at an all-time high with people starving to death and too many not knowing how they will get their next meal.  Mothers and fathers are going hungry so that their children might be fed.  People are making decisions about paying for rent or food or prescription drugs that sustains their lives.  They can't pay for all of it.  We live with systemic racism and racist attitudes being more and more readily accepted in this country.  Jesus has pity on the immigrants and those struggling with immigration issues who have been here for years.  Jesus has pity on both the children and parents separated at the border.  Jesus is with us in our struggles as well as in our joys.  Jesus is King and rules with love and compassion.  He is the King we can put all of our hopes into.  And what does God ask of us?  He asks that we meet the needs of those around us.  If we look around us it is easier than ever to see those living on the margins of society's needs are overwhelming.
The goats of today's gospel are those who sit back and do nothing.  As Christians we are called to action.  We are called to live a moral life not just talk about it.  We might not be able to solve the world's problems, yet we can reorder our lives and resources and share what we have.  We can help at least one person.  We can support the Cathedral with a pledge so that the ministries we have will be financially viable.  We can bring food and meal kits for families at Square One.  You can look through your closets for coats, blankets and other things people who live outdoors will need and donate them to the Big Blue Ministries.  You can volunteer at the Drop-In Center.  We serve God by serving those in need.  We are asked to live a life of compassion, looking at others and seeing Jesus in their faces.  With everything we do, our worship, our programs, and budgeting we need a focus on compassion and mercy for all people.  We need to look outward.
And we also need to look inward and repent of what we have done in the past so that attitudes which prevail that allow the racist behaviors or the idea that as long as we are ok that's what matters are changed.  There should not be a world of winners and losers.  We must all be winners, or nobody wins.  Let's ask ourselves each day if the world around us is better because of us….or not. Is the reality of Christ as King evident in what we are doing for the least of these?  Are the choices we make for the betterment of God's Kingdom?  Our call as Christians is to:
Give food to the hungry, water to the thirsty.  Welcome the stranger and    clothe the naked, care for the sick and visit those in prison.
As we move into Advent the time when we wait for Jesus to be born in us anew let's renew our commitment to love our neighbors as ourselves.
Amen