The Rev. Linda Taupier – October 6, 2019
For the video of this sermon click HERE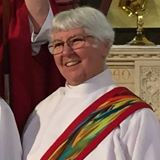 Increase our faith…. Does faith come in different sizes?  At different levels?
Faith is a verb.  Faith is an expression of love.  How can we put a 'size' on faith?  Do they want faith the size of an acorn, the size of a potato or perhaps a mulberry tree?  Can we save it up so we can, someday, do something great?  Faith is not like money that we can save up to do something fun.  We don't get to cash it in when we see something we want or something worth our effort.
Jesus doesn't say yes, here's more, like its fairy dust.  Instead he tells them what faith can do. What he tells them is that a tiny bit of faith-the size of a mustard seed-so small-if real, is enough to do wondrous things.  If you stay the course, if your faith is the real thing, then there is nothing you can't accomplish.  It's not about what's impossible as it's all possible.  Faith gives us power.
This is a rare insight for the disciples.  They had seen what Jesus could do and they felt their own limitations.  Faith hasn't been on their radar to this point.  They have asked Jesus to teach them to pray but asking for an increase in faith is different.
Look at the people Jesus chose to be his disciples.  Fishermen, a tax collector-ordinary people, common people that nobody would think powerful.  Yet Jesus tells them that faith is all they need to accomplish great things like 'moving a mulberry tree'.  They just need to believe in their faith and then use it.  They didn't have to be qualified to do what Jesus asking. Faith is all that's needed.
Jesus is all about the relationship with God.  Have confidence in God and there's nothing you can't do.
The 2nd part of this gospel builds on the 1st part.  We've heard about the nature of faith and then we hear about how to carry that faith out.
It's with our faith that we can give control of our lives over to God so that we can do the work he has called us to do.  Giving up control is far from an easy thing for any of us.  Following Jesus example is not easy for any of us.  He forgave people, can we?  He reached out to the poor and outcast, can we?
Paul Tillich a great theologian defined faith as courage.  "What faith is, is acting on your trust that God is faithful.  We tend to think of doubt as the opposite of faith, but faith doesn't remove doubt.  Faith gives us courage to go into the unknown in spite of the doubt."  Faith calls us to action.
Faith doesn't remove fear either.  Faith gives is the courage to do what we are called to do even in our fear.  Faith doesn't remove disappointment or guarantee victory.  Faith is the courage to keep going even when you want to give up.
I would be remiss if I didn't mention that last Friday was the Feast of St. Francis.  This is the same Francis on countless birdbaths and statues.  I have a statue on my deck.  There are so many Blessing of the Animal services we tend to think of Francis only in terms of loving animals.  Francis is so much more. Born into wealth his life was easy.  It was through a serious illness while imprisoned after a battle that his dream of being a warrior took a turn.  He didn't have one AHA moment.  His faith came slower than that.  One day Francis changed places and clothes with a beggar outside St. Peter's Church in Rome.  The experience of begging for alms shook him to the core.  Later he confronted his fear of leprosy by hugging a leper.    Following these two experiences he cut himself off from the wealthy lifestyle and pursued a simple life.
Francis followed Jesus teaching never looking for thanks or praise.  What he did as so many others like him do, is live simply and do what they can for as many as they can.
It's through our actions, doing what we know to be what Jesus asks of us that our faith becomes evident.  Doing what we are called to do whether we feel like it or not and relying on God for strength and not on our own.  We may not want to do ministry, but we don't as Christians, have the luxury of waiting until we feel like it.  It's not more faith we need but the will, the desire to follow Jesus.
With faith comes responsibility.  If we just try to hold onto it what good does that do?  Jesus tells his disciples that they should be doing what they are called to without expecting any reward.  This is the same group that fought about who would be on Jesus right hand.  They just aren't on the same page yet.  Jesus calls them servants and servants don't get thanked or praised for doing what they should be doing.  Jesus has no time for anyone who is in it for rewards or status.  God delights in us always but especially when we work for heaven on earth.  Let's not be arrogant though and think how lucky God is to have us.  We are meant to be open to all possibilities in all the people we meet.  This is how we are marked as disciples.
Paul tells us in our reading from 2nd Timothy "I am reminded of your sincere faith, a faith that lived first in your grandmother Lois and your mother Eunice and now, I am sure, lives in you". Generations of faithful came before us and friends we have an important job especially in this day and age of keeping our faith alive and passing it along to future generations. This is harder to do all the time.  How can we become so exited in our faith that we feel compelled to talk about it?  What do you need to do that?  Faith is part of our DNA as Christians and we need to spend time exploring it and being challenged by it.
Paul also says "I remind you to rekindle the gift of God that is within you through the laying on of my hands; for God did not give us a spirit of cowardice, but rather a spirit of power and of love and of self-discipline."  If you've been confirmed, you had a bishop lay their hands of you-just as Paul laid his hands-on Timothy.  A bishop asks God: "Strengthen, O Lord, your servant (insert your name) with your Holy Spirit; empower him/her for your service; and sustain him/her all the days of his/her life.  Amen".  We have been doing this for over 2,000 years folks.
Strengthen for your service….that means to love and serve our neighbors.  Not just the ones we like but those we don't and the ones we don't know yet.  Not for thanks but because we are all made in the image of the same God.  Look at the person you are  serving as Jesus and it will delight you.
Walking in faith gives us strength to live a life of love.
In a little while the service will end, and we are invited to the Kendrick room for the ministry fair.  You might look at the ministries being offered and see what gifts you might bring.  In what way you are being called to serve. We have unlimited and untapped potential in this place.