The Rev. Linda Taupier – September 19, 2021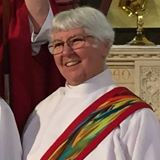 Let me begin with two quotes from brothers of the Society of St. John the Evangelist. I'm using both because I couldn't choose between them.
Inclusion
Jesus' compassion reached out to "outcasts and sinners," the poor, the sick, the oppressed, marginalized people of every kind. The example of Jesus pushes us to examine the barriers we may be tempted to erect in order to exclude those who are not of the same socio-economic or cultural background as we are, or who differ from us in ways that make us uncomfortable.
-Br. David Vryhof
Other
Conversion is about having more and more space in our mind and heart for the "other" people of this world, people whom God so loves. Jesus changed. If we are following him, we are going to need to change – it's a life-long conversion – to not only serve Jesus but to see Jesus in the "other," whoever is "other" to us, different from us, not "normal" to us. This is very challenging news. The good news is it's possible, amazingly possible.
-Br. Curtis Almquist
Do you watch reality shows on TV?  I admit I do not, have not, and probably won't ever.  I have seen the ads for them though.  When I read today's Gospel I thought of contestants on those shows.  People who participate in those shows will do just about anything to win, to be number one.  They are ambitious and absolutely want to be first.  They have a need to show that they are the best by any means possible.  Sounds like the disciples doesn't it.
In today's Gospel while walking toward Capernaum Jesus tells them once again about his upcoming betrayal, being killed and rising again.  Jesus was going in secret because he knew the problems he'd already had with the Pharisees.  Jesus knew there was trouble ahead and he was trying to prepare them.  Not sure I would want to pay attention to that any more than the disciples.  Another opportunity lost for the disciples. Perhaps we can learn from them.
Jesus, having been surrounded by crowds wherever he went didn't want anyone to know he was there.  He wanted to spend 'alone' time with them so that he could really teach them what was ahead and how it would all come together. Although they had witnessed many miracles in their travels with Jesus they still didn't understand what Jesus mission was or what their mission was to be.   Jesus knew he had limited time with them and they needed to mature so they could carry on.  Jesus must have been concerned about what might happen when he was no longer with them.  Would they be able to cope with their loss?  Would they be able to remember all Jesus taught them so that they could move forward in servanthood?   Who wants to be a servant?  Nobody.  Never once did Jesus thank the disciples for their work.  The disciples were servants, doing the work for the sake of God's kingdom, not for thanks. Servants are last-everyone else is before them.  (We'll talk about children shortly.)  Sometimes we might willingly let someone ahead of us – a grocery line is a great example.  If I have a cart full and someone behind me has a couple of things I normally let the person go before me.  I'm doing it to be nice, not merely because it's my duty as a servant.  According to Jesus we can't pick and choose who to let ahead of us.  Everyone, no matter who they are come before us.  What a radical way to live.  Even people I may not like I'm to let ahead of me.  That's something that I know I need to practice.
Jesus shows that the radical grace of God is vastly different than the world's notion of greatness.  Our world views greatness based on what we own, how much money we have, what we have achieved.  Greatness for Jesus means being last, being humble, being vulnerable as a child is.  We find being great on our world's terms much easier than Jesus' term.
Having arrived in Capernaum they went into a house.  We aren't told whose house it was.  Enter the child.  This is a significant event because children are always vulnerable, dependent on others for basic needs.   In Jesus time this was magnified because children had no status, no rights.  They didn't contribute and were considered 'less than'.  This world had only rich and poor and the richer a person was the higher their status.  The rich held places of honor. In the child we see the lowest yet always with an openness to learn and receive guidance.
Jesus took the child and told his disciples to welcome the child who was the lowest of all in this world.  Welcome the child in his name and in doing that welcoming God.  Every child, not just the cute, cuddly ones.  We don't get to pick and choose.  This is the standard Jesus sets for us.  Jesus asks us to the serve the least of these and, in doing that we serve him.  Ask yourself….               do you serve willingly?
Jesus must have been concerned with the disciples coming to terms with the idea that they would be serving and taking care of the powerless, those without status. Jesus doesn't focus on power which was counter-cultural.  With this child he is teaching what it means to be a disciple.  To follow Jesus means we table our own priorities to focus on the least of these.  Our focus is meant to be on those who slip through the cracks in our society.
One of the ministries I hold dear to my heart is the drop-in center.  On Thursdays we have the opportunity to talk with the people who are on the margins of our society over a cup of coffee and some cookies.  We see some of the same people each week and have gotten to know them and them us.  Some we see only once as they travel from place to place.  We provide a welcome respite.
This is not my ministry but a ministry of the Cathedral.  We have a few of people who come each week to be with our neighbors.  Thank you to those of you who come.  Thank you to those who pray for this ministry.  I ask you all to pray to see if God is calling you to come and be with us.
Take a look and recognize the power you have and the responsibility you've been given as a follower of Christ.  Together we can use our resources to make life easier for those without basic needs even if only for a while.  As James tells us: "Draw near to God, and he will draw near to you."
Every gift we have been given comes from God.  We have been given the gift of friendship.  We all find it easier to journey through life with friends.  We have a much broader community outside these walls that is looking for our friendship and support.  What would happen if each person here and watching via social media decided to do one thing to make life easier for those outside these walls.  What would happen?  Amen