The Rev. Mike DeVine – March 14, 2021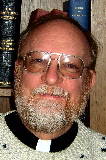 Has there ever been a parent, taking their family on a road trip, when suddenly from the back
comes the plaintive voice: "Are we there yet?" It can be annoying, but patiently waiting for the
journey to end, and to arrive at our destination is hard. Just ask the God of the Israelites and
Moses his servant. The Israelites were on a really long journey – 40 years to be exact; and it
didn't take long for the people to begin to complain: "Are we there yet? We're tired. We're
thirsty. We're hungry! And whose idea was it to take us out into the desert in the first place?"
The Israelites were losing patience, and losing faith in their God; which prompted God in the
story to stop the car and give the kids a piece of His mind… or as it says in the story, God sent
lots of poisonous serpents to bite and even kill the people. That was a bit harsh for my
thinking… But that is the story.
The story gets even stranger when God offers a solution to the problem with the snakes that
involves taking a bronze likeness of a snake, and telling the people, look on the bronze snake
and you will live. God instructs Moses to take something like a snake, to solve the snake
problem. For my money, that is the first example of a vaccine. Today's Covid vaccine is
different, but the first vaccines were made of the very disease they are designed to prevent.
Originally, doctors would give out a portion of the disease – a small amount – and that would
create defenses in the body against the real disease. God sent serpents to punish the Israelites,
and God used something like a serpent to save the Israelites.
In the Gospel lesson, the Evangelist John refers back to this story to explain what God was
doing to save us from our sin. "Just as Moses lifted up the serpent in the wilderness, so must the
Son of Man be lifted up, that whoever believes in him may have eternal life." Ever since that
first Easter, when the women discovered the empty tomb, and encountered the Risen Jesus; we
have been trying to explain what happened. We know that going in – we were sinners and our
sin kept us separated from God. We knew what we ought to do, but we could not do it! We
could not get better by ourselves. We could not get back to the garden by ourselves. We needed
someone to save us from the consequences of our sinful nature. I commend the Letter of Paul to
the Romans to describe this in more detail.
"But God so loved the world that he sent is only begotten Son so that everyone who believes in
him may have eternal life. Indeed, God did not send the Son into the world to condemn the
world, but in order that the world might be save through him." How it happened is a mystery,
but what happened has been changing lives since that first Easter. In Christ we were reunited
with God and with one another… despite our sin. No longer would our sin have those dire
consequences of before.
(The following is not an explanation – just a description) It is like we have been vaccinated
against sin. If our sinful human nature was the problem, the solution (if sin were a disease)
would be to take a portion of that humanity and use it to produce a vaccine against our sinful
nature. It seems like that is what God did when His Son became flesh and blood, and dwelt
among us. God took a portion of humanity and used it to redeem humanity. Theologically
speaking – I'm sure that is not accurate – but it speaks to me in this time of pandemic, viruses,
and vaccines.
Likewise, the story of the Israelites in the wilderness speaks to us in this time of Covid. For
more than a year now, we have been wandering in the wilderness of shut-downs, social
distancing, closed churches, fear of infection, statistics of half a million deaths and millions
more affected. It has been a long time that we have been fighting this disease, and the scientists
tell us that we are far from safe. We cry out in frustration: "Are we there yet?" and the answer is
"No, we are not there yet. And we don't know when we will get there… and in fact, we are not
sure what "there" will be like anyway." It is frustrating and I find that it is true: "These are the
times that try men's souls."
So it is in times like these that the truth of the incarnation: "For God so loved the world that he
moved into the neighborhood." provides us with the strength to continue in our journey.
Spiritually, we are pilgrims in this world on our way to God's beloved community and
materially, we are mortal humans struggling in a pandemic like no other. In the midst of the
time of "Not yet," we need someone to help us survive. And as Paul said forcefully in the
second lesson: "But God, who is rich in mercy, out of the great love with which he loved us,
even when we were dead through our trespasses, made us alive together with Christ – By grace
you have been saved – and raised us up with him and seated us with him in the heavenly place
in Christ Jesus." In Christ, there is a reality beyond our sin, our doubts, our fears. In Christ there
is a reality beyond quarantine, long lines for vaccinations, uncertainty for the future, and
divisions in our society. In Christ, we have someone who knows what we are going through
because he has been here before and walks with us now.
Lent is a good time always to reconnect with the reality that gives life. Lent is always a good
time to look up and see on the cross hope for us as we yet walk in our journey. However,
especially in this Lent, it is a good thing to look up and see the light of love that will guide us
through the uncertainty that lies ahead. In Christ, we will get there.