The Very Rev. Tom Callard – March 15, 2020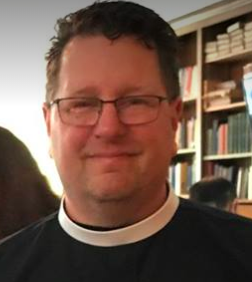 I like contact with other people, and when I come here, I look forward to being able to greet folks when they arrive, to give my hand to someone who is new or someone I haven't seen in the past week, and I like to extend my arms and give and receive a hug. After church I love being able to shake your hands and say goodbye, have a good week.
And just like at the Cathedral, every church I've served has had a long peace where you do more than just wave to the 4 corners around you. Some churches, all you get is that quick wave, but here, as you know, people go out and shake hands and contact each other. So for me and people like me it is going to be a strange church experience during this time of coronavirus.
In the same way, we will have to get use to the fact that starting this week we will not use the chalice, but the chalice with the consecrated wine will be on the altar while we share the presence of Jesus Christ in the host. For me, the chalice is a symbol of unity – part of what identifies us as a catholic church for all people, because it's not just one little cup for each one of us but one big cup for all of us, and it reminds us that we're all in the same cup. And so starting today the chalice will be there, but it will not be shared. And it may take some time to get used to that.
And I wonder in general how everyone is feeling today? I wonder if you come to church today concerned about being with a group people in public? I wonder if you are worried about what other changes will come to our church as we go through this pandemic. Or maybe like me you are wondering if we will even have services in the next few weeks. Because we don't know what will happen. It's possible that at some point services will be cancelled like they have been in some dioceses and some churches around here. Whatever else happens, our church experience has been changed.
In the same way, for all of us, our lives have been changed, especially in the past two weeks. Those of us who were planning twill likely not be. Large events have been cancelled. Work is happening from home for people. Classes are cancelled for students. Our social lives are changed.
People are being told to stock up, which causes anxiety and a feeling of scarcity. The financial world is in turmoil. And there's an awareness that this coronavirus will affect everyone financially, especially those who are vulnerable.
And of then course there's the sickness. There's being sick and taking care of people who are sick and being afraid of being sick. It's a lot.
We come here this morning, and it's a lot. This virus is like a stone dropped into a pool causing ripples to spread out everywhere. Because we are all connected, it is all connected. And even though we might try and build higher walls and curtail travel to certain countries and try and sit as far away from each other as we can, and isolate ourselves, we can not really do that, because we are all one.
It is good, to be reminded that we are one. I'm trying to keep a list of the good things that come out of this time of Coronavirus. And right at the top of my list is the reminder that we are all one. It reminds us that we are connected to people we will never meet in China and Italy, that we are connected to sports teams playing in empty stadiums and to those who have lost their jobs in closed restaurants, and to health care professionals on the front lines, and people in nursing homes, and in very profound and physical way, we are connected to everyone who is sick. And connected to each other. And part of the blessing at this time is an awareness of the preciousness of that connection.
In our Gospel today there is a well. And this well is a place of connection. A well is always a place where people gather together to get water. In Jesus's time, and in parts of the world today, water didn't come from the fawcett. You would go to the well. And it was a beautiful egalitarian thing, because everyone needed to go to the well, rich and poor, farmer and tradesman, women and men, old and young.
And so today here at the well, at this place of connection, are two people, Jesus and this Samaritan woman. And they are very different from each other. One's a male, one's a female. One's a Jew, one's a Samaritan. One's never been married and one's been married and divorced 5 times.
But something profound unites them. And it's not just the well. It's not the water in the well. In fact, the water found in the well is nothing, because there's not a bucket to get the water out. So the water itself is not the connection and the well itself is not the connection. What's the connection? The connection between Jesus and this Samaritan woman is God, which comes through Jesus.
This connection is particularly clear in the distinction between water and living water, because it might look like they are connected by water and the fact that Jesus is thirsty there at the well and the woman is thirsty. And that's why they've come to the well here in middle of the day. But then there's no water, and there's no bucket to get the water. And the water, it becomes clear, is just something transient and passing, something you have for a moment and then it's gone. So the woman doesn't really need the water after all. That becomes clear. What the woman really needs is God. And that's what she finds.
And if you think about it, that's what unites us at church. That's what brings us together to this well. It's not that we are united by being in this space. It's not that we are united only as we touch hands or hug or engage in these friendly gestures of contact during the pace. It's not that we are united just because we drink from the same chalice or eat from the same paten. It's not even that we are united by being in this same place on Sunday morning. These things are important, but like in our story today, many of our practices at church are transient and passing, things that have developed in church life over the last two thousand years, habits and traditions. But what really unites us is that we have this need for God, and that we find God in Jesus Christ.
This is our connection. Jesus is our unity. And not even space or changes in liturgy or changes in custom or the lack of physical contact can stop that connection from happening to us. Not today or in the weeks and months to come. This time of virus cannot prevent us from receiving the living waters of Jesus Christ. We can be connected to him wherever we are, here or away, at work or at home, in hospitals or nursing homes or shelters or in some place walking on the street when we take a moment and we find Jesus is there, and we realize his presence in our life, his amazing, mystical, incarnate presence, given and shared for us which pops up in so many places.
This week in the midst of corona virus pandemic fear, I was out in my yard and I saw for the very first time this year a little, green plant venturing bravely out of the ground. That's not a coincidence that happened at that moment I was thinking about Jesus. And at that moment I knew he was here. And I lost my fear. And in those moments when that connection between you and Jesus is so clear, you are suddenly and amazingly united with him – and also with me and with everyone else here and with all of the world, and drinking the living waters that bring flowers out of the ground, drinking the promise of life that comes even in the midst of death, and drinking the hope, which is that thing it takes to lead us beyond the uncertainty of this present moment.
We think God is limited to a chalice? No chalice no God? We think God is limited to a building? To this place and time on Sunday mornings, here at the appointed hour following the rite and rubrics of the Book of Common Prayer? That this is all God is?
We can find the well of life wherever we are. The well of life opens whenever we open our hearts, and wherever two or three are gathered together in his name, or even with just one person alone if that person is willing to give themselves to the divine.
Look at what happens to this woman at the well today. Look at how she is transformed because she gives herself to Jesus Christ. What I see in the Gospel this week in the midst of a coronavirus pandemic, what I wee is that this woman comes to the well and she is transformed. She meets Jesus at the well as a woman, a Samaritan, a person divorced 5 times. And by the end of the story, she proudly proclaims to the people: he knows me beyond these things. He knows who I truly am. He told me everything about myself.
Whatever she brought with her to the well that day, whatever challenges she faced because she had been divorced five times or because she was a woman in a patriarchal world, or because she was a Samaritan in the land of Jews, or whatever fears and anxieties she came with, she left knowing that Jesus knew her and saw her and loved who she was despite it all. And therefore she was okay. She was validated. She found the holy. Contact with living water.
What a perfect message for us today. Because there's not a one of us who has not come wanting to be told we are okay, everything will be okay. Every one of us comes before Jesus with some dis-ease. We all come here wanting to change from who we are into something else. We all come here, like this woman, bringing something to transform and some part of us that needs to be loved.
Maybe it's that I am anxious about the future and knowing that I am having a hard time accepting my anxiety. Maybe it's that I do not feel up to the task of these times, and I doubt things will turn out well. And I want Jesus to know this about me, and to love me, so I bring that to the well.
Maybe it's other things that have been part of my life. Maybe it's that I am divorced, or I bear the scars of trauma, or I have failed at things, or I carry the weight of shame, or I see all the mistakes I have made and have all these internal judgments. And I do not have peace. Whatever it is, each of us has it.
And so you bring this to Jesus today at the well and you find him here. And today in the midst of coronavirus you realize that the bucket's broken, there is no bucket, and that that it's probably going to be that way for a while. So maybe you're not going to get it the way you usually do. The chalice is gone. There is no more sharing the peace. People are worshipping differently.
And so what's it going to be? Am we still going to find him? What will we do here in the midst of this uncertainty and fear? In God's world there are disruptions a plenty, and there's chaos and there's change and there's random chance which means nothing is certain and anything can happen, especially during a crisis. But you're still going to find Jesus.
Because at the same time that all this is happening in the world around us, it's always noontime on a sunny day in the Kingdom of God. And there's always a well, a place where people gather to connect. And this well may be near and it may be far from here, but wherever it is, there is a space there for you there, where you come to the edge and you look down into the water, it's depth and its grace, and find that there's water for you. Water that flows, water that is coming forth without end. It knows you. God knows you, and still loves you so much. And everything will be fine. And you simply bow down your head and drink.
So there's nothing to worry about. Things will change. Things will come back. And our job as the faithful in a time of crisis is to keep that water flowing for ourselves by frequently visiting that well, and for the world around us. To point out the good. To care for the weak. To ignore the hype. And to drink.
Let's see ourselves through this, one day at a time. One drink of living water at a time.