The Very Rev. Tom Callard, December 2, 2018
Click here for video of the sermon
Almost 6 years ago when I moved here from Los Angeles, I drove across the country with my mom. It was late April. And we left the city, and then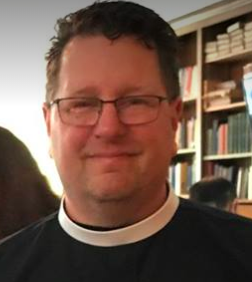 passed through the desert, and then after the road you're traveling on just goes up and up and up until the terrain changes and eventually you're in mountains. And there we were in the mountains when suddenly one day it started to snow.
And I was so excited, because not once in six years in Los Angeles did it ever start to snow. But then my excitement changed when it started to snow more, and then it started to snow more, and actually started to get nervous. Not that I had never driven in snow before, but my car was full of my stuff. And I had my mom.
I knew from the map that we were on this plateau, high in the mountains, and that on the other side of the mountains the road would go down to a place where it was not snowing. But I didn't know how long that would take or when we would get there. So I had this dilemma, do we stop and wait it out, or do we go on. What do you do when you know something's coming or something's going to end, but you're not sure when? Do you push on, do you stop?
Today as we enter the season of Advent, one way of looking of Advent is that these four weeks before Christmas are all about the experience of knowing that God is coming, but not knowing when. Or knowing that Jesus is going to be born in 23 days, but not knowing how we should prepare. How should we wait? What do we do?
Because one thing is sure, whether we like it or not, the day of the Lord will come. The end of the journey will arrive. The difficult situation in which we find ourselves will pass. The relief we seek will be here. And even our own death at one point will surely make its way into our lives. All these things are inevitable, and they are heading for us, even now this morning. And the date and time are not in our hands, but in the hands of God. So the question is how do we wait?
Today Jesus has a clear suggestion for the disciples about how they should wait for that day of the Lord. Here in Luke Chapter 21 he's talking with them about the signs that will appear – the destruction of nations, there will be people fainting in fear, the powers of heaven will be shaken. But, Jesus says, when all these things begin to take place, don't run away, don't flee in fear. Instead, he says, look up and raise your heads.
That is to say, don't cower at the presence of God. Don't let the presence of God overwhelm you or debilitate you or destroy you. For the presence of God is not to be feared, and nor is it to be denied. It is simply what is.
Jesus talks today about the season of the fig tree because he's saying that these things just are, sometimes it's the time for figs, and sometimes it's not. Just as sometimes its winter, sometimes it's summer, sometimes you're driving along on a snowy dangerous road, sometimes you're not.
And all of this is of God. All of this is beyond the circle of control in our lives out in that realm managed by God. And so what comes from fighting with God? What comes from complaining and struggling against God? Can we fight with the God who created the universe, who makes the fig trees grow at certain seasons? Can we just go outside to yell at the fig tree in front of our house and say come on, even though it's December, I want figs? I've got to make a figgy pudding.
So, Jesus says, instead of fighting, and instead of instead of being fearful, just marvel at God. Just lift your heads up and don't be weighed down, and take it all in. For the God who created all this really is amazing. How little do we marvel at the God who's given us all these burdens, because we forget that the same God has given us some joys. It's part of the package.
You're born, you drive this path. You didn't start yourself on it. You're not going to get to the end by yourself. And along the way your attitude can be that of marvel, and awe, and even joy, as you contemplate the amazing journey that you and God are on together.
Advent teaches us and it reinforces for us: We can choose how we travel. We can choose how we wait. I went to the motor vehicle registry I don't know how many times when I was younger before I realized that I always need to bring a book because I am always going wait, and I hate to wait, so I do something to help myself when I wait. We choose how we respond to the fact that God is in control of much of our lives.
And a lot of our response has to do with our sense of God. If we imagine we're waiting on a God who is just going to crush and destroy and punish us when He or She gets here, then we're going to be waiting a certain way, most likely with at least one eye open. And we will fear and dread news of the Lord's arrival for we imagine how bad it will be.
But Christians don't need to be that way. For we wait for something is absolutely incredible: the love of God in the prince of peace. We wait for a compassionate and loving savior. We wait for the incarnation of good news. Advent reminds us that always what we wait for ends well, for as Christians what we wait for is Christ.
The word Advent comes from the Latin that means to come toward, Ad-Ventus. But I wonder: what would happen if we were to change the name of the season and used instead the Latin word for waiting. That word is exspectans. Exspecto, exspectas, exspectat, for those who remember your Latin. To wait. And obviously it is the root of our word to expect.
Waiting is one thing, but expecting is something different. There's more of an urgency and action when you're expecting something. For you're not just saying- I hope my package from Amazon arrives. I'll just wait around for itl Instead you're saying- they told me the package will be here this morning. I'm expecting it to come, so 'll be near the door looking for it.
I'm expecting Jesus, and I'm at the door looking for him. I'm expecting Jesus to be in this problem in which I find myself, and in my heart I know he's there, so that changes how I see it. I'm expecting Jesus to be in my prayers, and if I don't see him right away I'll just keep at it, because I know he will appear. It is an active and vibrant time spent expecting something, especially if it's Jesus.
And that's true of individuals and it's true of communities of faith, that we too can be an expectant community, a church that thrives with the expectation that Jesus will be here in all we do this year. That he will accompany us out to the places we need to go, under the bridges, out to the camps of people who sleep in the street. That we won't go out alone, but we go out with Jesus. And we expect that we will find him there too in the folks out there. In the foster children who receive gifts from the angel tree. In the Christ Church Cathedral classroom at Square One and those who are nurtured there. In the children tutored here by the ACTS program. We expect to find Jesus.
We expect to find Jesus in our worship, and I have no doubt this year that we can expect to hear him singing in our choir, and maybe even preaching at our pulpit, and certainly present in our Adult Educations Programs like the meditations we have starting this week, and the Book studies and Bible studies we do this year, in the service of the Flower and Altar Guild, and Acolytes, Eucharistic Ministers, and Ushers.
And we expect Jesus to be present in our finances. You know we have been doing our pledge drive now for a month or so, yet we still don't yet have enough for our budget for 2019 in the way of pledges. We're still bit short, and it's that time of year when I know our Treasurer and members of the Finance Committee start to get worried, but I want to tell them, let's just expect that we'll get enough. And for those of you who pledge, and can dig a little bit deeper down to increase our pledge by just $5 or $10 a week. I expect that most of us will be fine if we can just increase a little bit. We expect God will provide.
I expect that the coming of the Lord this year will bring good things, even out there for the world. I expect that what I see on the news about the rise in hate crime in our country, the warming of the planet, the gassing of children on our southern border, that these things will be met by the prince of peace working within us and others like us who know God's love, that the Prince of peace will be brought to the struggles of the world.
St. Teresa of Avila said, What good is it if Mary is full of grace, if I am not? And what good is it if Mary was the Christ bearer if I am not the Christ bearer in my own time, and in my own country. I expect we will bear Christ here in our country.
How does a community, how do individuals respond to the coming of the Lord when we know that we are loved and cared for, and we expect that this will just get better, and we know ourselves to be empowered and blessed for this year to come. How do we deal with the unknown and all the intangibles of life, all the things we wait for? Does the community cower from God? Does it turn or run in fear of that which God will bring? Certainly not.
Whatever else we do as a church, Christians are made for these times. For our faith rests on this image of an empty manger, and we can hold the empty manger out there and we can marvel at the empty manger and worry that one day it will not be filled. But it ill, we can expect that soon the loving savior, the prince of peace, the God of Love, Jesus Christ will be here soon.