The Very Rev.Tom Callard – April 5, 2020
To view this sermon CLICK HERE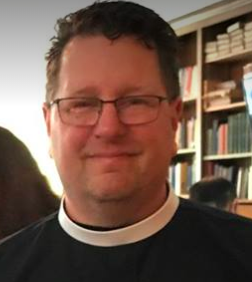 Palm Sunday is about being part of something bigger. There's this huge drama that's been going on since the beginning of time between life and death, good and evil, hope and despair, between keeping going and giving up.
And so we find ourselves in the middle of this drama today, with Jesus Christ being the force of good, and life, and hope, and keeping going despite challenges. And we see all that is attacking him, which is pulling at the good and threatening us. And we are in the middle of it.
The Gospel writers, in their brilliant way, have presented this narrative of Jesus's passion with us as participants in the story. We hold these palms to greet Jesus as comes in triumph, and at the same time we shout "Crucify him:" as he stands on trial. We are in the middle of the story.
In other years this been an important drama to play as part of our faith. But it's never been more important than now.
Just remember that we are both hopeful and pessimistic. We are both able to build up and destroy. We are both forces of good and forces of evil in the world. That we both love Jesus and we want to crucify him, again and again. That's the story.
What we do in the next few weeks and how we act, where we put our hope, what we post, what we tell our children, how we treat our neighbors, how we stand as we look out the window and assess what's going on. All of that is about us being part of something bigger.
You will see the forces of chaos and despair and fear. But that's okay. That's always been the story. For you will also see the forces of good. Standing there in the middle of it, able to bear it, even the worst that there is, is Jesus Christ. And we know in the end he will have the last word.
What's so great about Palm Sunday is that it ends, like life, on this ambiguous note, with no great resolution. Nothing is resolved today, nothing is concrete, nothing is settled. You will end the day just like you began. But with one difference, which is that you will be reminded and hopefully inspired and certainly touched and brought into contact with good, in the form of Jesus. And that will make tomorrow better.
As we live this story this week, I commend you to remember whose you are, that you belong to God, and hold on to that. We will broadcast the good. We will live the hope so the forces of chaos and despair can hear us shout Hosanna to the empty streets, to the hospitals, and nursing homes, to those who are isolated, those on the streets, those who are working putting their lives at risk, and to every heart looking for the way to go. That's our part in the story.