The Very Rev. Tom Callard, December 24, 2018 Children's Mass
Click here for video of the sermon.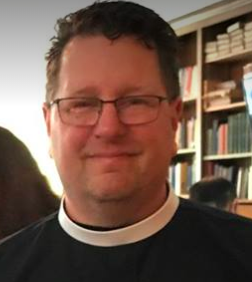 A couple weeks ago I was visiting a local retirement community. And one of the women who works there, whenever I go, gives me a little list of people she would like me to see. And so I was going from room to room seeing the people and blessing them.
And I got to the room of this lovely woman whose name is Mary. And Mary was lying there in her bad half awake. And I asked her if I could come in, and she said of course and she was so happy to see me. And we were making conversation. And I asked her if she was ready for Christmas. And she said, "Honey, I'm 95 years old, I'm always ready for Christmas."
And I wondered: when I'm 95 years old in 44 years, will I also feel like I'm always ready for Christmas? Because right now I feel like I'm never ready. And suddenly I find myself and it's a few days or weeks before the holiday and I've still got so much to do, and the shopping and services at church to prepare, and people I want to contact and things I have left undone.
And one more Advent has passed me by. And one more Holiday season has come and gone. And I'm jealous because I don't have what this 95-year-old has in terms of this bliss about being always ready for the birth of my Lord and Savior.
But the truth is that ready or not, here he comes. It doesn't matter if we are ready, Jesus is still going to be born. It doesn't matter if we have purchased all our presents or not or set our stockings by the chimney with care, Jesus is still going to be born. It doesn't matter if we have finished decorating the tree or not, or sent a single Christmas card, Jesus is still going to be born.
For apart of us, there is an ancient prophecy of Isaiah fom generations ago of the birth of a child whose authority is great. Who is named the Wonderful Counsellor, Mighty God, Everlasting Father, and Prince of Peace. And this child will establish a kingdom on earth that brings light to the darkness of the world. And there is an ancient prophecy from way before we were born from the prophet Micah, we heard about it yesterday, that in the city of David, the tribe of Ephrathah, the village of Bethlehem, that the messiah, the child who is our savior, will be born.
And so whether we are ready or not, God is fulfilling God's own prophecy and God is determined to follow through on God's own plans. For there is so much in the way of salvation and of bringing good news to the poor and justice to the oppressed and freedom to the captives to be done that the Savior has to be born.
And not only will it happen but I want to suggest that Christians in 2019 are just as important to this plan as they were two thousand and nineteen years ago.
Now we may not know it. Not everyone does. Think about this: one of the key figures in the story of Jesus's birth is not Joseph or Mary or the shepherds or the Wise Men or even Herod. But one of the key figures in the story of Jesus's birth is Augustus, the Roman Emperor who we hear about at the beginning of the Gospel tonight.
Augustus ruled the Empire from between 27 and 14 in the Common Era. And he was an effective ruler. He was a tyrant, but he got things done. It was under Augustus that the empire built its famous roads, the same roads on which Christianity would be spread in the centuries to come. It was under Augustus that Rome built a strong standing army, as well as a permanent fire and police department.
And it was under Augustus that this new form of taxation was established. Obviously taxation is not a popular thing, but for the sake of history and the fulfillment of prophecy it was huge. Because taxation led to all the people having to retuen to their homeland to be registered.
And it was because of Augustus that Joseph and Mary made the trip from Nazareth in Galilee, to Judea, to Bethlehem, to the city of David, where the ancient prophecy said the Lord would be born.
Even though he never knew it, Augustus participated in God's plan. Augustus helped make sure that this prophecy came true. By building roads, he helped spread the Christian message. By starting this system of taxation and registration he helped get Mary and Joseph to Bethlehem where they needed to be so the Christ child could be born.
And you can be sure that Augustus didn't know anything about the way he moved the kingdom along, or the ancient prophecy, or his role in any of it.
Augustus knew his Empire. He knew about the building of roads. He knew about the strengthening of his army. He knew about the new system of taxing the people. He ran his empire. But nowhere in his consciousness, even the farthest reaches of his thoughts, did Augustus picture himself furthering God's plan. But God's plans happen, whether we know them or not. And we contribute, in ways that we can't even imagine.
So here you come on Christmas Eve, and part of what we come to think about is how we are all busy with our own Empire. That we are like Augustus, busy tending to our world, which is vastly different from that of Augustus I grant you, but still we have empires – of our work, our home life, our family life, the plans we have, the people we know, the things we do. And we know it all so well, like Augustus did. And we are busy managing it.
But are we aware that we, too, in some way, are also participating in God's plan? That we move things of God's plan along, that we put things of God's plan in place, that we have an affect on the inner workings of the universe by just going about our business as we are. Do you know that in your life you inspire people? I'm inspired by so many of you. We touch people. We bless them and encourage something in them, just by being who we are Do you know how many people you have impacted, even if you don't know it, and even if you never know it. You have done God's work, and contributed in your way to the amazing gift that is the birth and incarnation of our Lord.
Are we aware of it? Does Donald Trump, do the leaders of the nations, do those in power across the world know that they are participating in the plans of God in some way, perhaps in ways we can not imagine? Do the homeless people sleeping in the cold tonight under the bridges, do the prisoners in Chicopee and Ludlow, do the patients in our hospitals know that they too are participating in some way in God's play for the birth of the Savior Jesus Christ?
For it is the will of God that all should partake, that the incarnation of Christ should be among all of us, this is God's plan. For God to dwell here and there's not a single one of us exempt or left out or set aside. And the tools and instruments of salvation for the world are here in us. And the glory of our heavenly Father shines upon us.
And the sad thing is, I don't think Cesar Augustus had any clue. For he never saw beyond his own empire. But I think that Mary, the 95 year old I visited last week, knew it. She had no doubt about because she knows who she is, and she knows she belongs to Jesus. She's belonged to him for so long, given her heart and life to him. And she's ready at every moment for the birth of the Lord. It's a great gift, and I pray we receive that gift tonight.
There's a fantastic story about the author and monk Thomas Merton, who had a religious experience on the streets of Louisville Kentucky. He was walking in the business district and suddenly he had this incarnation moment of being aware of himself and all the people around him.
Suddenly he felt this great connection to them. And he says it was as if he knew for the first time that he was theirs and they were his. It was this experience of Jesus within and around that led Thomas Merton to God. And in that instant, his little empire just disappeared.
The incarnation is like that. The birth of Jesus Christ is like that. It's not a one-time event that happened in a manger a long time ago, but it's the ongoing birth of Jesus in moments of connection and unity and attachment with others, in times of love and when we are doing good things, in moments of prayer and in the struggle of our lives. It's when you suddenly realize you are part of the earth, and part of the poor, and part of the dying, and part of the enemy, and part of the immigrant, and when you realize that you are part of that person sitting next to you in the pew. That it's not just about you and your empire, but it's about you and something much bigger than you are.
And the God in you, the incarnate God in you, says, look my friend I am here, and so have no shame, and have no doubt, for your sins are forgiven, your debts are paid. And I have reached my mighty hand down to you in love and am giving you this gift tonight, of my son, who is a Wonderful Counsellor, Mighty God, Everlasting Father and Prince of peace. And with him you are even more. So be bold and do good things and change the world. For you are here to fulfill me, God says. I have chosen you to fulfill my plans.
The remembrance of Christmas and celebration of Jesus's birth is an annual gift given to us in love so we can once again see and feel and know how we're part of that love. So yes, we can be ready, we can always be ready like my 95 year old friend. Surely there's space in our empire  for love.