The Very Rev. Tom Callard, November 18, 2018
Click here for video of Sermon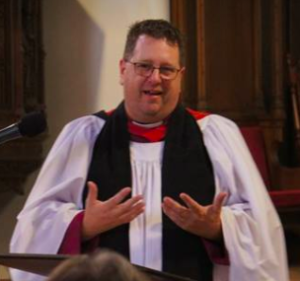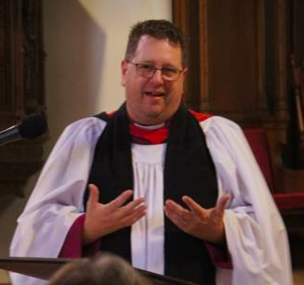 In Deuteronomy, chapter 5, Moses summoned all of Israel and told them: Hear, Israel, the decrees and laws I declare in your hearing today. Learn them and be sure to follow them. And through Moses, God gives the people the 10 commandments, and from then goes on to give people all sorts of guidance and ideas and plans that will lead them forward as they move from slavery in Egypt and prepare to arrive at the Promised Land.
Deuteronomy is a treatise on how to live, how to remember who you are and remember whose they are. It is a remarkable passage with incredible details – It is like a whole constitution for how the Israelites are to behave and how they are to enter this new, promised land.
And here in Chapter 26 we have this capstone, this perfect passage for today. For it tells how the people how to give thanks. It instructs the people like this: When you have arrived into the land that God is giving you, when you have possessed it, and settled into it, you shall take some of the first fruits and put what you collect in a basket, and go to the holy place, and go to the priest there and tell him your story.
Say this: a wandering Aramean was my ancestor, he went down into Egypt and he suffered there, and we cried to the Lord, and the Lord heard us, and bought us out of the suffering, and brought us to this great place. So now we bring the first fruit of what we have to you, Lord God. For we are grateful.
Gratitude is an essential part of the plans that God has for the people. Gratitude is part of their foundational document, from Deuteronomy. Gratitude is an essential part of the story of God sharing the commandments with them. It is an essential part of the practice of the people doing what they do. And it is part of the recognition of where they have come from and where they are going. It is an essential part of their story.
I wonder – Is gratitude an essential part of your story? Is it part of your daily practice? Is there something you do each day to say "thank you?" because I too am descended from a wandering Aramean. I too was in slavery in Egypt. I too wandered in my life. And look where you have brought me.
Is gratitude part of your awareness of giving thanks for things, instead of just seeing things as something you have. Where are those things from? How did those things get there? Do you think that somehow you really made all this happen? Did you free yourself from slavery in Egypt? Is gratitude part of the story of your life?
Among the stories I've heard of gratitude was one that struck me about a gentleman named Anthony Ray Hinton who was locked up in cell on Death Row cell in Alabama, and he was kept there for thirty years, for a crime he did not commit. It was a horrible abuse he suffered at the hands of a system which allowed racism and injustice and corruption to keep him there. It took the Supreme Court to finally release him at last.
And Mr. Hinton was interviewed by 60 Minutes. And the interviewer asked him about whether he was angry at those who put them in jail. And he simply said he'd forgotten all about the people who had sent him to jail. And the interviewer asked him: how can that be? Mr Hinton responded: If I'm angry and unforgiving, they will just take away the rest of my life. So instead of being angry, he was grateful. He found gratitude in his freedom, in what little he had. He cultivated this attitude, and he was free, both physically and spiritually. His gratitude was part of what brought him to the promised land.
The Israelites needed that gratitude. If they had simply dwelled on the abuses they suffered in Egypt, if they had stewed in their anger, they never would have made it to the promised land. They would still be trapped in Egypt. The gratitude they had was part of what made them free, that showed that they had, in fact, arrived at the promised land.
Roman Catholic monk David Steindl-Rast says, "It is not happiness that makes us grateful. It is gratefulness that makes us happy." How can we cultivate daily gratitude? We can write a gratitude list, all the things we're grateful. We can share our gratitude with others. We can make a gratitude offering. I know many people offer their church pledge not particularly for anything for the church but just in general out of gratitude. They give in gratitude. We can recognize the story of where we've come from, how far we've arrived, who our past ancestors were, and what has happened in our lives. And see the hand of God there. And for that give thanks.
It frees us. It makes us happy. It gives us a better life. And we give so little in return. So let's give thanks.