The Very Rev. Tom Callard – November 3, 2019
Click HERE for a video of the sermon.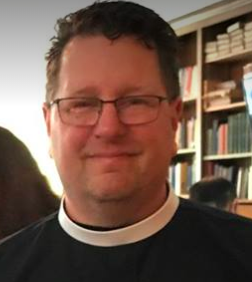 Sometimes, early in the morning before I start work, I come in here to pray. It's a pretty good place to pray. And one morning recently as I was praying, sitting up here in my chair, I had a vision. And it was a vision that Jesus himself came to be with me. And it wasn't the Jesus coming back to judge the living and the dead, that big, awesome and powerful Jesus we hear will return. Rather it was the normal Jesus, the one from the scriptures who is so present to the lives of the disciples as they go about their days.
And so I saw him and I got out of my chair and I went up to him and I said, Lord, thank you for coming to visit here. And I wasn't really sure what else to do. But I went to him and I gestured over to the Bishop's Chair, which is, I don't know if you've noticed, the biggest chair we have, and I said –Jesus sit in this chair of honor, for not only is the Bishop not here, but it would be great to have you sitting in this place. And he kind of just waved me off.
And then I said to him, Jesus, here won't you take my seat, the seat of the Dean, this very important position in the Cathedral, and you can be the authority over this cathedral and its ministries. Plus I could really use your help in a couple things. And he kind of waved me off.
And then I suggested maybe he wanted to sit in the Canon's seat, or maybe to sit in the choir, after all I'm sure Jesus has a really good voice. And he kept dismissing my suggestions. And then I said, maybe sit here with the acolytes, and he liked that idea, as if I were getting closer. And then I watched as he walked down, past all the seats up here, past the altar, and he moved down there in the nave and he sat down right in the middle of where you're sitting. And he said something to the effect that – this is my place. I sit among the people.
This really was almost exactly the vision I had. And as I think about it more, it seems clear that this was a message about All Saints, which is what we are celebrating today, which I had been praying about. This Feast of All Saints, which is a day set aside for us to remember and praise the Christian Saints who have gone before us, and to give thanks for those who are still in our midst. And I think, as we think about All Saints and the saints in general, that it is an important thing to know the answer to the question of where will Jesus sit.
Ask yourself not so much: what would Jesus do, but ask yourself -where would Jesus sit? For it is not apparently up here in these important seats, in these seats of honor and power, but it is out there among the people. Jesus would not sit in the first class section of the plane, but would be there in the back, in those cramped seats in the last section, section four, which is always the last to board, probably sitting on the aisle next to the crying baby and the person who has to get up and go to the bathroom every fifteen minutes.
Where Jesus sits is theologically very important. Where Jesus sits is essential for the saints to understand, for it gives us insight to the kind of God we have and the way God with us here the world. And Jesus has made it clear again and again, and even in today's Gospel, that of all the places he could sit, he chooses to sit in a particular area, which is with the poor, and with those who are hungry now, and with those who weep now, and those who are hated, excluded, reviled and defamed now.
Which means that you're not going to find Jesus here in the highest chair sitting apart from us, but he's going to be down there in the nave with us, or wherever it is that people are in a blessed struggles of their life.
So Jesus is there sitting in the galley of the slave ship as it makes make its arduous passage across the Atlantic from Africa. And he's there sitting among the guests in the Loaves and Fishes meal that we serve downstairs. And he is there sitting in the waiting room of the Hospital or the Hospice. And he's there with those from our ACTS program as they tutor children. And he sits with every teacher and caretaker. And Jesus is sitting with those who sit in refugee camps, and he is sitting in a bunch of twelve step meetings every night in church basements, and he sits with those who are struggling with addiction daily.
I am sure that Jesus is right now sitting with a member of our church named Carlos, who is serving in the Army, stationed in the Middle East, who is unsure of what might be coming for him, or how long he's going to be there, or what tomorrow brings, but at least he's got Jesus sitting with him. And Jesus sits with his wife Kayla and their baby, who are here almost every Sunday. Often I can see him sitting there with them. And Jesus is right now sitting with countless families and individuals as they sit at their own table in the kitchen trying to figure out how to pay their bills.
Jesus is all over the place. He is literally all over the place. And you have to recognize that in our lives and through our lives that Jesus has come to sit with us many times and in many places. And that we have gone to sit with him. And this is part of what makes us saints.
Our participation in church, our cooperation with this body of Jesus, means that we too are part of the community of saints, even if we don't think so or consider ourselves to be saintly.
What Saint Paul writes today in the Letter to the Ephesians: "I have heard of your faith in the Lord Jesus and your love toward all the saints." He's not talking about the love people have toward Saint Francis or Saint Jude or any of those famous saints we know so well. He's talking about the love we have toward these other people who are part of the faith with us.
He's talking about some anonymous parishioner we see on Sunday, or someone we only see once in a while, or someone who comes to the 12:15 service, or someone who has been here just once in the past, but who still holds in their heart the desire and love of God.  He's talking about you and me and your average person of faith. And he's talking about how amazing we are just because we are here.
Paul is talking about sainthood as something which comes not because of our exemplary behavior, but because of the bond that we share with each other and church. And that fact that we, along with these saints everywhere, have chosen to sit with Jesus. That we have made this choice.
I wish there were a way to make it clear and to emphasize that you are considered Saints whoever you are, that Christianity considers you a saint, not because of something incredible you have done or some amazing ability you have. Not because of a miracle you have performed or the fact that you have never sinned. But because of where you have chosen to sit, as part of the community of Christ. That you have chosen to sit with Jesus. That in your home you have chosen to sit with Jesus. That in your prayers you have chosen to sit with Jesus. That among the things you spend your money on and give your financial resources to, you have chosen to sit with Jesus.
It is this basic participation in community that we recognize and uphold on All Saints day, this communion of all who sit, and have sat, in some way, with the Lord. So please know that whatever you're doing, it is enough. It is good, and you have arrived.
And also know that Jesus still extends to us this invitation to do more. The fact that we are here makes us saints, but it is really up to us to determine what kind of saints we are going to be. How do we want to sit with Jesus?
Agnes Johnson, who was June Watson's housemate, who died recently, was a particular kind of saint. When you look at Aggie's life, through 90 plus years, you get this image of a person who did a lot of things at the church, who served in many different ministries and committees, as a leader and as a servant. But that was not what made her a saint.
My last memory of Aggie is what makes me think of her sainthood. I went to see her in the hospital not long before she died. And Roland Holstead was there when I arrived. And I came in and asked Aggie how she was doing and we prayed and talked and I blessed her. And then in the most profound way, she turned to me and she said– and you. How are you? How is your family? And she asked it in a way that showed me that she really cared.
I thought that was amazing, and I have learned that this is how she was. A good and active and descent person who genuinely cared about the world as much as she cared about herself. Even in the midst of illness and death she still cared about you and asked how your family was doing. That's a particular kind of saint. Who is still present with us today. When I grow up, I want to be Aggie Johnson.
And another person I think of who showed me what kind of saint I want to be is Bill Dwyer. For those who do not know Bill, he was an Episcopal priest who was Tako Dwyer's husband and Joy Ross's Father. And it was Bill who was the priest who helped develop the Hispanic/ Latino ministries at Christ Church Cathedral. And those who knew Bill know what kind of saint he was, a caring and devoted and a man of faith.
What really assures me of Bill's sainthood is not my own wonderful experiences of him in the last few years of his life, but what really assures me of Bill's sainthood is the way people talk about him still. Especially people from the 12:15 service. For there is a reverence in their voice whenever Bill Dwyer is mentioned.
They say his name with a holiness which comes from a recollection of how he was with them in the hospital. Or that time he was there helping in their homes. Or the way he was there in their struggles. And the things he taught them and what he showed them of living a life with Jesus Christ. Bill was not up here sitting in the seats of honor, but he was down there in the pews. And people remember that. And it made a difference in their lives. When I grow up, I want to be Bill Dwyer.
It is enough for us to come to church and worship and be here and sit with Jesus, it is enough to make us saints. But what kind of Saints we are is up to us to decide. My advice is this. Let's be saints who make a difference in people's lives. Let's be saints who they talk about in years to come with reverential tones, as a person who showed them love, as someone who took the time to ask them about their family, as someone who cared for them when they were in need, who lend a hand, and who did the right thing when the time came for it. Let's be saints who show people what Jesus Christ looks like, and where he sits, and who he sits with