The Very Rev. Tom Callard – October 25, 2020
Dean Callards Sermon for 10/25/2020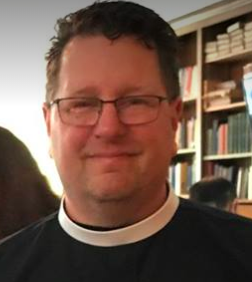 It's amazing to think that we are seven months into this pandemic. It's gone on for so long that in a couple of months the first of the pandemic babies will be born. We may come upon Christmas without having people here, and then pass into the new year. And then soon it will be a year. And who knows the future or what will happen in the months to come.
But I wanted to talk about this, and I wanted to confess that in these seven months since the pandemic began, I have had Sunday mornings where I'm on my way here in my car and I've thought: well, no one's going to be there aside from this devoted team we have who are so faithfully here every Sunday. But what's the point without a congregation and that rush of seeing everyone, and the joy of interacting with those with whom I share the journey of faith?
Why bother, this small part of me says? Why wake up early on a Sunday? Why come here and stare at these empty pews?
But then I realize there are two things that keep me going. And the first comes from the Gospel today:  It is that I love God. I love the Lord my God with all my heart and my soul and my mind. That since I was a young boy I have had this connection with God as a this driving force in my life, who, after all these years, is still here, who still sees me, who still seeks me out. And that this also translates into a love for others, and for all human beings. For better or for worse, for my neighbor as myself.
And I know you feel the same way. That perhaps you do not feel it every day or every moment of the day, and perhaps it's not always clear and manifested in terms you can understand, but I know that you, because you are watching this, love the Lord your God and you love your neighbor as yourself. At least as much as one can. It's not always easy. But it's there.
So that keeps me going. I'm sure it keeps you going. I'm sure it's why you want to be here as much as we all want to be here together again.
And then the second reason I find myself returning here again and again is found in the Epistle today, Paul's first letter to the Thessalonians. Just a little context first. In many of Paul's epistles, he writes to these communities to discuss doctrine. He writes because he wants to explain to the people things like justification by faith or how the Jewish and Gentile members of the community should be together. He wants to share about Christ and him crucified, and what it means to follow him in the confusing world of the first century Mediterranean.
In this letter, he just wants to encourage them. Scholars believe that this community of believers had been Christians for only a short period of time, probably just a few months. Paul was probably in Thessalonica preaching in the synagogue a few Sabbaths. He made some connections. But then he had to leave.
So after sickness prevented him from returning, Paul sent Timothy to strengthen the group and report back. Timothy returned with good news that the members of the church were still there, still standing firm in their new faith, and Paul wrote to them this letter.
So in this passage we have today, Paul writes to explain, first, some of the challenges he had suffered, his mistreatment and the opposition he faced. And then he gives a kind of a defense of what he's been doing, telling them that he's not been doing this to try and deceive them, or trick them, and that he's not there to flatter them, not there out of greed, and not seeking praise from mortals, which is a great phrase.
But, he says, he was there to be gentle with them, like a nurse caring for her own children. And that so deeply does he care for them that he is determined to share not only the Gospel, but his own self. Because they are dear to him.
And this is what gets me every time. That so deeply do we care for this place, that we want to share not just the Gospel, but we want to share our selves.
And I've seen this in myself, that this is why I'm here today and why on the way over here when I stop and think – what am I doing driving to this almost empty space? I realize that like Paul for the Thessalonians, I care deeply for this place, and for the people here, and for the things we do here. And so do you.
If you've ever looked through a slideshow of pictures from Christ Church Cathedral, just to jog your memory, you see photos of us doing things. The number one photo you see of the Cathedral is a group of people, and it's always kind of a diverse group, people who are sitting together eating, around the table or in a circle doing some form of Christian Education, or in worship. And then there are lots of photos of individual people cleaning and planting and decorating and serving.
And what you see in those photos is exactly what Paul sees and loves in Thessalonica, people sharing not only the Gospel, but sharing themselves.
It hurts to see these photos because we're not all here. And in the same way it hurt Paul deeply because when he wrote to the Thessalonians, he was not able to be there. He was separated by space and distance, and he could not yet return. Yet his love came through and he knew that one day he would be there, and he was, nevertheless, still working to build them up.
We must be still working to build this up, to remember that the present difficulties of this time are nothing compared to that which will come on that day, whenever it is, when we are fully here, when we are fully present all together. But until then as we do the best we can through Zoom and through YouTube and Facebook, and by calls and long distance visits. Until then let us still give of ourselves.
This year's stewardship drive is more than it normally is, not because we are asking you for more money than usual, but because we are asking you to give of your own selves, like Paul says today So deeply do we care for you that we are determined to share with you not only the Gospel of God but our own selves.
What we give to