The Rev. Linda Taupier – July 25, 2021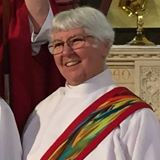 Jesus would have grown up hearing our reading from 2nd Kings.  From Jesus earliest years he knew that feeding a crowd was possible with God.  We heard the same words that Jesus would have with Elisha telling a man who was bringing 20 loaves of barley, the first fruits of his labor:
'Give it to the people and let them eat.'  But his servant said, 'How can I set this before a hundred people?' So Elisha repeated, 'Give it to the people and let them eat, for thus says the Lord, "They shall eat and have some left." ' He set it before them, they ate, and had some left.
Jesus also knew of the manna that rained down from heaven to feed the Israelites as they wandered toward the Promised Land.  There was always enough every day.  Do the words 'Give us this day our daily bread' sound familiar?
If you remember from last week Jesus planned to take the disciples for some rest and food.  He was waylaid by people in need of healing.  This week they are going to try again so they head up the mountain.  Once again the crowds followed.
The feeding of the 5000 is recounted, even if a bit differently, in each of our four Gospels.  Each of the writers believed this was an important story to tell. One thing in all four stories is that the disciples, who have witnessed many miracles wanted to send the crowds away to find food for themselves.  Would we have our gospel stories if Jesus sent them away?  Would we be here today if Jesus wasn't the compassionate healer and teacher that people wanted to follow and believe in?
The feeding of the 5000 shows us clearly who we are meant to be and what we are called to do in our lives.  We are told to 'feed them'.  We hear Jesus' call to us to follow him.
In both 2nd Kings and John's Gospel the loaves are made of barley.  Barley was the food for the poor.  We are invited to feed the poor following our Eucharist.  Phillip and the other disciples couldn't see a way to accommodate all the people.  Andrew looked around and found the boy with the five barley loaves and two fish.  Andrew knew it wasn't enough, and brought it to Jesus anyway.  He brought the best he could find and, with that Jesus used the generosity of that young boy and was able to feed everyone.  Jesus took what was offered by that young boy, he blessed the offering, and the pieces were broken and given.  We celebrate the last supper each week.  Could this be the 'first' supper?  We know that Jesus often eats with people as sharing a meal is a great way to connect with others.  Every time Jesus shares a meal with friends he takes the bread, blesses it, breaks it and gives it.  Jesus gives abundantly.
Jesus takes whatever we offer and blesses that.  We all have something, even something we think might be too small and God will bless it. With Jesus there is always enough if we ask.  God takes the gifts we offer and uses us to build up the body of Christ.  We weren't given gifts to make ourselves look better but to make the kingdom stronger, larger.
We get caught in our finite thinking.  We might send people away when Jesus says no, you feed them, you meet their needs.  When we offer what we have to Jesus we find that we too can do more than we can imagine.  It may seem like a little thing to us and given to God it can grow into something big.  When we give of ourselves we are feeding, perhaps not 5000, but we are feeding some.  Each week we come to Eucharist, our thanksgiving.  We offer bread, wine and ourselves.  We give our offering, our money as thanksgiving for all we've received.  Those gifts that we give in the offering plate are blessed, then transformed into ministry.  We are also if we allow ourselves to be.  We return to God what we've been given by God.  As the man did in 2nd Kings, we bring our first fruits, our best – not what's left over.  God takes our best and blesses it and, if we allow ourselves we are broken open so that we can go and give of ourselves joyfully.  If we all do that everyone will have enough.  At the end of our service each week we are sent, blessed by God to do the work of feeding the poor, clothing them, visiting…in other words we are meant to take the good news of Jesus outside the walls of this church.  We are meant to serve.  And there are so many that need to be served. People are hungry.  Hunger isn't just about food although that's certainly part of it.  People are also hungry for jobs that can sustain their families; people are hungry for a roof over their head, hungry for safety from guns, hungry for love, especially those who are lonely, lost, living on the streets, in prison.  People are hungry for God even though they may not know it.
Life is full of ups and downs.  It can be unpredictable and we all know that very well now as we have lived through and are still living with the Coronavirus.  We make plans and they may have to change.  Change isn't always easy and we can be really good at trying to feed our own hunger by overeating, drinking too much, doing too much, making sure we have enough, and trying to keep it for ourselves.  We buy more 'things' thinking that will make us happy. We fear scarcity.  We might not have 'enough' so we keep building up what we have and, what God wants is for us is to let go, spend time with God and those that God sends us out to be with.  Jesus wants us to bring our hunger to him so that he can fill us with a sense of joy and longing to work toward his purpose for the world.
When we turn our lives over to the living God we find comfort and peace and that becomes our mission also.  We know that prayer is needed and we know that's not enough.  We pray for change.  We can be the change we pray for.
St. Paul said it best.  His words from this morning:
18I pray that you may have the power to comprehend, with all the saints, what is the breadth and length and height and depth, 19and to know the love of Christ that surpasses knowledge, so that you may be filled with all the fullness of God.
20 Now to him who by the power at work within us is able to accomplish abundantly far more than we can ask or imagine, 21to him be glory in the church and in Christ Jesus to all generations, for ever and ever.