Worship Bulletin for 10 a.m. and 12:15 p.m.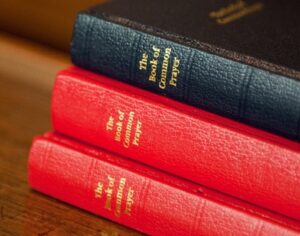 Click on photo for current Worship Bulletin. Watch us live Sunday on our Facebook page. Click here
Opportunities to Connect @ Christ Church Cathedral
We use (FaceBook Live)
We use Zoom: (https://zoom.us/).
To watch a useful video about Zoom click here.
Sunday Services (Facebook Live)
9:30-10:00 Join for live music a half hour before the service
10:00 English Service of the Holy Eucharist
11:00 Coffee Hour - Zoom see below
12:00-12:15 Música de Alabanza antes de la Misa
12:15 Misa en Español de la Santa Eucaristía
Weekly Noonday Prayer (Facebook Live)
Monday-Friday 12:00 p.m.
Following the Noonday Prayer service in the Book of Common Prayer.
Coffee Hour  (Zoom Link)
Sundays 11:00-11:45
We will say hi and share any Cathedral news and have a chance to pray. All welcome!  Please join us via zoom.
Book Club (Zoom Link)
Mondays 7pm-8pm
Laura Manship
To get the password for the meetings,
contact Laura Manship
(laurafmanship@gmail or 413.275.4587).
La Gran Letanía y Suplicación (Facebook Live)
Tuesday 3:00-4:00 p.m.
Joel Martinez
Orando juntos en Facebook Live
Morning Bible Study (Zoom Link)
Wednesday Morning 8am-9am
Father Michael DeVine for a time of prayer and Bible study
Weekly Concert with Todd Beckham (Facebook Live)
Thursdays 6:30-7:30
Cathedral music Director plays live
Centering Prayer (Zoom Link)
Saturday 10:30-11:30 a.m.
Lani Bortfeld
Open to all but registration is required first. Follow the link above to register for the meeting.
After registering, you will receive a confirmation email containing information about joining the meeting. The facilitators will open the meeting around 10:20 am to allow folks time to get online. You'll enter an online "waiting room" and you will be admitted from there.
Saturday Bible Study (Zoom Link)
Saturday 5:00-5:40 p.m.
Mark Betsher
A lectio Divina inspired Bible Study of the Sunday Gospel reading. By prayerfully reading the scripture slowly several times, and reflecting on it, we are drawn personally into the story and into our relationship with the Eternal Word.
During this time of Physical distancing, we may not all be able to leave our homes, but we can step outside ourselves into the greater world of God's presence in our lives by listening to God speak to us through the Word.
No experience required.
Lectio Divina is a contemplative way of reading the Bible. It dates back to the early centuries of the Christian Church.
Open to all.
Grupo de Estudio y Oración (Zoom Link)
Saturdays 1-2 p.m.
Joel Martinez
Cathedral Schedule - thru November 1, 2020
THURSDAY OCTOBER 29
12pm -- Noonday Prayer – FB Live Martinez
3:30 – 4:30pm – Sacred Ground - Zoom
6:30pm – 7:30pm Cathedral Music Night – Beckham FB
FRIDAY OCTOBER 30
12pm -- Noonday Prayer – FB Live Beckhams
SATURDAY OCTOBER 31
10:30am – 11:30am Centering Prayer – Lani B./Stewart Zoom
1:00pm – Grupo de Estudio y Oracion – Zoom
5pm – 6pm Bible Study – Betsher Zoom
SUNDAY NOVEMBER 1 - All Saints Sunday
9:00am – 9:30am – Bible Study – Zoom Betsher
9:30am – 10am Musical Prelude to Morning Service – In Person at Cathedral & Virtual via FB Live
10am – 11am Holy Communion – In Person at Cathedral & Virtual via FB Live
12pm – 12:15 Musica de Alabanza antes de la Misa – In Person at Cathedral & Virtual via FB Live
12:15pm – 1:15pm Santa Eucharistia – In Person at Cathedral & Virtual via FB Live
2 pm Daughters of the King renewal of vows - Zoom
4 pm Holding Onto Hope, service with Presiding Bishop from the National Cathedral. On their social media
Monday, November 2
12pm - Noonday Prayer - FB Live
7pm - "A call to prayer for our country,' service led by Deacons - Diocesan FB Live and YouTube
Tuesday, November 3, Election Day
12pm - Noonday Prayer - FB Live
Wednesday, November 4
8:30am - Bible Study - Zoom
10 am Loaves and Fishes meal served
12pm - Noonday Prayer - FB Live
Thursday, November 5
Diocesan Convention - Pre convention meeting
12pm - Noonday Prayer - FB Live
6:30 Musical offering and discussion with Todd Beckham, Music Director, on Facebook Live
Friday, November 6
12pm - Noonday Prayer - FB Live
Saturday, November 7
9 am Diocesan Convention
10:30 Centering Prayer on Zoom
5 pm Bible Study on Zoom