Welcome, blessings to you. We are glad you are here.
We are Christ Church Cathedral, the Cathedral for the Episcopal Diocese of Western Massachusetts. Our diverse community gathers regularly, worships in English and Spanish, meets for fellowship and growth in the love of Jesus Christ, and works to serve the community and the world around us.
You are invited to participate by coming on Sunday, joining online, or connecting with us during the week. We are open for all people and eager to be with you.
Sunday Worship Times
8:00 a.m. Holy Eucharist
10:00 a.m. Holy Eucharist
12:15 p.m. Misa En Español
Virtual Worship with the Cathedral
Join us for Sunday worship on Facebook live (Click here) and our YouTube channel (Click here).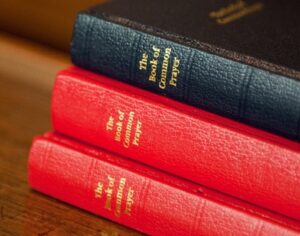 Click on photo of the Prayer Books for our current Worship Bulletin.
Staying Connected @ Christ Church Cathedral
We strive to stay connected to God, to our Neighbors, and to the spiritual presence of Christ within ourselves.  Please contact us to talk, pray, visit safely, come to the Cathedral to pray. Our clergy would love to connect.
Join Sunday Services (Facebook Live) (Youtube)
Happening live and virtually
8:00 Morning Service (outside if weather permits)
10:00 English Service of the Holy Eucharist
12:15 Misa en Español de la Santa Eucaristía
Click here for the current Worship Bulletin.
 Pray at Noon  (Facebook Live)
Monday-Friday 12:00 p.m.
Following the Noonday Prayer service in the Book of Common Prayer.
Study the Bible and check in – beginners welcome
Sunday Morning 9:00-9:45 (Zoom Link)
Wednesday Morning 8am-9am (Zoom Link)
Saturday lectio divina reflection. 5:00-5:40 p.m (Zoom Link)
Centering Prayer – beginners welcome. Register first.
Saturday 10:30-11:30 a.m. (Zoom Link)
Lani Bortfeld
Book Club (Zoom Link)
Periodically on Mondays 7pm-8pm
Contact Laura Manship for password and schedule
(laurafmanship@gmail or 413.275.4587).
CHRIST CHURCH CATHEDRAL ANNOUNCEMENTS 11-07-21
Cathedral Schedule - thru January 30, 2022
WEDNESDAY JANUARY 19
8:15am – 9:15am Bible Study – Mike DeVine/Mark Betsher Zoom
10am – 6pm – Loaves & Fishes– Cathedral Side Parking Lot
12pm - Noonday Prayer – FB Live
THURSDAY JANUARY 20
12pm - Noonday Prayer – FB Live- Howard
FRIDAY JANUARY 21
12pm - Noonday Prayer – FB Live- Howard
SATURDAY JANUARY 22
9:30am- Outreach Meeting
10:30am – 11:30am Centering Prayer – Lani B./Stewart Zoom
5pm – 6pm Bible Study – Betsher Zoom
SUNDAY JANUARY 23
8:00am – 9:00am - Morning Service – Outdoor Worship Service (weather permitting)
10am – 11am Holy Communion – In-Person and Virtual via FB Live
12:15pm – 1:15pm Santa Eucharistia –In-Person and Virtual via FB Live
3:00pm- Annual Meeting via ZOOM
MONDAY JANUARY 24
12pm - Noonday Prayer – FB Live DeVine and Bauman
TUESDAY JANUARY 25
12pm - Noonday Prayer – FB Live
6:30pm- Chapter Meeting (Annual Meeting)
WEDNESDAY JANUARY 26
8:15am – 9:15am Bible Study – Mike DeVine/Mark Betsher Zoom
10am – 6pm – Loaves & Fishes– Cathedral Side Parking Lot
12pm - Noonday Prayer – FB Live
THURSDAY JANUARY 27
12pm - Noonday Prayer – FB Live- Howard
FRIDAY JANUARY 28
12pm - Noonday Prayer – FB Live- Howard
SATURDAY JANUARY 29
9:30am- Outreach Meeting
10:30am – 11:30am Centering Prayer – Lani B./Stewart Zoom
5pm – 6pm Bible Study – Betsher Zoom
SUNDAY JANUARY 30
8:00am – 9:00am - Morning Service – Outdoor Worship Service (weather permitting)
10am – 11am Holy Communion – In-Person and Virtual via FB Live
12:15pm – 1:15pm Santa Eucharistia –In-Person and Virtual via FB Live