Please Pledge/Donate
This week we sent out pledge cards to Cathedral members and friends, asking you to commit to your support for 2021, to consider how you can share in the ministries of God through Christ Church Cathedral, and how you can give thanks for the blessings you have received.
You may send or drop off pledge cards at the Cathedral office, or you may pledge online HERE and your pledge will be counted. Thank you.
Worship Bulletin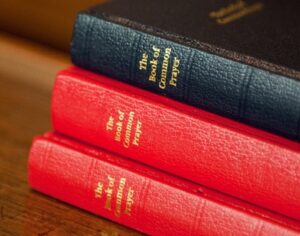 Click on photo for current Worship Bulletin. Watch us live Sunday on our Facebook page. Click here
Happy Easter!!
Dean Tom's Easter Message:
"I have seen the Lord!" The are the words of Mary, announced to the disciples after she had her Easter morning experience of seeing Jesus. What an amazing thing, what sweet words. In the history of the world, in all the realm of human life, are there words more powerful than the testimony of someone who has seen the risen Jesus, the living Christ, someone whose life has been changed by this encounter with God?
As we come to this season of Easter, we are each called upon to see him for ourselves, and to help him be seen in the world. We are called upon to reflect on our own testimony of the Risen Christ, and to think about our own experiences of Jesus, God's presence, and true and unconditional love. And we are invited to share. Make it a point this Easter to share Jesus.
As we sing, "Alleluia, Alleluia, Give thanks to the Risen Lord" today, let us inwardly give thanks, each of us, before God's mercy, that we have come to a new day which is filled with new hope and possibility. Let us give thanks for our faith and our own encounters with Jesus. Let us give thanks for all we have. Let this be a new beginning. Let this be a moment we draw upon when the going gets tough, this encounter we have had, along with Mary, of the living Jesus, here before us.
Share. Give thanks. Enjoy.
Happy Easter and God's continued blessings,
Much love,
Tom
Cathedral Schedule - thru April 25, 2021
SUNDAY APRIL 18
8:00am – 9:00am - Morning Service – Limited In-Person and Virtual via FB Live
10am – 11am Holy Communion –Virtual via FB Live
12:15pm – 1:15pm Santa Eucharistia –Virtual via FB Live
MONDAY APRIL 19
12pm - Noonday Prayer – FB Live Bauman & DeVine
TUESDAY APRIL 20
12pm - Noonday Prayer – FB Live Bauman & DeVine
WEDNESDAY APRIL 21
8am – 9am Bible Study – Mike DeVine/Mark Betsher Zoom
10am – 6pm – Loaves & Fishes– Cathedral Side Parking Lot
6:30pm - 7:30pm – Estudio Biblico Salas de Facebook
6:30pm – 7:30pm – "Why Does This Bible Passage Mean So Much to Me?"
THURSDAY APRIL 22
6:30-7:30 PM Mini Concert Beckham- FB Live
FRIDAY APRIL 23
12pm - Noonday Prayer – FB Live Beckhams
SATURDAY APRIL 24
10:00am – 11:00am Flower Guild Meeting
10:30am – 11:30am Centering Prayer – Lani B./Stewart Zoom - Register first. (Zoom Link)
5pm – 6pm Bible Study – Betsher Zoom
SUNDAY APRIL 25
8:00am – 9:00am - Morning Service – Outdoor Worship Service (weather permitting)
10am – 11am Holy Communion –Limited In-Person and Virtual via FB Live
12:15pm – 1:15pm Santa Eucharistia –Virtual via FB Live