Please Pledge
This week we sent out pledge cards to Cathedral members and friends, asking you to commit to your support for 2021, to consider how you can share in the ministries of God through Christ Church Cathedral, and how you can give thanks for the blessings you have received.
You may send or drop off pledge cards at the Cathedral office, or you may pledge online HERE and your pledge will be counted. Thank you.
Worship Bulletin for 10 a.m. and 12:15 p.m.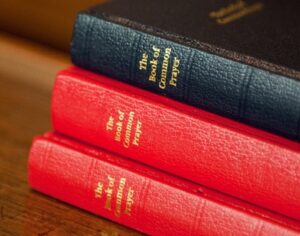 Click on photo for current Worship Bulletin. Watch us live Sunday on our Facebook page. Click here
Staying Connected @ Christ Church Cathedral
During this time of physical distancing, we strive to stay connected to God, to our Neighbors, and to the spiritual presence of Christ within ourselves.
Please contact us to talk, pray, visit safely, come to the Cathedral to pray. Our clergy would love to connect.
Sunday Services (Facebook Live) (Youtube)
9:45 Prelude before the service
10:00 English Service of the Holy Eucharist
12:15 Misa en Español de la Santa Eucaristía
Pray at Noon (Facebook Live)
Monday-Friday 12:00 p.m.
Following the Noonday Prayer service in the Book of Common Prayer.
Study the Bible and check in - beginners welcome
Sunday Morning 9:00-9:45 (Zoom Link)
Wednesday Morning 8am-9am (Zoom Link)
Saturday lectio divina reflection. 5:00-5:40 p.m. (Zoom Link)
Weekly Concert and teaching with Music Director Todd Beckham
Thursdays 6:30pm-7:30pm (Facebook Live)
Centering Prayer - beginners welcome. Register first.(Zoom Link)
Saturday 10:30-11:30 a.m.
Lani Bortfeld
Book Club (Zoom Link)
Monthly on Mondays 7pm-8pm
Contact Laura Manship for password and schedule
(laurafmanship@gmail or 413.275.4587).
Cathedral Schedule - thru December 6, 2020
MONDAY NOV 23
12pm -- Noonday Prayer – FB Live Bauman & DeVine
TUESDAY NOV 24
12pm -- Noonday Prayer – FB Live Callard & Taupier
WEDNESDAY NOV 25
8am – 9am Bible Study – Mike DeVine/Mark Betsher Zoom
12pm -- Noonday Prayer – FB Live Callard & Taupier
THURSDAY NOV 26
10am – 11am Thanksgiving Service
12pm -- Noonday Prayer – FB Live Martinez
6:30pm – 7:30pm Cathedral Music Night – Beckham FB Live
FRIDAY NOV 27
12pm -- Noonday Prayer – FB Live Beckhams
SATURDAY NOV 28
10:30am – 11:30am Centering Prayer – Lani B./Stewart Zoom
1:00pm – Grupo de Estudio y Oracion – Zoom
5pm – 6pm Bible Study – Betsher Zoom
SUNDAY NOV 29
9:00am – 9:30am – Bible Study – Zoom Betsher
9:45am – 10am Musical Prelude to Morning Service – FB Live & YouTube
10am – 11am Holy Communion – FB Live & YouTube
12pm – 12:15 Musica de Alabanza antes de la Misa – FB Live & YouTube
12:15pm – 1:15pm Santa Eucharistia – FB Live & YouTube
MONDAY NOV 30
12pm -- Noonday Prayer – FB Live Bauman & DeVine
TUESDAY DEC 1
12pm -- Noonday Prayer – FB Live Callard & Taupier
WEDNESDAY DEC 2
8am – 9am Bible Study – Mike DeVine/Mark Betsher Zoom
12pm -- Noonday Prayer – FB Live Callard & Taupier
THURSDAY DEC 3
12pm -- Noonday Prayer – FB Live Martinez
6:30pm – 7:30pm Cathedral Music Night – Beckham FB Live
FRIDAY DEC 4
12pm -- Noonday Prayer – FB Live Beckhams
SATURDAY DEC 5
10:30am – 11:30am Centering Prayer – Lani B./Stewart Zoom
1:00pm – Grupo de Estudio y Oracion – Zoom
5pm – 6pm Bible Study – Betsher Zoom
SUNDAY DEC 6
9:00am – 9:30am – Bible Study – Zoom Betsher
9:45am – 10am Musical Prelude to Morning Service – Virtual via FB Live & YouTube
10am – 11am Holy Communion – In Person at Cathedral & Virtual via FB Live & YouTube
12pm – 12:15 Musica de Alabanza antes de la Misa – Virtual via FB Live & YouTube
12:15pm – 1:15pm Santa Eucharistia – Virtual via FB Live & YouTube
Second Week in Advent