Click HERE to watch the video of the Sermon.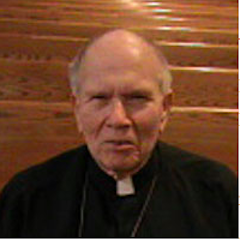 "Indeed, God did not send his Son into the world to condemn the world, but in order that the world might be saved through him."
In the Name of the One and only God,  the God whose Name is Love,
Father, Son and Holy Spirit. Amen.
Some of us may remember them: Places called libraries where you had to go to borrow books to read or to look things up. The time before the internet existed and you had to go out into the distance and weather to do any real kind of research. On one such occasion for me many years ago, I came across a series of magazines that had been published in the late 1800's and early 1900's by the name of the Perry Mason Magazine. Now David and I were great fans of the Perry Mason TV show and we collected many DVD's of the show offering episodes dating from well before the advent of color TV. Still in only black and white, it was a show in which almost every person in every scene was shown smoking a cigarette. The only regular actor I never saw smoking was Barbera Hale who played Della Street.  And she outlived them all.
In one copy of the Perry Mason Magazine, I found a story of an old pioneer farmer in the very early days of America who had a large farm way out near the edge of  land that had not yet been stolen from the Native Americans.
One day while out in his field, he encountered a Methodist Circuit Rider who was one of those notable missionaries trying to make sure America was Christianized. "Are you a Christian" he asked the farmer. "Yeah, I guess so," replied the farmer.
"You guess so?" replied the Rider, "what kinda Christian are you?"
"Stroking his chin and thinking for a moment, the farmer replied, "I think I must be 'piscopal."
"Where is your parish?" inquired the rider.
"Got none a those 'round here," replied the farmer.
"Well where do you go to church? he asked.
"Got none a those 'round here," said the farmer.
"Well what makes you think that you are an Episcopalian then?" the rider asked.
"Well sir, last winter, I went into the city to stay with my daughter and her husband and while I was there we went to Church. They said it was a 'piscopal church.
"While we wuz prayin', they said they'd done what they hadn't oughta done, and they'd  hadn't done what they oughta done, and I said to myself, 'Yep that's me! I must be 'piscopal.'
One of the great problems I have with a lotta church talk today is that so much of it makes God's love for us and for the world sound conditional. We've never fully escaped from the old pre-Christian notion of a god or gods who are selfish and demanding and hateful and hungry for power. There may be such spirits, but they do not represent or work for our God. It is so hard for people who do not understand or believe in the unconditional loving nature of our God. Some of us become so wrapped up in depression and guilt and despair that we use supposed Christian teachings and even the holy scripture to further the human error it may contain. Too often we fail to see or feel or believe in the Godly love that surrounds and loves and treasures us, even when we are broken or unloving or lonely or suffering from devastating guilt and depression.
"Indeed, God did not send his Son into the world to condemn the world, but in order that the world might be saved through him."
I was a smoker. I smoked too much and too often and too long. I guess I must be 'piscopal. Even as a Priest, I spent some years smoking too much and too often and too long. I believe that it is one of the very hardest addictions to quit. I loved to smoke. It gave me something to do with my hands. It gave me something to do with my mouth. I could light up as a pleasing way of sharing fellowship with other people. It gave me a kind of high sensation as I inhaled the toxic and damaging smoke. I began to feel guilty that so many people, especially young people, had seen me smoke, or at least could smell the fact that I was a smoker. Yes, I had some concern that my health might be damaged, but even more, I began to feel that it was causing me to be a harmful witness to those whose whom God in his love had called me to minister.
As I sat one evening in the very popular busy mart coffee shop in my neighborhood,
surrounded by a few people, most of whom I knew well, I came to the decision that this minute was it. I happened to have one cigarette left in the pack I had with me, which was the last pack in my last carton of cigarettes. As I finished lighting that last cigarette, the flint in my Bic popped out, making the lighter useless for future lightings. I believe that this was God  affirming my decision.
About a year after quitting smoking, several members the local volunteer fire department approached me and asked if I would agree to be appointed as the fire chaplain. After praying a bit about it, I said yes. Doing so required me to attend a few classes and to take a physical exam. As a result of taking that exam, about thirty years ago, it was discovered that I had cancer of the bladder.
Those of you who have ever had the word cancer pronounced over you, or someone you love, know that it can demand your immediate attention.
"Indeed, God did not send his Son into the world to condemn the world, but in order that the world might be saved through him."
My nurse practitioner referred me to a urologist, who broke the news to me that there was a new treatment he wanted to try called immunotherapy. I agreed to those treatments and to shorten the story just a bit, here I am.
I tell all of you about so much of my personal history because I want you to hear about how much love, healing, restoration and joy that my relationship with God in Jesus Christ through the power of the Holy Spirit there has been in my life.
Now let me tell you about Ernie. Ernie was a parishioner in my parish and also a very, very dear personal friend of ours. He was also diagnosed with bladder cancer within the same week by the same urologist that I was. We had both decided to give up smoking the year before, but while I, with much help from the Lord, had succeeded, he hadn't. Having the same diagnosis and undergoing the same treatments, Ernie and I would get together quite often for prayer and the sharing of feelings.
Ernie was a strong Christian. Perhaps in some ways stronger than I. He was a bit more on the evangelical side, while I was perhaps a bit more catholic-minded, but our love for our Lord Jesus Christ was something we shared deeply. Ernie was a true brother in Christ. In the course of those treatments that we were both undergoing, my cancer was the producer of larger tumors while his was less dramatic at the onset but more active.
I had the strong temptation to have deep feelings of guilt, which Ernie helped me to overcome. My cancer required a more dramatically appearing kind of operation, but his condition, while not making large tumors, had metastasized and was the more lethal.
As he neared his time to pass over into the arms his loving Creator, Savior, and Sustainer we shared many moments of  quiet understanding. His last words to me were, and I am only summarizing what he said, "Don't feel guilty, I am the lucky one, I am probably going to have the joy of being face to face with my Lord Savior much sooner. "
"Indeed, God did not send his Son into the world to condemn the world, but in order that the world might be saved through him."
There have been many times in my life that I have been asked if I am not afraid of dying. My answer as a child would have probably been, "Yes, it scares me." But since the loving presence of God through Jesus Christ my Savior has been made more and more part of me over the years, after having had the privilege of being with someone of faith who was dying, even holding hands while saying prayers on several occasions, as a person moved into the nearer presence of God, I say most heartily, "NO, I AM NOT AFRAID!" Oh, I may have some concern about what I may have to go through to get there. I don't like pain. But all I feel in response to the question is the wonderful old organ recording of Virgil Fox playing the old Bach hymn tune, "Come now sweet death."
I'm not pushing it. Having come near to death on two occasions, I assume the Lord has had some reason for keeping me here. I am still very happy to be here with all of you. But when the time comes, and hopefully my cremains, the ashes of this mortal body which has served me well for many years become included in the beautiful Columbarium of our chapel here.
Then, I shall be at joyful rest with the God who has brought me into being, and in  whom I will embrace as a repentant son returning home to be with my joyful Creator, Savior, Sustainer, mother, father, sisters and brothers. And may that joy become yours as well.
For God so loved the world that he gave his only Son, so that everyone who believes in him may not perish but may have eternal life.
"Indeed, God did not send his Son into the world to condemn the world, but in order that the world might be saved through him." Amen.