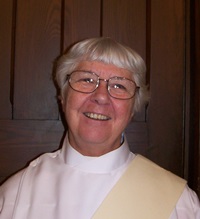 In today's opening collect, we affirm that God built God's Church upon the foundation of the apostles and prophets, making Jesus Christ the chief cornerstone.
The early followers of Jesus were called The Way. Not unlike the discord that exists in our twenty-first century, Paul tells us in today's epistle reading that there was trouble brewing in Galatia with The Way.
In Galatia, the problem was that Jesus's followers weren't all Jewish.  They were Jews, Greeks, and slaves or free.   When the Gentiles were living and worshiping together with the Jews in this new Way of following Jesus, the Jewish people believed circumcision was a necessity to please God. Circumcision for the Jews was a major factor in their identity. It was what set them apart from everyone else. The Gentiles weren't converting to Judaism; they were becoming Christians. They didn't see why they needed to adapt to Jewish law to put on Christ. Paul was of that same mindset.
In today's world, as witnessed this past week, we Christians cannot agree on issues related to curbing gun violence and matters that pertain to Roe v. Wade, that which was the law of the land for fifty years and up until Friday.
We don't know for certain what Jesus would say today or how Jesus would handle these issues. We do know that when Jesus was walking this earth, he didn't care what a person's background was. What people looked like on the outside didn't matter to him either.  These technicalities, though, were dividing the church in Galatia.  Much in the same way that the issues from this week are challenging people of faith who cannot agree on what pleases God.
What Paul tells us, and that which we must keep in the forefront as Christians, is that Jesus did say to the people of Galatia:
"The whole law is summed up in a single commandment, 'You shall love your neighbor as yourself.'" 
Paul tells the followers of Jesus to love our neighbor as ourselves.  He spells out the fruit of the Spirit who is with us at all times.  He tells us that we need to follow the Spirit rather than following our own desires.
Paul says, "the fruit of the Spirit is love, joy, peace, patience, kindness, generosity, faithfulness, gentleness, and self-control…… If we live by the Spirit, let us also be guided by the Spirit."
Paul's letter to the people of Galatia reminds them who they belong to and what that means as followers of Jesus. Life is changed for them.  People who didn't get along were now meant to do so.  Paul is telling them to make room in their hearts for everyone. Circumcision doesn't matter. The ways particular to one group or another do not matter. Tell that to the people who are on either side of last week's Supreme Court decisions.
As we all know, it's easy to love those 'like us' and more difficult to follow Jesus' command and love everyone.  Jesus, though, has told us where to set our sights.
"You shall love your neighbor as yourself." 
One can imagine that this was a difficult message for the people of Galatia to hear, especially the Jews who were holding fast to the beliefs about circumcision. With the uncertainties that the recent Supreme Court decisions have brought to our nation, this morning it is likely that many of us here are finding it difficult to fully appreciate loving our neighbors with whom we may disagree.
What must we need to find in our hearts to change or to remedy to live as the followers of Jesus today? To practice the Way of Love that is the way of Jesus.
Turning to the Gospel message of Luke, we are given a deeper understanding of what Jesus expected of his followers. The disciples with Jesus have been following him for a while.  They heard Jesus teach in synagogues; they saw Jesus heal people and deliver other people from the bonds of demons.  They had seen him with tax collectors and prostitutes. Jesus demonstrated for them that a person's background, who they were or who they loved did not matter to Jesus. All were welcome!
In Luke's gospel, Jesus is in Jerusalem.  Jesus' journey from Galilee to Jerusalem is the story of Jesus being transformed from a prophet to our Messiah.  Jesus knows the fate awaiting him in Jerusalem and yet he begins the journey without hesitation.  No procrastination from Jesus, and furthermore, Jesus invites his followers along.  Those who went with him found their deepest selves in the journey.  This journey and the strange route which they took will be the storyline of Jesus that we will be following over the next few weeks.
Today, though, we are focused on the three un-named people who said they wanted to follow Jesus. Each of the three had something to do before they went with Jesus. We might easily see ourselves in each of them at times. They were distracted by possessions, duties and social conventions just as the Jews, Greeks, and the gentiles in Galatia were distracted by jealousies and the need to do things in the 'old' way.
They had something to do, so they said, "I'll follow you BUT!"
With Jesus there is no but.  It's a total commitment.  When there is a but in the sentence we are saying not now.  I have something else, something better to do.  We too can be distracted by our comfort and stability.  Jesus tells us NO, leave the distraction behind, leave everything.  He invites us to a life of radical inclusion. The question we must ask ourselves is whether we really want to let go of everything in order to commit to this new way of living to serve others before we serve ourselves?
This journey that Jesus led the disciples on was how Jesus taught the disciples the truth about loving their neighbor as themselves. As they were walking along with Jesus, the disciples were learning the cost of being followers of the Way.
There is a cost for us as well. Being a follower of Jesus, adhering to Jesus' commandment that we love one another requires that we reconsider how we live our lives and what God is asking of us in our lives. It means putting Jesus first in our lives, learning to let Jesus be the foundation of who we are and what we do, most especially the part that involves loving our neighbors as ourselves.