Click HERE to watch the video of the sermon.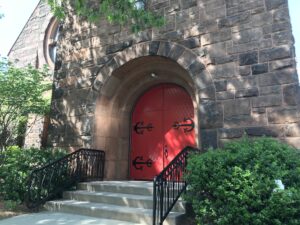 I remember the first day of school for both of my children. They seemed so small, and yet this was what we all did as families – bringing our 5 year olds to kindergarten.  I saw how scared they were, and yet excited too; I knew that this was the first step out the door, launching them on the beginnings of their own lives. I said to them, "You can do it!  So much waits for you today!  Remember we love you!"  This was the job I was supposed to do as their loving mother, and yet, it hurt my heart so badly.  I remember going on to work that day, longing so much, worried about all that I couldn't control, hoping they had what they needed.  Then seeing them at the end of the day when I picked them up . . . so excited about all they had experienced and happy to tell me all about it. They had been equipped by my husband and me, and our love in them helped them be brave and bold.  They knew we supported them . . . our love was there but they were now learning how they could experience life on their own.  The beginning of their separate lives!
Anyone who has a nurturing relationship with someone else knows this story.  For anyone we mentor or teach or coach.  These are the days when they begin to step out on their own.  We care about them so fiercely! They are so far inside our hearts! And yet, if we do our jobs right, they must launch. What we gave to them, it belongs to them now.
Jesus has been preparing the disciples in this way too . . . it is there in many of his teaching moments with them and it steps up in Holy Week, at the Last Supper as he bathes their feet and feeds them bread and cup in a new way; from the cross, in his first words appearing to them on Easter.
Like a loving parent to her child, Jesus speaks to his disciples.  Yes, you've leaned on me and my teachings, my healing among the people, my frequent prayer to our God, my parent and yours. But you've got what you need within you, because God is not out there, but in here.  Now, I am with you only for a very short while and then I will depart and you will launch, and the Advocate will come, the Spirit teaching you far more than I could if I stayed.  You know all about God's revolutionary upside-down love, and it's deep in you. That's all you need to go forward and bring this love to the world!
Like any parent, Jesus is comforting them but also equipping them.  "They who have my commandments and keep them are those who love me, and those who love me will be loved by my Parent, God, and I will love them and reveal myself to them." (John 14:21) He gives them the ultimate comfort: "I will not leave you orphaned."  (John 14:18)
He is talking about the same God whom he knows intimately, and they have met through him. That same God is inside you also, Jesus is saying, by the Spirit coming to you as I depart.  This is the God he is talking about. The one in the Book of Isaiah who says,
Isaiah 46:3,4
Listen to me, O house of Jacob, all the remnant of the house of Israel, who have been borne by me from your birth, carried from the womb; even to your old age I am he, even when you turn gray I will carry you. I have made, and I will bear; I will carry and will save.
Isaiah 49:15
Can a woman forget her nursing child, or show no compassion for the child of her womb? Even these may forget, yet I will not forget you.
Our God does not abandon us . . . not ever.  Our God as parent, our God as father and mother.  These are Jesus' words of comfort to his followers.  And this message he is delivering just days after they thought they lost everything at the cross.  The place where he opened his arms wide to all the violence that humanity of his time could bring and took it into himself, permitting death and overcoming it.  Love is the way you do this, Jesus is saying. Not violence, not hate, not fear, not hiding in locked rooms. Love is the way.
Julian of Norwich was a 14th century mystic who had visions of Jesus dying on the cross, and she described perceiving in her vision that on the cross Jesus carried the suffering of every human being who had ever lived in any time in history.   Able to feel it because he was human, able to carry it because he was God.  In Julian's vision, just as he is near death on the cross, Christ smiles at her and tells her,
"It is a joy and a bliss and an endless delight to me that ever I suffered my Passion for you, for if I could suffer more, I would."   (Excerpts from Showings – Short Text Chapters by Julian of Norwich, Chapter XII)
In her meditations Julian writes that in time she came to understand this kind of love as being like that which a parent has for a child . . .   We don't suffer for our children because we are martyrs, or like torturing ourselves, we suffer for our children because we love them.
She wrote comparing the cross as the ultimate childbirth:
"We know that all our mothers bear us for pain and for death.  O, what is that?  But our true Mother Jesus, he alone bears us for joy and for endless life, blessed may he be.  So he carries us within him in love and travail, until the full time when he wanted to suffer the sharpest thorns and cruel pains that ever were or will be, and at the last, he died.  And when he had finished, and had borne us so for bliss, still all this could not satisfy his wonderful love. And he revealed this in these great surpassing words of love:  If I could suffer more, I would suffer more.  He could not die anymore, but he did not want to cease working; therefore he must needs nourish us, for the precious love of motherhood has made him our debtor.  The mother can give her child to suck of her milk, but our precious Mother Jesus can feed us with himself, and does, most courteously and most tenderly, with the blessed sacrament, which is the precious food of true life."
(Excerpts from Showings –by Julian of Norwich, Long Text Sections 59 and 60 –  From Section 60)
Jesus giving birth to us through his teachings and then his death on the cross, but ultimately nourishing us through his own body and blood, the bread and cup at the table we will share yet again later this hour! On this day we celebrate mothers, can we not better glimpse then, this intimate God who loves us and feeds us like this? But we must hear that this love is not just for some, but for all of us.
Remember last week, he was telling them he would leave soon but that they knew the way and Thomas says so poignantly, "Lord, we do not know where you are going. How can we know the way?" and he says those words we know so well, "I am the way, the truth and the life"  not making the gateway narrower, as some Christians will tell you, but rather showing them how wide it truly is. You know about love that seeks out the lowly and the lost, the ones on the margin or who society says don't belong . . . you know about a love that heals both rich and poor, both powerful and powerless, and everyone in between. You know about a love that forgives seventy times seven times, about mercy that raises from death to new life. Not violence, not hate, not fear, not hiding in locked rooms. Love is the way.
This is the way and you are already walking it.  You know the way because we have walked it together.  When they express doubt, he says to them, "have you been with me all this time and still you don't know me?"  Some days I realize he is saying that to me, too.
This is not a selfish love, for just my own family or your own tribe, for people who look like me or live as you think they should live. This love is for everyone. That's why it was so revolutionary, humanity tried to stop it by putting him to death.  It is terrifying to hear that Jesus really means ALL OF US.
We know this, if we have the courage to listen, and the boldness to follow.
Let's pray to our God to give us the courage and the boldness we need to recognize this Love and be it in the world.